The future is clear; White Center Glass goes from mother to daughter
The future is clear; White Center Glass goes from mother to daughter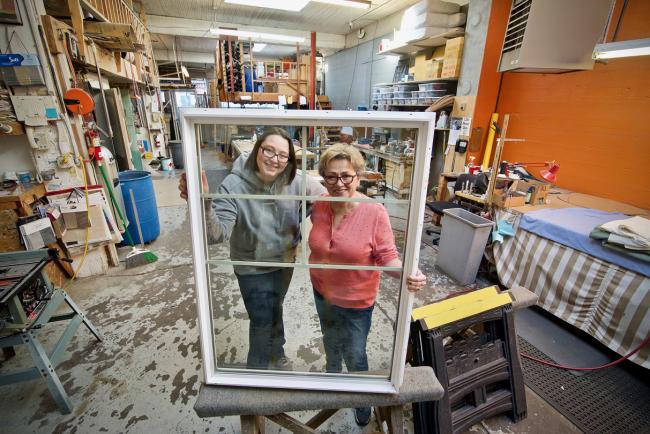 Patrick Robinson


Wed, 01/03/2018
White Center Glass has been a part of the community since 1965 and earned its reputation as a quality service provider, and community supporter through changes of ownership and management. Now it's changing again but luckily for White Center they are keeping it in the family.
Fern Falaschi has been in charge of the company for the past 25 years, and the owner for the past 13 years. It was started by Jack Strain and then was owned by Tom McLaughlin prior to Fern's transition to ownership in 2004. But now it's time for her to "do other things, I have many many hobbies and another business," she explained, and she is passing the torch to her daughter Abby Fisher.
Since it began the business,"has changed dramatically in the products that are required now," Fern said, "and in the personality of the shop. We are extremely smart alecky, friendly and family oriented and it was not that way before."
The nature of windows has changed since it was founded with vinyl windows taking over from aluminum and wood windows with entire windows becoming the norm. "We hardly ever replace a single pane anymore," she said.
The shop also at one time did upholstery but, "Our upholsterer died in October," and they've stopped that part of the business, switching the name to just White Center Glass. But that also tips off what Fern is doing next. 'We've been doing the seat and upholstery replacement for the seats at Century Link field for some time now and I will continue that on my own," she said. She offered the fact that they replace the vinyl seat covers with a waterproof marine grade vinyl on about 1200 seats year. The new business will be called, "Just Seats" which suggests its primary focus.
Abby worked for the company for 7 plus years and "it was the base for my office skills, learning how to run a small business and I always kind of assumed that I would come back in." As testament to her worth ethic Fern said, "She worked a full day and then went to the hospital and had her twins." That was in April 2006.
What is it that White Center Glass does most? "We install vinyl windows into existing holes, we don't touch the structure itself," Fern said, which means they do a lot of work for property managers who need to repair or replace windows in apartment buildings.
They also do insulated glass replacements into vinyl windows, skylights (which often come from Tam Industries a nearby White Center business) and shower doors, patterned glass for cabinet doors, glass shelving, table tops, mirrors and all these with finished edges or bevels. They also provide laminated glass for security  and glass for special equipment needs such as viewing windows for sand blasting or other uses. Marine glass is on their service list too.
But cars, a service they also supplied in years past, are not part of the business today.
During her tenure Fern found that their reputation for doing quality work led people to think they could do anything. "One time we had a little old lady come in and she was so happy with the glass work she asked if we could fix the handle on her picnic basket, so we did it." That reputation extends to helping people where it makes sense by just doing the work for free. "In some cases where we know it's like a working mom and it's going to be tough for her to pay for it, we just give it to her. We used to call that the Gramma discount but now we do it from time to time just to be kind," Abby said.
For Abby she said she's happy to take over, "Because I'm good at it, and I had an excellent teacher." 
Fern is pleased her daughter is taking the handoff because, "It provides you lots of flexibility and a future you are providing for yourself, She's a lot more open and gregarious than I am and she will do a lot more than I could."
White Center Glass supports the local boxing organization PAL, the White Center Food Bank and other community organizations.
The company is located at 9443 Delridge Way SW. Call them at 206-762-8088.
Comments
And then the twins went to work!
White Center Glass has been a mainstay in this community. Fern will be missed, but Abby will be doing a fantastic job because that's just how she is. Please stop by and welcome Abby back. You'll never regret doing business with White Center Glass.
Add new comment