Burien Medical Center, now open and ready to serve
Burien Medical Center, now open and ready to serve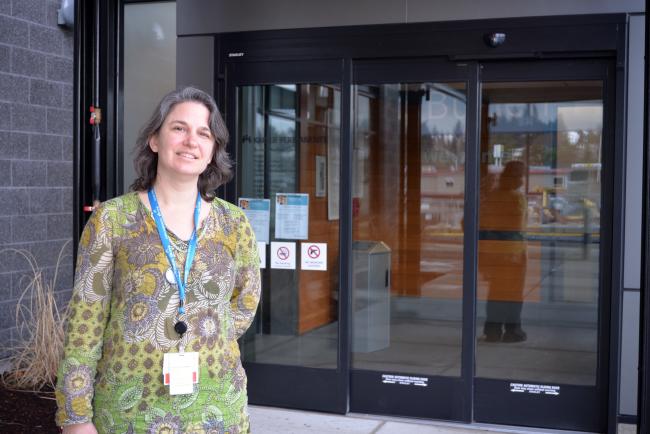 Mon, 01/08/2018
By Lindsay Peyton 
Construction crews are wrapping up work in front of Kaiser Permanente's new clinic in Burien – adding landscaping and completing the parking lot. 
The 23,000 square-foot Burien Medical Center, located at 140 SW 146 St, opened for business on Nov. 1 – and has been serving patients for the past two months. 
A grand opening celebration is being planned for early spring – once the dust settles and all the finishing touches have been completed. 
"In the meantime, anyone can come visit," Dr. Sue Skinner, clinical operations chief, said. 
In fact, she hopes that the new medical center will become a gathering place for Burien residents who are focused on health and wellness. 
Skinner said that the facility – with its large windows, light-filled lobby, natural finishes, outdoor water feature, fireplace and covered drop-off area – was designed to have a welcoming feel. 
Down the road, she envisions the center hosting wellness classes and community health events. 
For now, she's trying to get the word out about Kaiser Permanente's new and improved options for care.  The Burien Medical Center replaces a 53-year old facility across the street, previously a Group Health clinic.The old building was torn down and the lot will now provide additional parking for the new center. 
Skinner explained that the new space allows multiple services to be offered under one roof – instead of requiring patients to travel from building to building to see various specialists. 
"Now we're all in one home," she said. "We brought all of our teams together. The design of the building was patient and member focused to make it easier to navigate all the services available."
The new building offers a full, family care clinic, as well as a full pharmacy and physical therapy service. There's also an eye care clinic with a retail shop for those hunting for new frames.
The Burien Medical Center also offers counseling, obstetrics, internal medicine, pediatrics, geriatric, wound care, radiology, immunotherapy and allergy injections, chronic disease management and lab services.
"Having everyone in one building makes a huge difference," Skinner said. "It really allows us to collaborate and coordinate our care. It's more seamless. You're not repeating services or doing testing that's not necessary."
The Burien Medical Center also hosts residents and teaching faculty, Skinner said. 
"Because they're teaching, they're really up to date on the most recent, evidence-based decision making," she said. "Community-based learning is a way to keep us at the forefront." The facility is working on expanding its virtual services – but already has online charts and digital consultations with patients. For example, before seeing a dermatologist, a patient may email a photo of a mole to see if it is cause for concern. 
Skinner said that the addition of a dedicated "community resource specialist" to the medical center staff also sets the clinic apart. 
In Burien, Stacy Brown was hired for the role – and helps patients handle social and financial barriers. 
Brown said that the concept for her position was developed a couple of years ago. "They piloted it and did a lot of research," she said. "Now it's just exploding."She said that each day, she helps patients in new ways – from connecting them with nurses and signing them up for classes to helping them apply for insurance and assisting with health-related goal setting. "I'm an extension of your doctor's visit," she said. "Being able to help patients get their needs met is just awesome."
Brown started at Burien Medical Center shortly before the clinic moved to the new location. 
Skinner said that she expects Kaiser to gain many new patients in Burien now that the facility has opened. "Membership is growing for sure," she said. "Our patient population is growing. This building is just right for the number of patients we have now. It's also a flexible design, so we're able to serve more." 
For more information, visit https://wa.kaiserpermanente.org/html/public/locations/burien.