Des Moines students take their ideas for the future to Washington D.C.
Des Moines students take their ideas for the future to Washington D.C.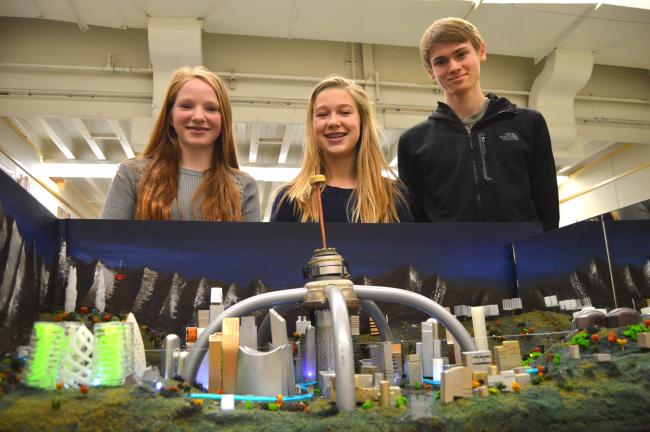 Lindsay Peyton
Tue, 01/30/2018
By Lindsay Peyton
The year is 2179, and the city of the future is called TerraNova. A space elevator in the center of town connects to satellites. A hyperloop train helps residents zoom around commercial zones, residential areas and the university. 
Carbon dioxide converters, placed on the outskirts, capture gases produced in industry, converting them to fuels before they go into the atmosphere. 
At the heart of TerraNova is an even more futuristic mission: taking care of the elderly and specifically those with Alzheimer's disease. 
The city may sound like the stuff of dreams, but it's been built in complete detail in both a physical and digital model by three 8th grade students at Pacific Middle School in Des Moines. 
Sydney Willott, Ryan Sokoloski and Peyton Gendreau, all 13 years old, joined together for the "Future City" project, a competition available for 6th, 7th and 8th graders internationally.
Sutdents are challenged to research and design cities of the future. They have about four months to envision and create a solution to an issue, which changes annually. 
They then have to design a virtual city with SimCity software, write an essay describing their project, build a scale model and present their ideas to judges during a regional competition.
All students in teacher Sandy Gady's engineering elective are required to participate in the Future City project. 
On Saturday, Jan. 20, Willott, Sokoloski and Gendreau won first place in the regional competition. Now the team is preparing to head to Washington D.C. for nationals. 
The trio understands that the next stage will be even harder, with more difficult questions from judges. They will be practicing as much as possible before the event on Friday, Feb. 16. "It's going to be challenging for us," Sokoloski said. 
Willott, Sokoloski and Gendreau have been working together since the first day of school on this project. 
Sokoloski and Gendreau were on a team together for Future City last year and advanced to the regional competition. They came in second place, losing the grand prize by only 0.95 points. 
"It just pushed us to want to do it again and go to nationals this time," Sokoloski said. 
First they had to build a dream team. Gendreau said that she and Sokoloski knew that they wanted to work together again. She explained that writing is her forte and Sokolski specializes most in science. 
She reached out to her friend Willott to round out the team. Willott is a whiz at SimCity and has an artistic eye. She also competed in Future Cities last year. 
Willott had the idea of focusing on Alzheimer's patients in response to this year's challenge of building a future city catering to the elderly. She had an uncle and a neighbor affected by the disease. 
In addition to focusing on the elderly, the team had to design other aspects of the city. 
Willott, Sokoloski and Gendreau weren't in the same classes, so they met when they could, ususally twice a week, to work on the project. They kept a log of all their activity.
They came up with the idea of creating a hydrophonic molecular farm, producing plants injected with human proteins that could be used to treat Alzheimer's.
In addition, the students designed an early detection scanner for the disease. Results would be sent directly to doctors in advance of medical consultations.
"It took a lot of research to see if the science was solid and also that it was plausible," Gendreau said. 
She said creating the model of their plan was also difficult but eventually they were able to complete all aspects of the project.
Willott, Sokoloski and Gendreau said they all have enjoyed working on their city of the future. 
"It definitely has a problem-solving aspect to it," Gendreau said. "It's really interesting and fun. I like answering the questions."
For Sokoloski, the project has allowed him to dive into his favorite subject. "I've been interested in science for a long time," he said. "This competition has increased my interested in science and engineering. It's a great experience for anyone who wants to go into those fields."
Willott enjoyed dreaming up the look of the city. "I like the designing aspect and building new things," she said. "You learn things that can help you in the future." 
Gady agrees. She said that what's learned in the Future City competition will aid her students right away, from learning college-level research to practicing building and design. They have to be able to write and communicate their ideas and practice their public speaking skills in preparation of presenting their project to adults.  
"All the skills they get here, they take back to their other classrooms," Gady said. 
In the 12 years that she has organized her students for the Future City project, this will be the third time she takes a team to nationals. 
It took a while for the competition to become something students were excited about doing, Gady said. And then she had to push them to win. 
"It was hard at first to inspire in these students the desire to go above mediocrity," she said. "Each year, we got a little better and a little better. The first time we got to finals, we felt like we died and went to heaven."
Now her students look forward to participating in the project year after year. 
"These children have a choice; they can choose an elective that's not that hard," Gady said.
Instead, they rise to the challenge. This year, 43 teams at Pacific Middle School participated in the Future City project. 
For more information about Future City, visit https://futurecity.org.