Burien moms find support, resources with Centering Pregnancy at CHI Franciscan Health-Highline Medical Center 
Burien moms find support, resources with Centering Pregnancy at CHI Franciscan Health-Highline Medical Center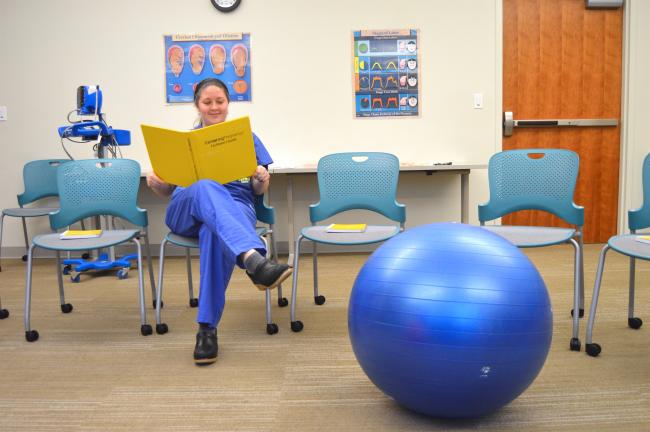 Mon, 02/05/2018
By Lindsay Peyton
When West Seattle resident Paige Slater was pregnant for the first time, she found a resource and a support system just down the road, in Burien. 
Slater and her husband signed up for Centering Pregnancy, a patient-centered, group prenatal care program offered at CHI Franciscan Health - Highline Medical Center.
"We both had a lot of the same questions," Slater said. "I was the first of my friends to have a baby. So to join a community of other moms felt safe and exciting."
The Slaters attended sessions once a month until they hit the eight-month milestone. Then, classes were held every two weeks. Instructors covered nutrition, exercise, birthing techniques, breast-feeding and care for a newborn. 
"It was so educational and reliable," Slater said. "I can't tell you how many times I said, 'Is this normal?' To hear other moms were going through the same thing was so validating."
Plus, the sessions were interactive and enjoyable. "It was really fun to go," Slater said. "We played games and did charades."
Her husband connected with other fathers. After their daughter Perry June was born, the couple returned to the final sessions, where all the babies attend. Slater said through the experience, she formed some lasting friendships. 
Lindsey Frank, a mid-wife from Highline Medical Center's Centering Pregnancy Program, oversees the group prenatal care classes. She previously led the course in Illinois and moved to Seattle about a year ago to roll it out in Burien. 
She is convinced that Centering Pregnancy fits a need. 
"People feel alone," she said. "Maybe they don't have friends who are pregnant at the same time or family nearby. Centering is the piece that brings people together. It helps people take ownership of their healthcare."
Frank said making the course interactive and fun is key. "Talking 'at' someone isn't the best way for them to learn about pregnancy," she said. "This is the most fun way to get prenatal care. There's a lot of laughter."
Nurse Lana Gebow said that moms-to-be benefit by meeting others who are at about the same time in their gestation. "The most beneficial piece is building community for the women," she said. "It's just an amazing program."
Frank added that couples learn from each other by simply sharing their experiences. Some mothers return to Centering for subsequent pregnancies to continue to connect to the community.
"Some want a little more time with their providers," Frank said. "And each pregnancy is different."
Centering has significant results, she added. Pre-term birth rates lower and breast-feeding increases for those who have attended. The statistics cross cultures. 
 
Centering Pregnancy at CHI Franciscan Health - Highline Medical Center in Burien is made possible through a grant from March of Dimes.
Kasey Rivas, maternal and child health director with March of Dimes for Washington, said that women of color have a higher benefit from the program. 
In general, she said group prenatal care can lower the risk of a pre-term birth by 33 to 47 percent.
"In Highline, there's a very diverse community," she said. "There are higher pre-term birth rates than in other parts of King County. We're working really hard in closing the gap."
Participants in the program spend more time with their health care providers than they would normally, Rivas explained. 
"It provides a large need for social support," she said. "It gives women a sense of empowerment in their health that carries over to their daily lives. We're seeing such a great benefit in Washington, and we want to see more and more clinics implement prenatal care."
Amerigroup Washington provided the funding for Centering Burien.
"Centering Pregnancy is a program the whole office believes in," the company's president Craig Smith said. "It makes such a positive difference. The shared experience offered in the group model system creates a real sense of community around health needs."
Smith said supporting a program with a lasting, positive impact in the area made sense. 
"Centering Pregnancy has had incredible results," he said. "They've decreased preterm births and increased breast-feeding. There are a number of important benefits."