Highline hosts meet and greet for school board candidates 
Highline hosts meet and greet for school board candidates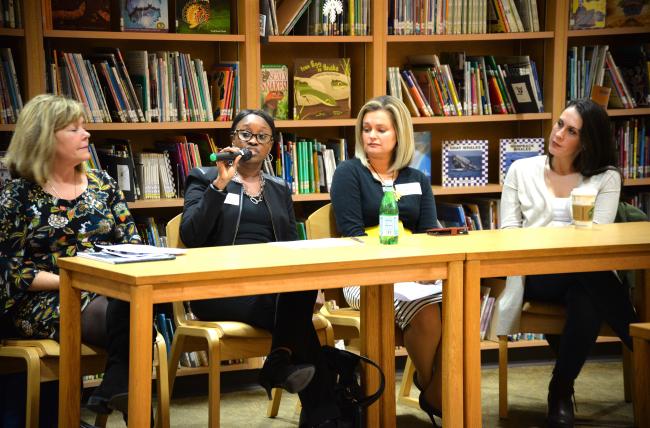 Mon, 02/12/2018
By Lindsay Peyton 
Residents of the Highline School District gathered at Parkside Elementary School in Des Moines on Thursday evening, Feb. 8, to meet candidates running to be appointed the board. 
Four candidates-Elizabeth Bishop, Faizah Bradford, Kalimar Petitt and Patrice Thorell-are vying for director seat 5, which serves Des Moines and Normandy Park. 
The position was formerly held by Michael Spear, who stepped down in January. After he purchased a home outside of the school district, he was no longer eligible to serve on the board. 
The board will appoint a director to serve through the remainder of his term, which ends December 2019. 
Pettit serves as a recruiting manager at Amazon and has three children attending schools in the district. 
Bishop is a full-time student, who is working towards becoming a teacher at Highline. She has three sons currently enrolled in the district. 
Bradford works in racial equity advancement for Seattle Public Schools. She is completing her graduate degree in educational leadership. Her daughter is a recent graduate of the Highline district. 
Thorell serves as director of parks, recreation and senior services for the City of Des Moines. 
The candidates answered questions from school district representatives as well as audience members. The covered a range of topics, from their views about suspension policies to how they would engage parent involvement in district matters.
The candidates also discussed how they define success in the district. Petitt said she looks for constant improvement and growth. Thorell supports Highline's existing strategic plan and is convinced that sticking to that vision will lead to success. 
Bishop said there are a number of ways to evaluate success.
"Success doesn't always mean we're going to think the same," she said. "We need to have opportunities for everyone. We need to not put our own personal agendas first."
Bradford said that building self-sufficiency for students is key. She explained that children in Highline need the tools to succeed academically and socially after graduation. 
Increasing equity on campuses is one issue that the district needs to do more to address, she added.
"Do I believe Highline is moving in the right direction? Yes," Bradford said. "Do I think we need to accelerate the pace? I absolutely do."
She said the district should take a critical look at its programs through a racial equity lens. She believes hiring more educators and administrators from diverse backgrounds would help. 
Thorell agreed. "Our culture has ingrained bias," she said. "We all need to work together to change that culture."
Bishop said that there are discrepancies in opportunities for immigrant students, as well as gifted and talented programs. She believes a starting point for creating more equality would be to reevaluate testing in the district.
Petitt would like the district to accelerate efforts to create equity for challenged students. She would like the district to be more data driven.
She said that her strength as a candidate is her ability to weigh options. "I can't promise I would be perfect, but I can promise that I would listen," she said. 
Bishop said one of her strengths is being a team player. "At the end of the day, team work is really important to get things done," she said. 
Bradford said her past experience working with the school district and her current work with Seattle Public Schools sets her apart. She feels called to be on the school board. "It feels like it's a mandate," she said. 
Thorell said her experience working with various aspects in the community as director of parks and recreation makes her an ideal candidate. "I have a passion for the community," she said. "I would love to be a part of making something great."
The board will announce a finalist at its Wednesday, Feb. 21 meeting. The nominee will take office on Wednesday, March 7.