Burien celebrates 25th anniversary of incorporation; Special event set for Feb. 26
Burien celebrates 25th anniversary of incorporation; Special event set for Feb. 26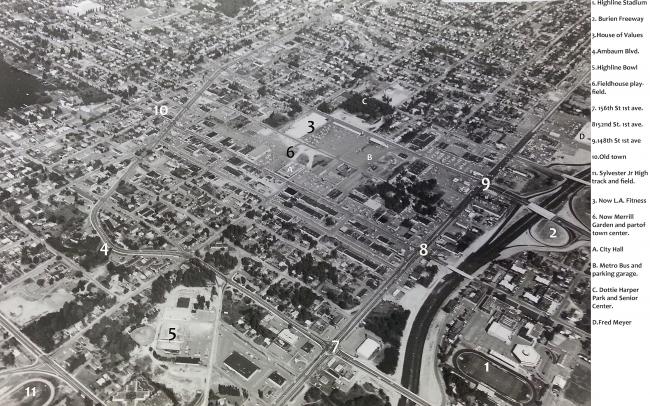 Mon, 02/19/2018
By Lindsay Peyton
Burien is celebrating its 25th year as an official city in the State of Washington by asking residents to share a memory of the past. 
During an anniversary fete slated for Monday, Feb. 26, an open mic will be available to anyone who wants to tell a tale of Burien from yesteryear. Residents are also invited to share their ideas for changing the city to make it better. 
The event will start at 5 p.m. at the Burien Community Center, 14700 6th Ave SW, 98166. 

Burien today and the Olympic Mountains in the distance
 

 
Mayor Jimmy Matta will speak during the occasion, and attendees are encouraged to write down their thoughts in a Burien memory book, which will be donated to the Highline Heritage Society. The group also created a photo exhibit, which will be on display in the center.  
The city council, staff and members of current boards and committees will be in attendance, as well as special guests like King County Executive Dow Constantine and Burien's first mayor Arun Jhaveri. 
Jhaveri followed an unusual path to politics, having moved to Seattle as a teen from his native India to pursue a career in aerospace engineering. He already held a bachelor's degree in general science and received his second bachelor's in engineering from University of Washington before starting work at Boeing. 
He and his wife settled in Burien, when it was still a town in unincorporated King County. "I've been here ever since," he said. 
One evening, he stumbled into an informational meeting about the possibility of Burien incorporating into its own city. 
"I just happened into the meeting out of curiosity and asked a few questions," Jhaveri said. "The next day, I was chairman of the Burien Area Study Incorporation Committee."
The group later surveyed representatives of nearby cities that had already incorporated. They weighed the pros and cons of the process. 
"It was a grassroots organization," Jhaveri said. "After two years of hard work, we found there was a lot of interest in incorporating."
The committee changed its name to Burien Area Support Incorporation and decided to push the topic to voters in 1992.
Attempts to incorporate Burien had failed four times before, but Jhaveri said circumstances were different this time around. 
He explained that residents were united around a major issue: fighting the development of the "Third Runway" at Seattle-Tacoma International Airport. 
In addition, Jhaveri said that the economic downturn in Burien spurred an interest in developing a local government. "People wanted a comprehensive plan and a strategy for the community," he said. "People were ready for a change in government."
Instead of having to drive downtown Seattle every time residents needed government assistance, they wanted to find help locally. "The government was quite far away," Jhaveri said. "We needed our own government and city hall."
On the fifth attempt, the City of Burien was officially incorporated on Feb. 28, 1993 as a non-charter code city with a council-manager form of government. The estimated population at the time was 27,700, within the incorporated area of about 9 square miles. 
Jhaveri joined the city council, became interim mayor and then served as the first official mayor of Burien. 
"We started from scratch," he said. "We didn't have a city hall. We didn't have anything."
Still, they made it work and moved full speed ahead. Jhaveri said that one of the most important tasks in the city's early days was agreeing on a vision. 
Creating a sustainable plan was essential, he said, both financially and environmentally. Jhaveri helped steer the city to make energy efficiency, recycling and resource conservation top priorities. 
The city pollwed residents and asked them to share their ideas for the city's future. Their feedback became the basis for Burien's mission and included building a better quality of life, developing the economy, increasing public transportation and supporting public health and education programs. 
Jhaveri served as mayor for five and a half years, leaving the post in 1998. He has resided at the same house in Burien where he has been for almost five decades.  
"I've seen all kinds of change," he said. 
For instance, the population has nearly doubled to its current estimate of 50,680. Jhaveri said the city has become increasingly diverse, as well.  
Still, he said the vision remains basically the same as 25 years ago. He meets regularly with city staff and council members to offer advice and background on Burien. 
"There will always be challenges for any community or any city," Jhaveri said. "Burien has been established as a good model of a city. We need to not only maintain but enhance its characteristics." 
He believes that the key is balancing economic prosperity, environmental stewardship and social justice. 
"We all have to work for the good of the community, the citizens, city council and city manager," Jhaveri said. "They all have to work with a balanced approach."
City manager Brian Wilson has also watched Burien grow and change over the years. He has fond memories of a childhood spent near Lake Burien, attending St. Francis, Gregory Heights Elementary and Sylvester Middle School. 
"It was a great neighborhood and a great community," he said. "It's been great to come back today and see the majority of those same things are here."
In spite of the city's growth and a changing population, Wilson said Burien retains its small town charm. 
"Downtown has kept its culture and kept its character," he said. 
Still, Burien has been able to add space for retail and residential needs. For example, Wilson said, Town Square was completed in 2017 and has become a mainstay for rentals, senior living and business space. 
Moving forward, he hopes to add more space for business offices to continue to bring more jobs to Burien. 
Wilson said residents often tell him Burien is ready for a hotel, and he is looking into it. 
He said incorporating 25 years ago helped Burien create a solid foundation. "It's natural to say that we want control of our own destiny, our own future," he said. "Now we have lots of success in Burien and lots of opportunities."
Wilson said the city's diverse population enriches its character. He looks forward to hosting embassies that represent the various nationalities of residents during the 25th anniversary celebration. 
"We have great people in Burien, both our staff and our community members," he said. 
Wilson considers it a privilege to help Burien reach its potential. "I'm glad I have this opportunity," he said. "This is a place where I want to be."
Burien will continue to celebrate this 25-year milestone in the months ahead. 
Residents are encouraged to launch their own 25th birthday celebrations. For more information about how to partner with the City of Burien, contact  Emily Inlow-Hood at emily@burienwa.gov.