Happy Birthday Burien! City fetes 25 years since incorporation
Happy Birthday Burien! City fetes 25 years since incorporation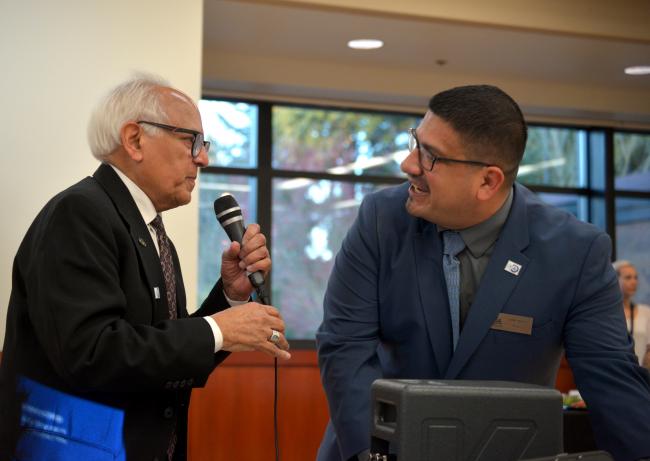 Photo by Lindsay Peyton
Mon, 02/26/2018
By Lindsay Peyton
The Burien Community Center was packed on Monday evening, Feb. 26, with guests who celebrated the city's 25th birthday over slices of cake.
City manager Brian Wilson welcomed the crowd and pointed out the various city staff members, prior mayors and officials and consulates representing the diverse local population in the audience.
Then, newly elected mayor Jimmy Matta, who has lived in the area for 20 years, took the microphone.
He said that the anniversary was not just a look at the past but also a time to move forward into the future. "We're going to start our first discussion with council members about what the next 25 years will look like," he said.
Burien's first mayor Arun Jhaveri spoke about his experience guiding the city toward incorporation.
He and his wife settled in Burien, when it was still a town in unincorporated King County. He served as chairman of the Burien Area Study Incorporation Committee, which later became the Burien Area Support Incorporation.
From 1990 to 1992, the group promoted incorporation to residents. "Whenever there's a new city being born, there are always two sides," Jhaveri said. "We have very good conversations and lots of meetings."
Voters made the final decision on March 10, 1992. "By a two to one majority, the people of Burien said, 'Yes. We want to be a city,'" Jhaveri recalled.
Others had pushed for incorporation in the past and failed. In fact, the fifth time was the charm.
Jhaveri explained that this time was different, because residents were united around fighting the development of the "Third Runway" at Seattle-Tacoma International Airport.
"It was a major concern, because of noise pollution and traffic," he said.
In addition, Jhaveri said residents wanted to build the local economy and to have representation closer to home.
"People did not want to travel to Seattle," Jhaveri said. "It was just the distance. We should have a city hall, city council right here in Burien."
The City of Burien was officially incorporated on Feb. 28, 1993 as a non-charter code city with a council-manager form of government. The estimated population at the time was 27,700, within the incorporated area of about 9 square miles.
Jhaveri joined the city council, became interim mayor and then served as the first official mayor of Burien.
He said the city still holds on to its vision from the early days early days, and he hopes residents continue to work together to help Burien prosper.
"We have a responsibility and obligation to leave this community for our future generations, for our children and grandchildren," Jhaveri said.
He called on all residents to help combat climate change, to work for social justice and to promote needed infrastructure improvements.
King County Executive Dow Constantine also attended the event. He said he attended preschool in Burien.
"Things have changed a bit since those days," he said.
He pointed out that the population has nearly doubled.
"It remains a wonderful community," Constantine said. "It's a place where my friends are choosing to buy a home and raise their families."
He said Burien has remained vibrant and welcoming, as a home to a diverse population. In addition, he said that efforts to modernize the city have been fruitful.
"Burien has put itself in a strong position to grow and lead," Constantine said. "Happy birthday to a young city with a bright future."
A video provided by U.S. Rep. Pramila Jayapal played near the end of the party.
"The story of Burien's incorporation begins with the desire of the people to have their voices heard," she said. "Through determination and organization, residents were able to regain their agency."
Jayapal said Burien is expanding and innovating. "My hope for Burien is that it continues growing with compassion, love and understanding," she said. "Together, this community will tackle challenges with grace and courage."
Residents were invited to share their memories in a scrapbook. Photos of Burien from days past were on display around the room.
Burien will continue to celebrate this 25-year milestone in the months ahead.
Residents are encouraged to launch their own 25th birthday celebrations. For more information about how to partner with the City of Burien, contact
Emily Inlow-Hood at emily@burienwa.gov.