Southgate Roller Rink will celebrate seven years with Top Knot Fest
Southgate Roller Rink will celebrate seven years with Top Knot Fest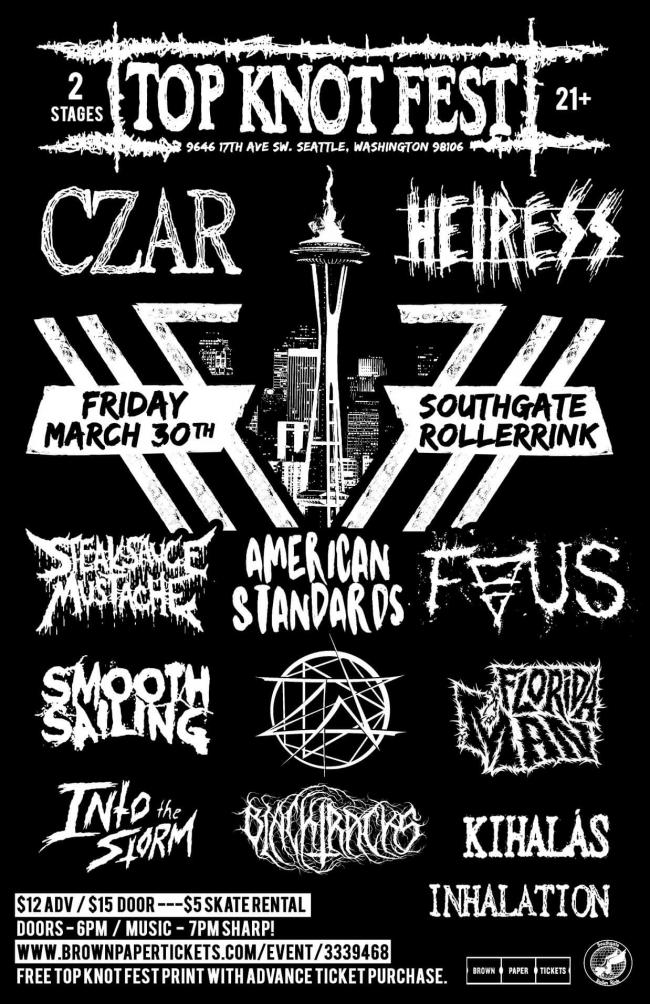 Mon, 03/05/2018
Southgate Roller Rink will celebrate its seventh anniversary with Top Knot Fest March 30. The event will feature two stages of  Northwest+ punk, metal, and noise rock and skating, skating, skating. One stage in the back bar, one stage in the center of the rink, and a beer-n-cider bar for your thirst-quenching needs. 
Southgate Roller Rink has been a groundbreaking business in White Center since owners Josh & Erin Rhoads returned the building to its original use as a community gathering space for fun (and exercise). For families, Southgate has roller skating birthday parties (featuring food and treats from other local White Center businesses) and afternoon and evening all skates, as well as extended hours when school is out of session. Junior and adult roller derby teams practice and have bouts at the rink every month. For adults, there are later evening adult skates, Skateroake, and the monthly Pride Sk8 every first Wednesday. 
LINEUP - 1 night, 2 stages, 8 wheels, 12 bands! 
CZAR (Seattle)
HEIRESS (Seattle)
STEAK SAUCE MUSTACHE (OR)
AMERICAN STANDARDS (AZ)
FAUS (Spokane) 
ZAN (Richland)
SMOOTH SAILING (Seattle)
INTO THE STORM (Seattle)
FLORIDA MAN (Seattle) 
BLACKTRACKS (OR) 
KIHALAS (Seattle)
INHALATION (Seattle)
debut performance - members of Into the Storm and Numb 
Southgate Roller Rink presents 

TOP KNOT FEST

Friday, March 30, 2018 - 6pm-1:00am (Doors at 6pm, bands start at 7pm sharp!)

Southgate Roller Rink | 9646 17th Ave SW, Seattle, WA 98106 | www.southgaterollerrink.com

• $12 advance tickets, includes free Top Knot Fest poster print

  o Advance tickets available at: https://www.brownpapertickets.com/event/3339468

• $15 at the door

• $5 skate rental

• 21+, valid I.D. required

• Facebook event page: https://www.facebook.com/events/168249393813625/