Highline Crimes week of 4-30-18
Highline Crimes week of 4-30-18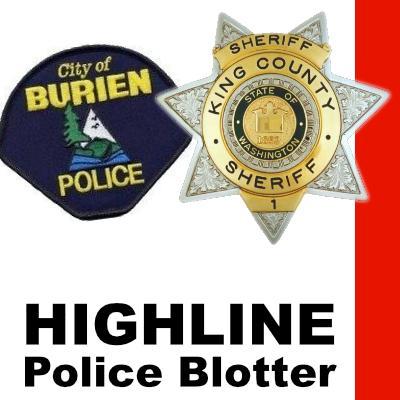 Mon, 04/30/2018
Shoplifter bear sprays customers
A man attempted to return previously stolen items at Big 5, 125 SW 148 St. around 8 p.m. on Saturday, April 21. The suspect grew angry and tried to physically assault the store manager. He then used bear spray to attack the manager, store employees and other customers. 
Car prowler hits parking lot
A woman took her son to breakfast at Denny's, 17206 International Blvd, before his flight at SeaTac airport. While they were parked, a suspect shattered their car window and stole valuable items from the car. The victim saw someone with a U-haul that could be a suspect. The crime was reported at 9:50 a.m. on Saturday, April 21. 
Robbed at gunpoint
Around 2:50 p.m. on Wednesday, April 18, a man was walking on a public roadway near the intersection of 1 Ave S and SW 158th St, when he was robbed at gunpoint. The suspect stole his backpack. The victim tried to fight the robber, and the suspect fired one round from his gun during the struggle. 
Brutal assault with machete in Burien 
 At 7:10 p.m. on Wednesday, April 18, King County Sherriff's Office received multiple 911 calls about an assault in the intersection of SW 148 and 1 Ave S. When deputies arrived, they found two male suspects, ages 25 and 30, who were taken into custody and booked into King County Jail. Officers learned that a transient male was outside on SW 148, when the two intoxicated suspects approached him and for no reason pushed over his bike and belongings. A good Samaritan in the area saw what was going on and tried to get the suspects to stop. The suspects turned on the passerby, and one produced a machete. The other suspect had a chain. They bean to assault the man. At one point, the transient tried to help but the suspects attempted to throw him into traffic. Two cooks  
at a nearby restaurant were able to chase down the suspect with the machete and hold him to the ground until police arrived, and officers were able to capture the second suspect. The victim, a 39 year old male from Burien, was treated by medics and transported to Harborview Hospital in critical condition. 
Witnesses needed to help investigate Angle Lake Park shooting
King County Major Crimes Detectives have put out a call for more are looking witnesses to help investigate a shooting that occurred at Angle Lake Park, in the 19400 block of International Blvd S. in SeaTac. The crime was reported aroun 5:30 p.m. on Monday, April 9.  Multiple shots were fired and officers believe that a number of people were involved. Two victims were driven to a nearby hospital with gunshot wounds, and both survived. King County Major Crimes Detectives are asking any individuals at the park on this date, who may have seen the disturbance or the shooting itself, to call King County Sheriff's Office at 206-296-3311 with any information.