Josie coaches final home game for Kennedy Catholic
Josie coaches final home game for Kennedy Catholic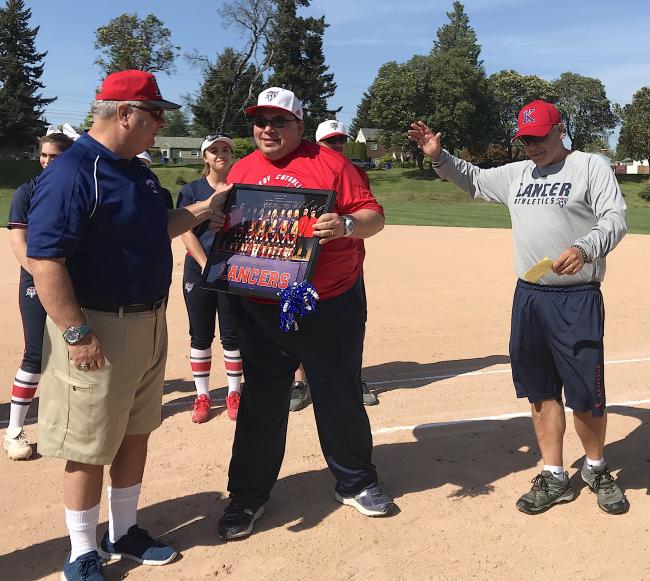 Fri, 05/04/2018
By Gerardo Bolong
CONTRIBUTING WRITER
After 25 years, the only fastpitch softball coach Kennedy Catholic High School has witnessed coached his final home game at Chelsea Park on Thurs., May 3.
Known as "Mr. Lancer" for graduating from Kennedy Catholic before returning to Lancer land to teach and coach following graduation from college, Dino Josie will step down at the end of this season after a final playoff run.
Back-to-back state championships in 2007 and 2008 with a streak of 11 consecutive Seamount League titles highlight his team accomplishments.
Josie has also earned numerous coach of the year recognition, the last in 2016.
Even the Lancer concession stand organization has been part of the JFK graduates' many accomplishments.
Under warm, filtered sunshine, numerous coaches, friends and families gathered together to wish Josie farewell with an additional on campus event slated after the game's completion.
"It's all about relationships with players, coaches and coaches of other teams we've played against in the leagues," Josie said. "My mother told me to do what you love and you'll never have to work in your life. I'm blessed to impact others and the impact on me is sustaining."
In coaching, Josie began with the lean years before moving into the high tides of achievements.
He also credits longtime friend and former Lancer athletic director and football coach Bob Bourgette with mentoring him on coaching.
Current AD Sam Reed also has a great relationship with coach Josie.
Game wise, the Lancers overcame an early deficit to overwhelm Hazen, 19-4, in five innings.
Kennedy Catholic improved to 8-5 in the North Puget Sound League 4A Cascade Division and to 10-9 overall to retain a chance for third place as the division crossover games approached.
In this game, Hazen used three hits to score three runs in the top of the first inning before Kennedy Catholic warmed up the potent bats.
Marinna Desimone singled home a Lancer run in the bottom of the first, but the Highlanders countered with their final run of the game in the top of the third.
Lancer bats began blazing in the bottom of the third inning with a nine-batter effort.
At times, KC batters resembled tee ball hitters on so many hard hit fly balls for extra base hits.
Following Brianna Blayney's leadoff single, Hanna Scandiffio sent a pitch deep to left field for a two-run inside the park homer. Tatiana Leahy followed suit with an even deeper inside the park homer into center field to tie the game at 4-4.
Morgan Mueller singled and later scored on a wild pitch.
With two outs, Blayney doubled home a trio of runs as the Lady Lancers completed a seven-run frame to lead 8-4.
In the bottom of the fourth inning, a Kennedy Catholic 15-batter explosion sent the lead nearly out of sight.
Extra base hits galore ensued. Mueller blasted a two-run homer as part of a huge 11-run barrage. Leahy's grand salami home run figured prominently in the inning that featured many contributions from KC hitters.
Pitcher Desimone ended the game on the 10-run mercy rule with a 1-2-3 scoreless fifth inning.
Leahy finished at 3-for-3, including two home runs, a triple and five RBI while Blayney batted 3-for-3 with the triple and three RBI. Mueller added a 3-for-4 afternoon with a homer and two RBI.
With the win in the books, the greatest impact for Josie was obvious.
"The players are No. 1," he concluded.
In his 32nd year of teaching math at Kennedy, the Lancer stalwart will continue with his love of teaching.