Longtime Burien physician Dr. Alan L W Gunsul celebrates 92 years
Longtime Burien physician Dr. Alan L W Gunsul celebrates 92 years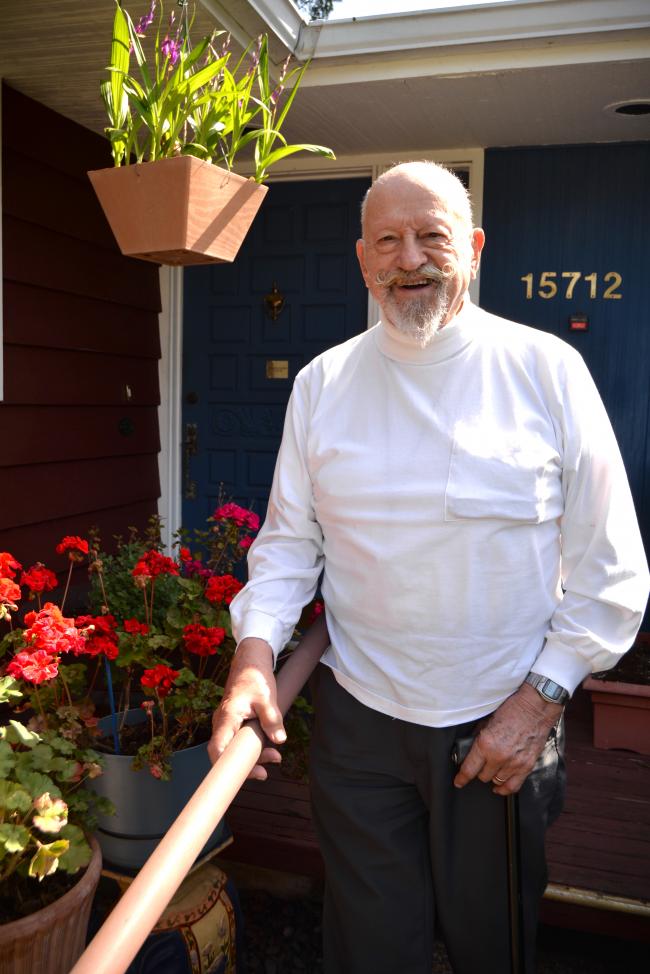 Photo by Lindsay Peyton
Thu, 05/10/2018
Looking back on the past 92 years, Burien resident Dr. Alan L. W. Gunsul has some advice for a long, healthy and happy life. 
"Be interested in life and the people around you," he said. 
That's why he enjoyed serving as a family doctor. He was able to meet most of the members of the community, while treating whole families for 43 years. 
He has resided in Burien for the past 60 years, and it's rare for him to go anywhere in Burien without running into a patient or even a baby that he delivered. After all, he has welcomed 2,200 babies to the world. "He can't see a child without grinning," his wife Kate said. "He loves kids."
His interests, however, did not stop at medicine. Gunsul is a ballroom dancer, an avid gardener and a wine collector. At age 80, he taught himself to play the organ. 
"I'm still learning," Gunsul said. 
He recently celebrated his 92nd birthday, surrounded by family, over an Italian dinner at Frankie's. 
He is the father of five children, Magen Michaud, Alan L. D. Gunsul, Moira Gunsul, Maude Gunsul, and Ian B. D. Gunsul, as well as six grandchildren and one great-grandchild. 
Gunsul was born on April 24, 1926 and moved with his parents from Annette Island, Alaska to Tukwila, as a 1-year oldand graduated from Foster High School, before he was drafted to serve in the army. He served in Macedonia, traveling around Europe, working in intelligence for the Air Corps.
Then he attended Seattle University, where he earned a bachelor's degree in philosophy and chemistry, before joining the sixth graduating class of the University of Washington's medical school. 
Gunsul knew that he wanted to study medicine since his early childhood. " A doctor saved my brother's life," he recalled. 
After battling measles, Brooks R. W. Gunsul contracted mastoiditis and then had surgery to place drains behind his ear for the abscess. 
"The little 3-year old wouldn't leave them in," Gunsul said. "He kept pulling them out."
Gunsul was only 2 years older. He told the doctor that he could convince his brother to behave and the doctor agreed to sneak Gunsul into the hospital room, where the young visitor was technically not allowed. 
Gunsul told Brooks that the only way he could come home is if he stopped pulling out the drains. His brother listened.  
This episode became represents the first in countless pieces of medical advice Gunsul would give. 
Gunsul worked his way through college and medical school by driving a cab, cooking and reading gas meters. He had already married Barbara Davis, and the couple had two children, while he was enrolled in pre-med at Seattle University. 
While in medical school, the couple added two children to the household, as well as his younger siblings Craig and Diane, after his parents died. 
Gunsul completed an internship at the former Doctor's Hospital and then began practicing under Dr. Jack Morrison who brought the young family to the Burien area. First, Gunsul moved to Sunnydale and then to his current house, there was plenty of room for the family. 
At first, Burien did not have a hospital, so Gunsul traveled to Renton, West Seattle and Doctor's Hospital, taking shifts at each. 
Then, Burien General opened, eventually changing its name to Highline Community Hospital. "We were the original staff," Gunsul said. "There weren't many doctors out here then. Originally it was two floors with 60 functioning beds. Then, it expanded, expanded, expanded."
He served as chief of staff, chief of anesthesia and chief of family medicine. He served on the hospital's committee until last year. 
Gunsul explained that there was a time before specialists, when he handled almost everything. 
"Everything we could do, we did, and we took classes to learn to do more," he said. 
In addition, he served as a physician for Highline High School's football team and was on call for wrestling and track and field, as well. 
Gunsul retired in 1999, and his first wife died in 2006. 
Gunsul re-met Kate in 2007. She had attended Foster High School with him and was in Brooks' class. 
She's a retired English and journalism teacher. 
The couple's first date was at the theatre. Gunsul is an avid supporter and enjoys going to a matinee and then analyzing the production over dinner. 
Kate said she was immediately taken with Gunsul. "All the guys I'd been meeting were ordinary," she said. "He was outstanding."