Highline crimes week of 6-25-18
Highline crimes week of 6-25-18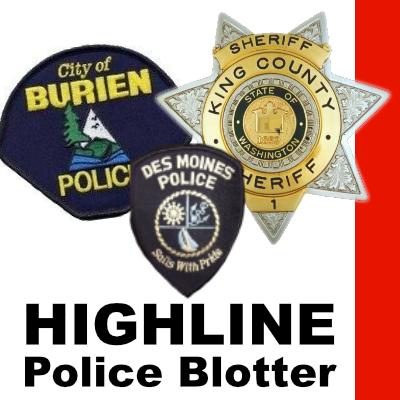 Mon, 06/25/2018
SeaTac motel murder suspect now in custody in Ohio
In the evening of Wednesday, June 20, a 26-year old man was arrested in Dayton, Ohio.  The suspect is alleged to have robbed and killed the clerk of America's Best Value Inn, located in the 20600 block of International Blvd S in SeaTac on Friday, June 15. A shuttle driver for America's Best Value Inn, along with a passenger, found the front desk clerk shot in the lobby. Around 11:15 p.m. police and medics arrived, provided CPR to the victim and transported him to Harborview Hospital. The 41-year old man from Spanaway died from his injuries. King County Sheriff's Detectives will be flying to Ohio to continue the investigation. The suspect will eventually be extradited back to Washington to face charges. 
Officer-involved shooting in Normandy Park sends one to hospital
Around 5 a.m. June 22 an adult male subject was shot in the shoulder by a Normandy Park Police officer following a traffic stop in the 21600 block of 6th Ave South.
Normandy Park police say that the suspect showed a handgun, and their officer fired his weapon striking the suspect.
The suspect was taken to Harborview Medical Center in Seattle
Police said later the suspect is a 35-year old male who has since been released from the hospital and was booked into the King County Jail for investigation of Felony assault and felony harassment.
Des Moines Police assisted in pursuit
DMPD units assisted in a pursuit to catch a suspect wanted in a homicide on June 19. They took the suspect into custody after executing a successful PIT maneuver. There were no injuries to suspect or officers.