Family Night Out at Steve Cox Memorial Park is set for Aug. 7
Family Night Out at Steve Cox Memorial Park is set for Aug. 7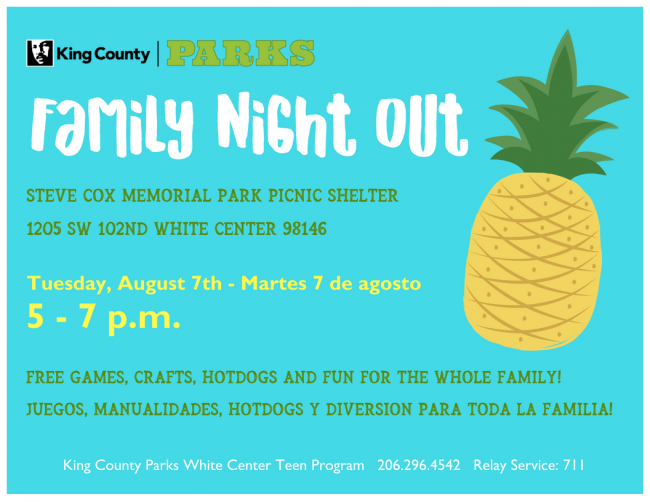 Tue, 07/31/2018
The Annual King County Parks Night Out Against Crime Family event is back on Tuesday, August 7th from 5-7pm at Steve Cox Memorial Park (1321 SW 102nd 98146.) 
King County Parks has participated in the National Night Out event for over a decade and is thrilled to be hosting families in the park for the annual event. 
This year's activities will feature Pineapple Fiesta themed crafts and games in honor of the Coco movie night coming up at DTMP on August 4th. 
Confirmed guests of honor include Deputy Bill from the White Center Store Front, Teen Librarian Devon from the White Center Library, and King County Parks own Marta the River Otter Mascot. 
Night Out at SCMP is once again sponsored by the teens and staff of the White Center Teen Program.  The WCTP offers free recreational, educational and social enrichment programming to over 1200 culturally diverse participants ages 12-19 each year.
The program operates five days a week, forty-eight weeks a year and provides structured recreational classes and programs, homework assistance, educational and computer resources, leadership training, volunteer opportunities, special events, field trips, and drop-in activities. 
Teens and staff will be providing island themed crafts, games and hotdogs between 5-7pm on the evening of the 1st.    
For additional Information, please contact Jody Addicks, Recreation Coordinator at 206.477.2095.
FAMILY NIGHT OUT at STEVE COX MEMORIAL PARK on Tuesday, August 7th from 5-7pm