6th Annual Rat City Recon will rock White Center Sept. 15
6th Annual Rat City Recon will rock White Center Sept. 15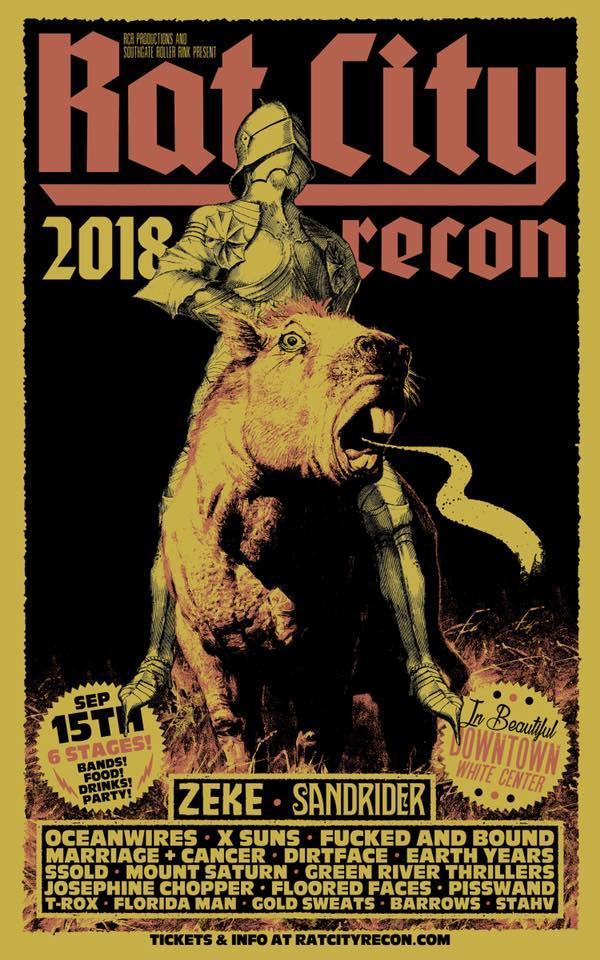 Thu, 08/09/2018
Rat City Recon, Monumental Undertaking, and Match + Gasoline present 
RAT CITY RECON 2018

Saturday, September 15, 2018 - 4pm-1:30am

Southgate Roller Rink* | Drunky Two Shoes BBQ* | Full Tilt Ice Cream** | Mac's Triangle Pub*

-- $20 advance tickets come with a Recon souvenir and $5 off a Recon t-shirt at the event

-- *21+, valid I.D. required; **all-ages
ZEKE, SANDRIDER, AND FREE SHOWS AT RECON 2018!
The 6th iteration of Rat City Recon is upping the ante! Epic Seattle rockers Zeke and the stoner-sludge of Sandrider will headline a horde of outstanding Northwest/West Coast bands rotating between four venues and six stages on the main drag in White Center. Additionally, the late afternoon shows at Drunky Two Shoes BBQ, Full Tilt Ice Cream, and Mac's Triangle Pub will be free. Tickets will be required for entry to Southgate Roller Rink.
"Seattle's Zeke have long operated on what you could call the Motörhead Principle: They only play raw, fast, and loud. Subtlety is something they steamrolled over a long time ago, and far from limiting them, it's made them one of America's great underappreciated rock acts. Zeke have always relied less than [other] acts on lyrical shock value, putting all their energy instead into sounding as nasty and speedy as possible. [2018's] Hellbender is their first album in 14 years, and it fits right into their unabashedly rude catalog alongside 1994's Super Sound Racing and 1998's Kicked in the Teeth." [Pitchfork.com]
"Sandrider are a Seattle trio who traffic in hooky stoner rock that takes the brainy with the brawny; their songs are more or less the aural equivalent of runaway bastard children of Soundgarden and Queens of the Stone Age, reared on a diet of comic books, weed, and cheap beer. …they've amassed a reputation as one of the most esteemed bands in the local scene." [RevolverMag.com]
White Center is ready to rock for Recon 2018 - in addition to the Recon stages, the neighborhood is full of a wide variety of bars and restaurants for all types of food and fun. 
LINEUP - 4 venue s, 6 stages, 19 bands, 20 bucks!  

SOUTHGATE ROLLER RINK (tickets required)

ZEKE
zekeband.com

SANDRIDER
goodtodierecords.com/band/sandrider/

Fucked and Bound
fuckedandbound.bandcamp.com

Ssold

Earth Years
facebook.com/EarthYearsBand/

X Suns

Oceanwires
oceanwiresmusic.com

Dirtface

Marriage + Cancer
marriageandcancer.bandcamp.com
Mount Saturn
DRUNKY TWO SHOES BBQ (free show 5-7pm)

Greenriver Thrillers
The Josephine Chopper
facebook.com/The-Josephine-Chopper-1734007153561348

Floored Faces
facebook.com/Floored-Faces-148485115855788/

FULL TILT ICE CREAM (free show 5-7pm)
 
Florida Man

T-Rox

PissWand
MAC'S TRIANGLE PUB

Gold Sweats
(Don from Tacos!)

Barrows
@BarrowsTheBand

STAHV