Rosie the Riveter Garden dedicated in SeaTac
Rosie the Riveter Garden dedicated in SeaTac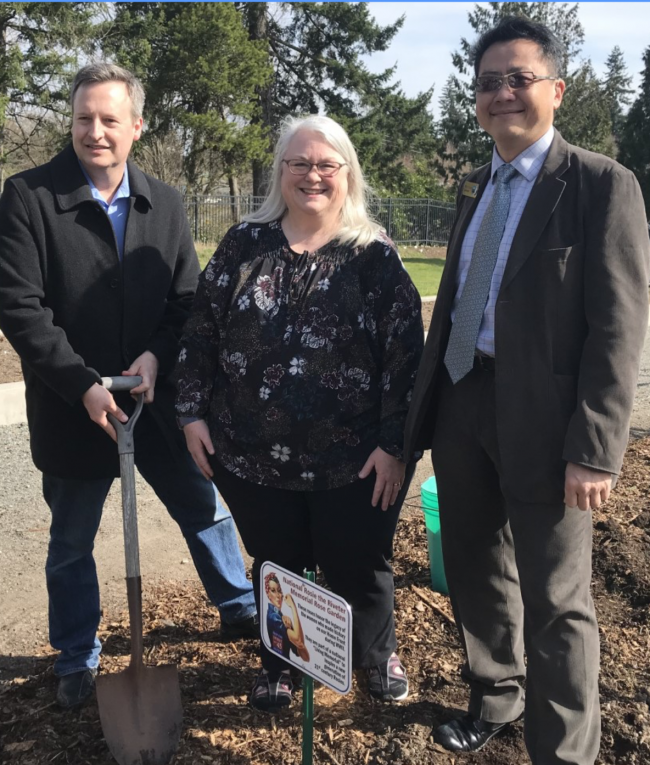 Fri, 03/29/2019
information from City of SeaTac
On Thursday, March 21, SeaTac Mayor Erin Sitterley and Councilmember Peter Kwon joined the Seattle Rose Society and the Highline SeaTac Botanical Garden at the SeaTac Community Center to dedicate the Celebration Rose Garden as a Rosie the Riveter Rose Garden. These rose gardens are located around the country and dedicated to the women who worked on the home front during WWII, symbolized by the well-known Rosie the Riveter image with the slogan, "We Can Do It".
The Rosie the Riveter organization is an outgrowth of The Spirit of 45, an alliance of organizations and individuals working to preserve and honor the legacy of the men and women of America's WWII generation.
The event included the placing of a Rosie the Riveter sign and the planting of a Rosie the Riveter rose to honor these women's service during WW II, and by extension the wartime service of everyone from that generation.