Seniors collect supplies to support underprivileged students
Seniors collect supplies to support underprivileged students
At Judson Park in Des Moines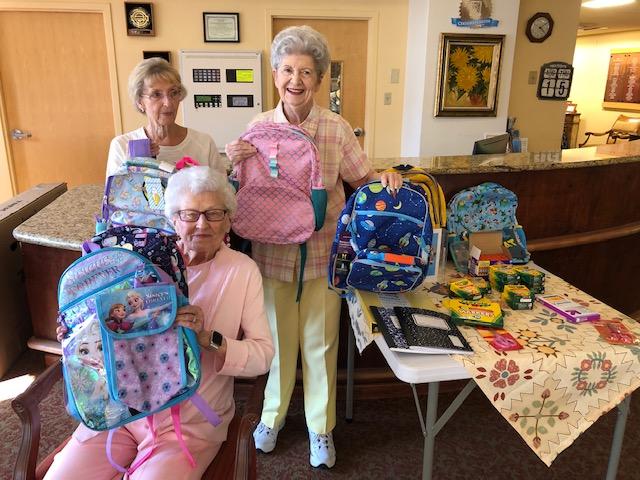 Ben Green
Wed, 08/28/2019
A new school year is an exciting time for most students. New teachers, new friends and, of course, an opportunity to finally use the new school supplies picked out over the summer. But for some metro families, school supplies can be a burden, a financial commitment they just can't meet. That's where Mary Mills, Marilyn Smith and other residents at Judson Park come in.
For the last five years, Mills and Smith have led a supply drive at the senior living community in support of underprivileged students at nearby Parkside Elementary in Des Moines.
 "I just woke up one morning and was excited to do something that made a difference in my community," said 98-year-old Mills.
 Before the 2015 school year, she researched area schools that served the most free or reduced lunches and could possibly benefit the most from donated supplies. After liaising with Parkside administrators and determining what items they needed, Mills attended and spoke at a town hall at Judson Park and encouraged her neighbors to participate.
 "My first husband was an educator," said Mills. "He died at 48 on our 25th anniversary. This was in memory of him; he was a great dad and husband."
 For the month of August, Mills and Smith set up a table near the community's front entrance with examples of the supplies the school has requested – backpacks, pencils, pencil boxes, glue sticks, scissors, books, crayons, markers, binders. Residents either drop off donations or donate money that Mills and Smith use to purchase supplies on their behalf.
 "We didn't want any child left out, we wanted each one to get a backpack and other items," she said, adding many families simply aren't able to afford school supplies, or it falls on individual teachers to purchase supplies out of their own pockets.
 On Friday, August 30, at 9:30 a.m., Mills and Smith will help pack the supplies into a truck – usually a large locker full – and deliver it to the school.
Comments
Nice work ladies - so VERY thoughtful!!!