Plastic bag ban in Burien begins Jan. 1, 2020
Plastic bag ban in Burien begins Jan. 1, 2020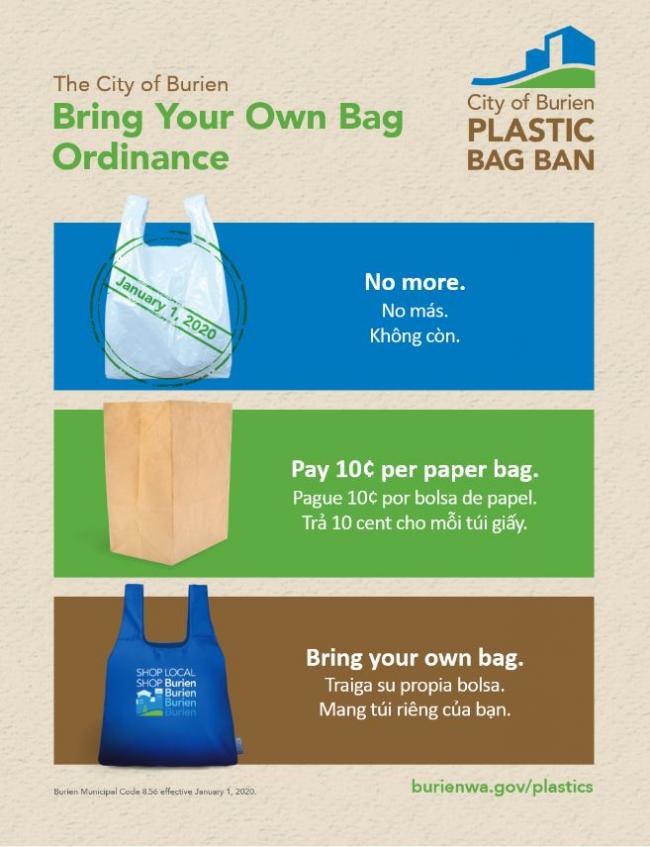 Tue, 09/10/2019
Starting January 1, 2020, businesses will no longer be able to hand out single-use, carryout plastic bags.
Discover Burien and the City of Burien have helpful handouts that explain the new law and provide information on acceptable paper and compostable bag alternatives (should you need them).
Printable signs are also available for display in-store for customer education about the new law.
Comments
As I'm a burien community i strongly agree with that decision for our environment protection.
I like this. Great idea. Happy its finally happening here.
So what about regular and fast food restaurants? And Medical offices? They love handing out plastic bags! This is. A good start... kinda like plugging a dam with a toothpick.
Before marketing an half-assed 'legal' effort, think smarter, consider ALL contributing factors, not just the ones that put the burden on the consumer to do right or be penalized.
Half-baked measures aren't gonna help this planet the way it MUST be treated. We MUST take more action, like not waiting 5 years before a measure FINALLY becomes law. It's SO MUCH more important that you politicians keep your seats (and money) and the chairmen and the business owners don't lose profits (and politicians) It was done to make you look good & feel good so you could say that you did your part... HAH!
Tell that to your grandkids! Oh and don't forget to apologize for killing any chance for great-grandkids.
It's not about you, it's about all the generations that might have lived if you weren't so greedy and utterly dick-, er..dim-witted.
Add new comment