Lancers rally past Eagles
Lancers rally past Eagles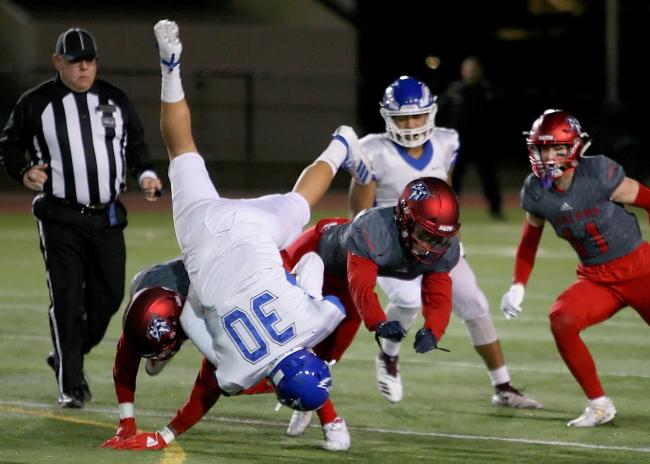 Kurt Howard
Mon, 11/04/2019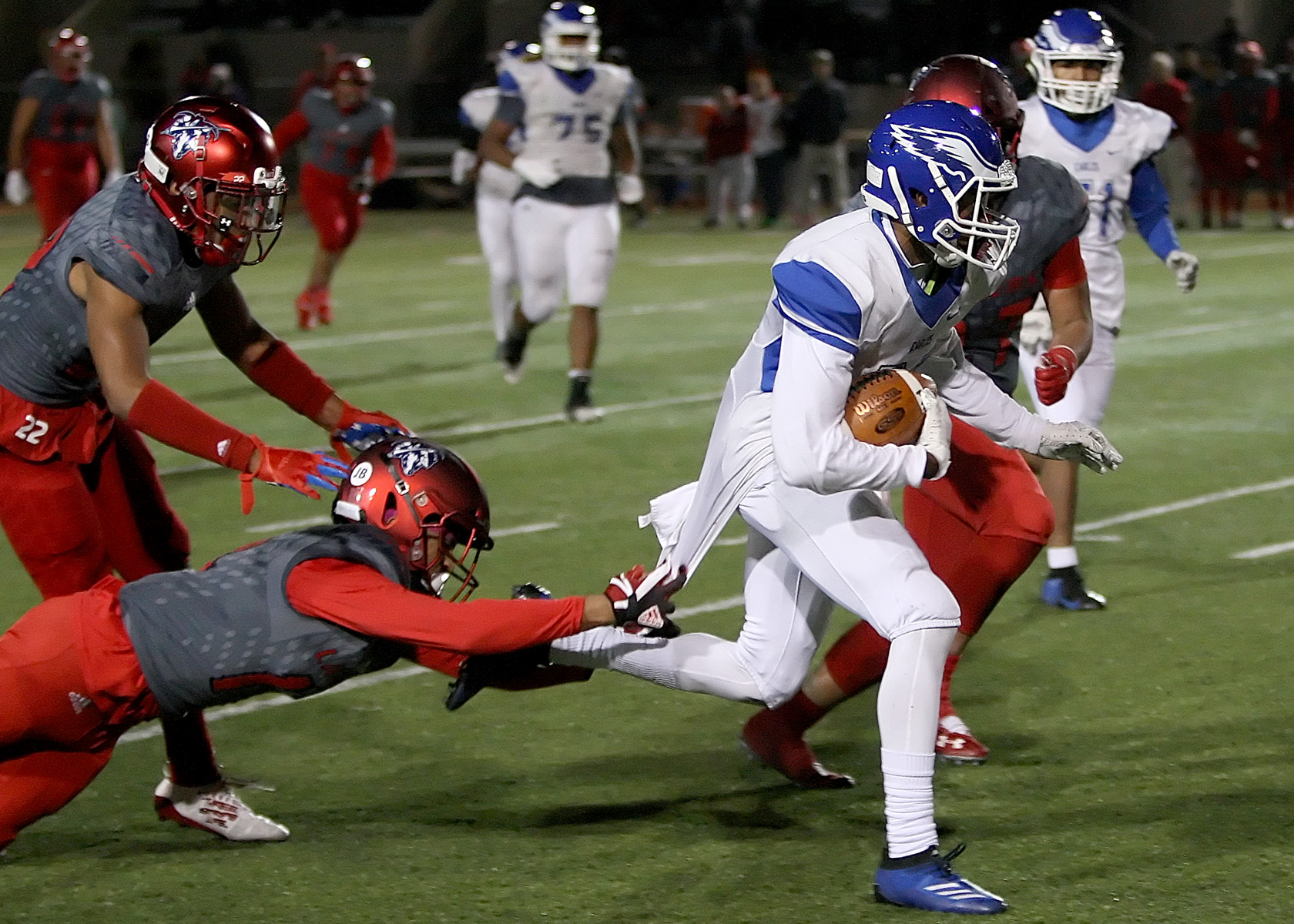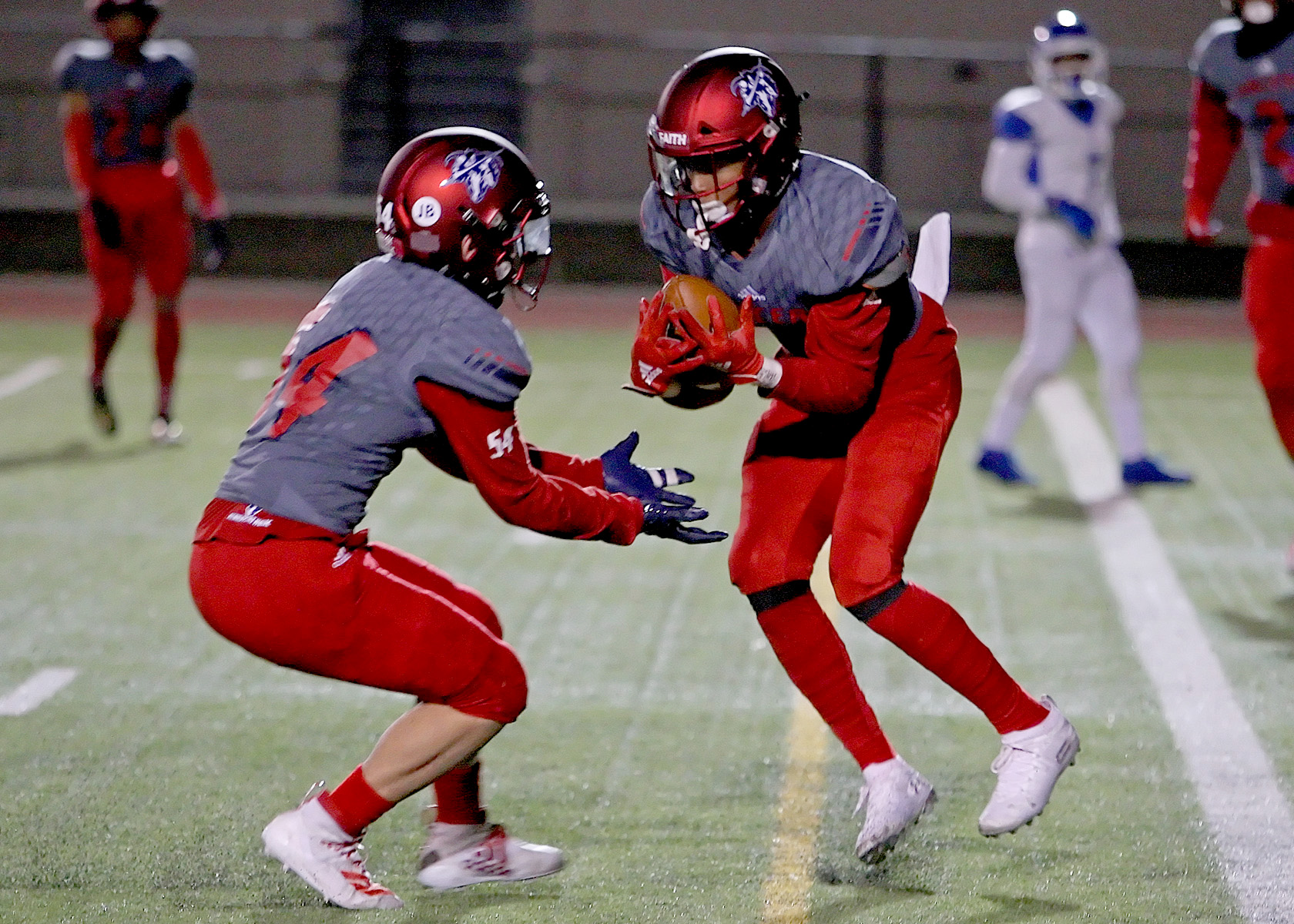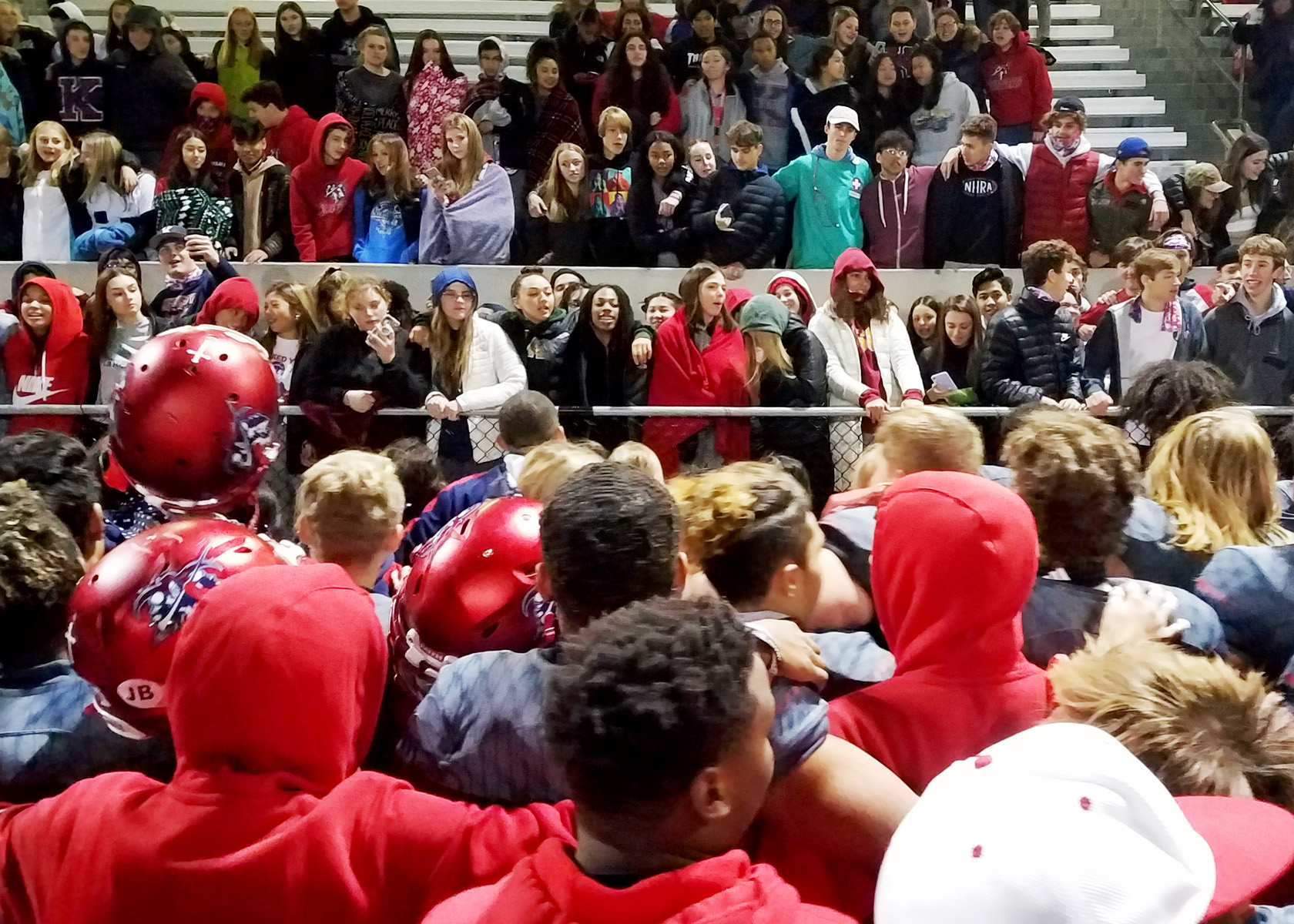 By Gerardo Bolong

CONTRIBUTING WRITER

RENTON - Ability to overcome adversities enabled No. 2 state 4A football team Kennedy Catholic to turn back a determined Federal Way Eagles team 42-28 at Renton Stadium on Fri., Nov. 1, in an NPSL crossover seeding matchup of Mountain Division and Valley Division champions, respectively.

Kennedy (9-0) will host KingCo No. 5 in the first round of state playoffs. Federal Way (7-2) travels to Skyview in Vancouver. 

"We played through a lot of adversity," said KC head coach Sheldon Cross. "It was a good job by Federal Way. It was a rough day and we played like it. We gritted it out and made plays when we had to." 

Adding to the adversity was mourning the death of a long-time and beloved Kennedy teacher earlier in the day. 

Federal Way conceived a game plan of playing ball control football and keeping the ball in the middle of the field to keep the clock running. Misdirection plays kept the Kennedy defense off balance for much of the affair.

The Lancer defense was able to rise up to create turnovers and stops at just the most critical moments at Renton Stadium.

"We played really sloppy," said Sav'ell Smalls. "We need to execute better. There was a lot of adversity, but it builds character. You find out who you really are." 

Behind their strong offensive line, the Eagles controlled the line of scrimmage against the huge Lancer linemen early. 

RJ Tausilli directed a 63-yard drive with steady gains on the ground by Damani Nelson and himself mixed in with a 22-yard completion to Jatavious Magee. 

On third and goal from the three yard line, Shane Aleaga jumped on a loose football following a sack on the eight yard line to stop the threat of scoring. 

On its next possession, FW began a long drive from its own nine. 

Once again, dominating the line, Nelson and Tausilli followed the same pattern as before. A 16-yard pass completion to Ronald Davis plus some good gains by Adam Maiava brought Federal Way to a first and 10 at the Lancer 30. 

Kennedy Catholic jumped offsides for the third time in the game before a five-yard Eagle gain. 

Tausilli fired up the middle for a 13-yard gain ahead of a Nelson eight-yard surge as the first quarter ended with no scoring. 

On the first play of the second quarter, Tausillii scored from four yards out. The extra point put KC in the novel position of being behind this season. 

Quarterback Sam Huard was having a difficult time completing long passes for the Lancers and gave up an interception to Magee, who returned the ball for 13 yards to the 37. 

Continuing to draw Kennedy defenders offside, the Eagles eventually reached the Lancer 28 with a fourth and three. 

On a fake punt, the ball was snapped to Maiva who was swarmed by a host of defenders for only a two yard gain. 

On second and 11, Huard finally got untracked for a 31-yard touchdown pass to Junior Alexander with 3:34 until halftime as the teams were tied at 7-7. 

On their next possession, the Lancers began at their own 48. 

A quick pass to Justin Baker netted 19 yards and a later 16-yard run from Zaire Lozolo matriculated the ball to the Federal Way five. 

Three plays later, Lozolo went through a gaping hole for the touchdown as Kennedy Catholic took a 14-7 lead with just more than four minutes until halftime. 

Keyed by runs from Jaylen Bogan and Kennedy penalties, the Federal Way Eagles put on another march 49 yards away from paydirt. 

Bogan eventually caught a 14-yard scoring pass that was nullified by a penalty with 50.4 seconds until intermission.

On third and 10 from the 14, Tausilli spotted an open receiver on the left side of the end zone, but Kieran Collins intercepted the poorly underthrown pass and returned it to the 26 yard line. A kneel by Huard sent the Lancers into halftime with a precarious 14-7 margin.

KC took the second half kick off and reached the 29 yard line. A Huard to Alexander left sideline reception of 34 yards led to the next Lancer score. 

Running a crossover route on a skinny post pattern, Alexander split the defenders for the 30 yard TD with 11:08 left in the quarter. 

Seemingly in control, Kennedy Catholic reached second and 10 on the 43 yard line when Huard passed for a pick-six as Bogan intercepted for a 54-yard touchdown. 

Suddenly, the resurgent Eagles were within 21-14 with 8:12 left in the quarter. 

Just more than two minutes later, Federal Way strong safety Elijah Graham intercepted the ball in the end zone after Kennedy had reached the Eagle two. 

On third and three from the 23, Magee caught a pass at the 42 yard line and outmaneuvered defenders until he took it to the house for a 77-yard FW touchdown at the 5:07 mark of the frame. 

Locked in a 21-all duel, the Lancers went on a 65-yard drive aided by a pass interference penalty and good rushing yards from Lozolo.

Baker's diving catch in the end zone helped KC grab a 28-21 lead with 3:38 until the fourth quarter. 

Tausilli, Bogan, and Corey Quinn led a covenant of Eagles on a long drive that commenced on their own 34. 

Later in the drive, Tausilli found Quinn for 12 yards for a first and goal at the KC two. 

On the second play of the fourth quarter, Tausilli fumbled into the end zone where Kennedy Catholic recovered. 

Kennedy looked to be clear after Baker crashed into the end zone from three yards out with 9:51 left in the fourth quarter, but the Eagles later recovered a fumble that led to a 17-yard touchdown to Koa Derouin and the score was 35-28 as 6:32 remained. 

Less than two minutes later, Huard spotted Zane Thornton in the right corner of the end zone for a touchdown to extend Kennedy's lead to 42-28. 

TJ Paaga accentuated closure by recovering a fumble and returning it for 12 yards as Kennedy Catholic escaped with a hard fought win. 

Despite the turnover, Huard still passed for 464 yards and four touchdowns. Alexander had 235 receiving yards and two scores. Lozolo earned 50 rushing yards and a touchdown. 

For Federal Way, Tausilli led the way on 76 rushing yards and a touchdown. Magee gained 116 receiving yards with a touchdown.