Seatltle Chinese Garden Lantern Festival will light the night Sat. Feb 8
Seatltle Chinese Garden Lantern Festival will light the night Sat. Feb 8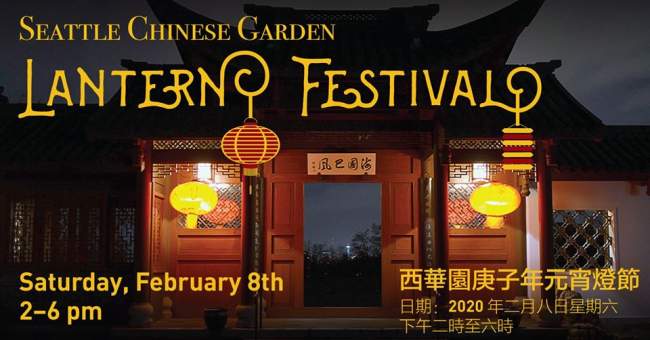 Sun, 01/26/2020
Please join us for this special celebration at the Seattle Chinese Garden!
Activities will include:
• Traditional Chinese music
• Riddles
• Tai Chi demonstration
• Tongyuan (sweet dumpling) making demonstration
• Tea tasting 2–4 pm
• Kids activities (origami & lantern making)

The traditional Chinese Lantern Festival marks the end of the Chinese New Year celebrations. Come and visit your local Chinese garden on this special day!

The Seattle Chinese Garden is located at the north end of the South Seattle College Campus, at 6000 16th Ave SW. Dogs on leash are welcome. Admission is free but a $5 donation is welcome.