Spying on the Enemy: a private detective tells his story
Spying on the Enemy: a private detective tells his story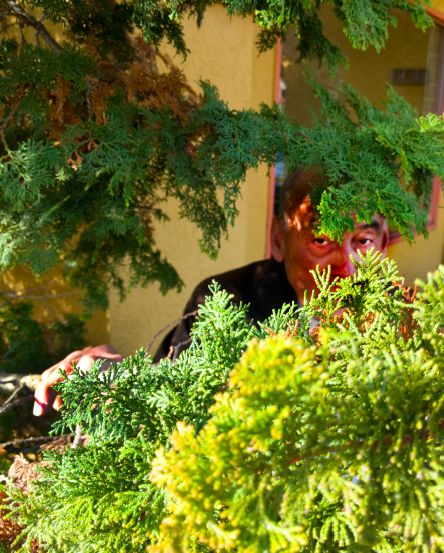 Tim Robinson
Tue, 02/25/2020
by Ken Robinson
We met in the hall at Highline High in 1960. He was a handsome upper classman and we became buddies. He watched out for me in the new milieu of high school. Over time, our paths diverged and criss-crossed.
Now, sixty years later, Sal Dena called to talk about two books he has written about his life as a private detective from Burien.
The names and the cases from headlines in local newspapers could be familiar to you. Dena, whose big family has deep roots in the southend of Seattle, has had a career punctuated by luck, success and danger. 
When our paths intersected again in June,  1973, it was during the time many young women were missing and later found murdered. Private Detective Dena called us at the Highline Times and asked if we were interested in a case with ties to Burien. We accompanied Dena to a house in Boulevard Park south of the airport where it was believed a satanic ritual had taken place in the basement. There was evidence of blood spatter on the walls. Just visiting the empty house was a creepy feeling. Dena had gone to Idaho to interview a suspect, Thomas Creech, who told him about a wishing well and pentagram and blood spatters on the wall. 
Ted Bundy, later evidence showed, was very active during that time. So was serial killer Gary Addison Tayor, who kidnapped and killed Burien woman Vonnie Stuth. According to Dena, Gary Addison Taylor had killed more than 200 women on his trail from Michigan to Seattle. 
Sal did stake out work in '74 looking for Bundy, whom he had known was a suspect by police. One of my younger brother's friends was either dating or knew a girl who was attacked and possibly bludgeoned (she survived) by an intruder in her dorm bedroom or rental house bedroom near the UW campus. Our  staff photographer sat in the car with him.
Sal also knew Ted had moved to Salt Lake City and told the police who had not been looking for him there. That is how Bundy got arrested and police found his VW with the missing passenger seat and handcuff and other abduction tools.
Dena's private detective work was part-time then. He operated a business called Hiline Auto Body, an enterprise started with money he earned from selling a large parcel of commercial property on Highway 99 near the Kent-Des Moines intersection. He bought the property on a tip from Seattle developer Martin Selig. His investment came back five-fold after he added some infastructure. That early success allowed him to pursue two passions: work as a private detective and martial arts. Dena is a toKarate black belt. 
Some of his early cases involved cheating husbands. On one case, a staff photographer from the paper went along to get photographic evidence. The perpetrator was the owner of a large northwest utilities construction company. His wife had Dena to get proof the husband was chippieing on her. The cheater and his love mate were tracked to a motel. The cuckolded wife went along. So did Dena's older brother "Gordo", also a Karate expert.
Dena has earlier gone to the motel manager and asked for permission to get into the room where he new the love nest was going to be used. The manager told him he would not let him in. Dena produced a crips $100 bill. The manager shrugged. Dena pulled out another hundred. He got a smirk from the manager. The third hundred also got him nowhere. He left. But later went to the room and was able to enter. There, he removed the screws from the chain bolt, cut them in half and put them back in. 
Watching from the parking lot with his crew, they waited until the cheating contractor and his girlfriend had settled in to the room. The team burst through the door, surprising the lovers. The contractor, a big man, rose to object, looking menacing at the intrusion. 
Dena turned to Gordo. "If he moves, kill him," he recalls telling his brother. Our photographer dutifully shot several photos of the embarrassed couple.
Mrs. Cheating Contractor then threw a drink in the man's face. And later, collected multi-millions of dollars in the divorce settlement. 
Dena worked closely with both Seattle Police and King County Sheriff's offices. 
He was called in to investigate the incidence of cattle mutilations  and mutilation of stallions in Roy, Washington. A group of neighbors in that area believed there was a cult operating there. 
This experience led to being contacted by a group in St. Louis 25 years later. The wanted help investigating the disappearance of 15 young kids. He was told that one 6-year-old who had been removed from a dirty home said "his relatives were witches."
Dena went to St. Louis. He stopped in to the local police department and left believing the chief and officers there could help. He went back on Halloween. He followed a person dressed as a witch and learned people are having a sexual ritual. Eventually, arrests were made in the case of the missing kids.
Lately, Dena's attention has been drawn to the discovering of human feet found in tennis shoes washed up on beaches in Canada. He has a strong theory about this and continues to work on it.
Though it has been many years since I first saw Dena in the hallway at Highline High, I still have a strong image of him moving athletically with a sense of purpose and a million dollar smile that makes him instantly likable.
Private Detective Dena is more or less retired these days but still cannot help following his instincts.