"Shockwave: How Kennedy Catholic Students Stood Up to Seattle's Archdiocese"
"Shockwave: How Kennedy Catholic Students Stood Up to Seattle's Archdiocese"
Local students will appear in documentary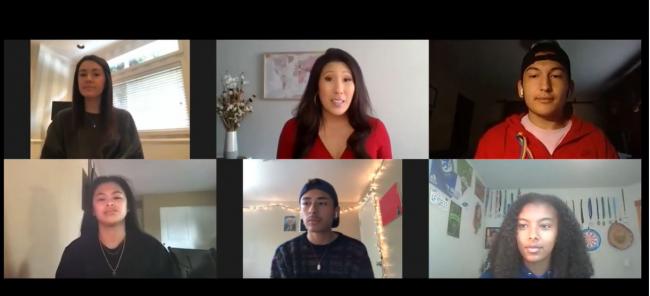 Wed, 06/24/2020
The students who led the protest at Kennedy Catholic High School over the dismissal of two teachers who were engaged to their same-sex partners are the subject of a story entitled "Shockwave: How Kennedy Catholic Students Stood Up to Seattle's Archdiocese" appearing in the inaugural issue of Seattle Pride magazine.
The students will also be featured in a discussion entitled "The Power of Activism: An Interview with Student Activists from Kennedy Catholic High School" moderated by KIRO-TV Weekend Morning Anchor Tracey Leong – the discussion is one of several online programs to be featured in this weekend's Together For Pride (www.TogetherForPride.org) virtual LGBTQIA+ weekend, scheduled for Sunday, June 28 at 5pm as part of Seattle Pride's day of programming.
Students participating in the discussion included:
Madison DuBois, Kennedy Catholic High School Senior planned the sit in and protest at the school, bringing students together to fight against injustices 
MJ Estacio, Kennedy Catholic High School Senior, ASB coordinator and photographer for the Kennedy Catholic protest
Henry Lemus Vera, Kennedy Catholic High School Senior, helped spread news about the Kennedy Catholic protest and encouraging others on social media to come together. 
Sosna Araya, Kennedy Catholic High School Junior, and Junior Class President spoke out on behalf of the Girls Varsity Soccer Team and encouraged people to protest together. 
Emiliano Hernandez, Kennedy Catholic High School Senior and ASB Secretary helped facilitate and spread the news about the Kennedy Catholic protest, helping bring people together and encouraging them to speak their truth.
Comments
Is this something to boast against our Catholic beliefs and traditions. I am sure great Muslim people also have beliefs based on God's word. There is always other venues to apply for.but not on our beliefs based on God's word.
The LGBT reality is complex. I do not believe we have a right to pass moral judgment on a gay or transgender person. I think some things are best left to God to decide. Jesus commanded us to not judge. So I think I need to abide by Jesus' wishes. The Chancery has the right to decide to not hire a member of the LGBT community. The students understand this - what they object to is how they were lied to by the Archdiocese. It is clear that they both were fired - and had they not resigned, they would have been. I also think the Chancery could have worked out something so the teachers could have remained. The teachers could have signed a promise to not discuss their personal lives with the students - teachers should not anyway - it is just practicing good boundaries. The Chancery and school could have made public they were retraining both instructors but in no way did that mean their life style conforms to Catholic Doctrine, but because of Catholic Social Teaching the Archdiocese was not choosing to fire them. And then, as long as those teachers did not teach theology classes - as long as they taught other subjects they specialized in -- I think they should have been allowed under such conditions to keep their jobs.
So I understand why those students are still upset over what happened. I choose to remain anonymous to protect myself and my family.
Add new comment