The Sweetheart of Boulevard Park Place celebrates 90 years
The Sweetheart of Boulevard Park Place celebrates 90 years
Mon, 02/08/2021
Burien businesswoman Viola Mae Steinman took time away from helping to run and garden around Boulevard Park Place, an active north Burien retirement community she and her late husband, Merle Steinman, built in 1996 to celebrate her 90th birthday on February 3rd.
Residents creatively stood on balconies and patios, banging pots and pans and wishing her "Happy Birthday" while Vi passed by in a decorated cart followed by the North Highline Fire truck, lights and sirens shouting their congratulations.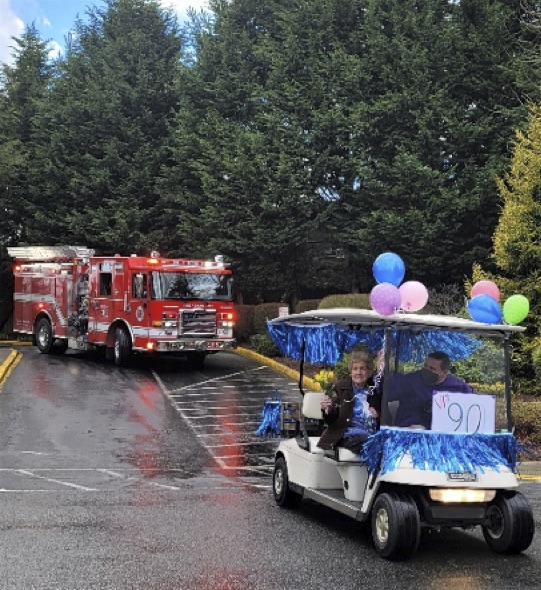 Vi has had a hand in building 13 restaurants, dozens of commercial properties, numerous rental properties, two retirement complexes and a motel in the Puget Sound region. She has been active in the Burien community for 50 years. Among the commercial buildings she and Merle built are the Des Moines Police Department headquarters and the Arlington Courthouse.
Vi is a mother, grandmother, and great grandmother – the matriarch of four generations who are still involved in the family businesses in varying capacities. She has also traveled extensively with friends and fellow members of the Elks and Emblem clubs to which she has belonged for 60 years.
At her 80th birthday, Vi said she may retire in another five years. Still going strong and leading by hard-working example, she may actually retire "in another five years."