UPDATE: Two people died in Burien hit and run; Driver charged with two counts of vehicular homicide
UPDATE: Two people died in Burien hit and run; Driver charged with two counts of vehicular homicide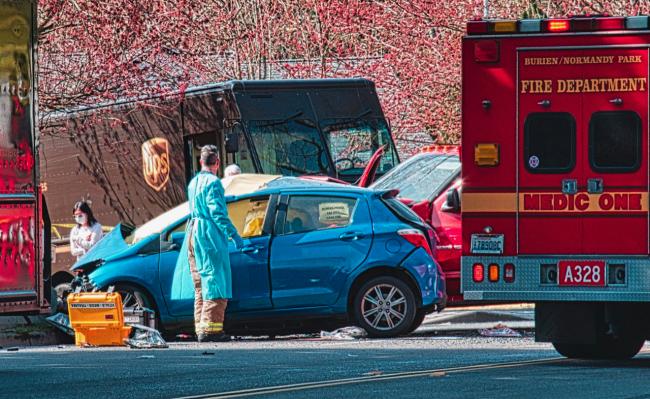 Fri, 04/09/2021
Update Friday April 9
King County Prosecuting Attorney's Office charged Irene Plancarte-Bustos with two counts of vehicular homicide, felony hit and run, attended vehicle hit and run, and reckless driving.
Her arraignment is scheduled for 9 a.m. April 22 in the GA courtroom of the Maleng Regional Justice Center in Kent.
Original Post
Thursday April 7 will mark the first appearance hearing for Irene Plancarte-Bustos, who was arrested yesterday after a double fatal Burien crash on Ambaum Boulevard SW around 3:15pm
In the incident a witness stated that the driver of a white sedan, later determined to be Plancarte-Bustos, struck a blue hatchback sedan, and spun it into oncoming traffic where it was struck by a red truck. Both occupants of the blue sedan died. The driver of the red truck was injured. Plancarte-Bustos was found with her car two blocks north in the parking lot of a convenience store where she was determined by deputies to likely be under the influence of alcohol, after admitting she had consumed a 14% beverage earlier. After getting a warrant, she was taken to St. Anne's hospital where a blood draw was taken and she was booked into King County Jail on suspicion of Vehicular Homicide.
The King County Prosecuting Attorney's Office asked that Ms. Plancarte-Bustos be held on $250,000 bail. The judge agreed and found probable cause for two counts of vehicular homicide and felony hit and run. 
The Prosector's office anticipates getting the investigation referred to them by Friday from the King County Sheriff's Office for a charging decision. She is expected to remain in the King County Jail prior to that decision.
No other cases or first appearance documents involving Ms. Plancarte-Bustos have been referred to their office.