UPDATE: Suspect identified in string of White Center window breakings
UPDATE: Suspect identified in string of White Center window breakings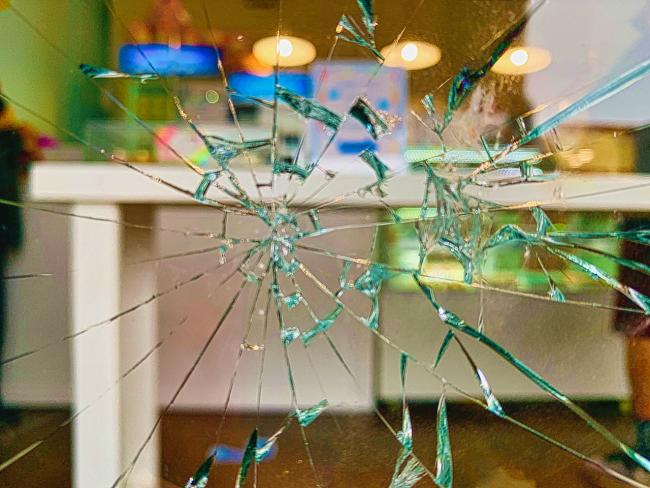 Thu, 05/06/2021
UPDATE 6:10pm May 6
According to Donna Chan, owner of Macadon's in White Center, the suspect in the string of window smashing vandalism incidents in the community has been identified. "This person is trans, "Donna explained, " and is named Robert but goes by Robin. They live in a RV just north of White Center."  Before an arrest can be made and charges forwarded to the King County Prosecutor "more work is required," said Sgt. Tim Meyer with the King County Sheriff's office. He cannot confirm the suspect has been contacted but he anticipates contact in the next couple of weeks. "We are extremely lean on resources," he said and that if the suspect appears to need mental health assistance they will go through the offices of the L.E.A.D. program due to see a more formal rollout in White Center in the next few weeks. If the evidence they have meets the standard for the prosecutor then that office will file formal charges or the suspect may be referred for mental health assistance.
More details will be added to this story as they become available
Original Post
By Patrick Robinson
For the last 15 months 19 business owners in White Center have been dealing with repeated window breakages by at least two female suspects. They show up in the early morning hours and throw rocks and sometimes use sticks to vandalize the windows. Despite repeated reports of these costly crimes little has been done to stop them for a variety of reasons. Now the business community has reached out for help from the police and an existing outreach program functioning in Burien, Seattle and King County is being brought to White Center.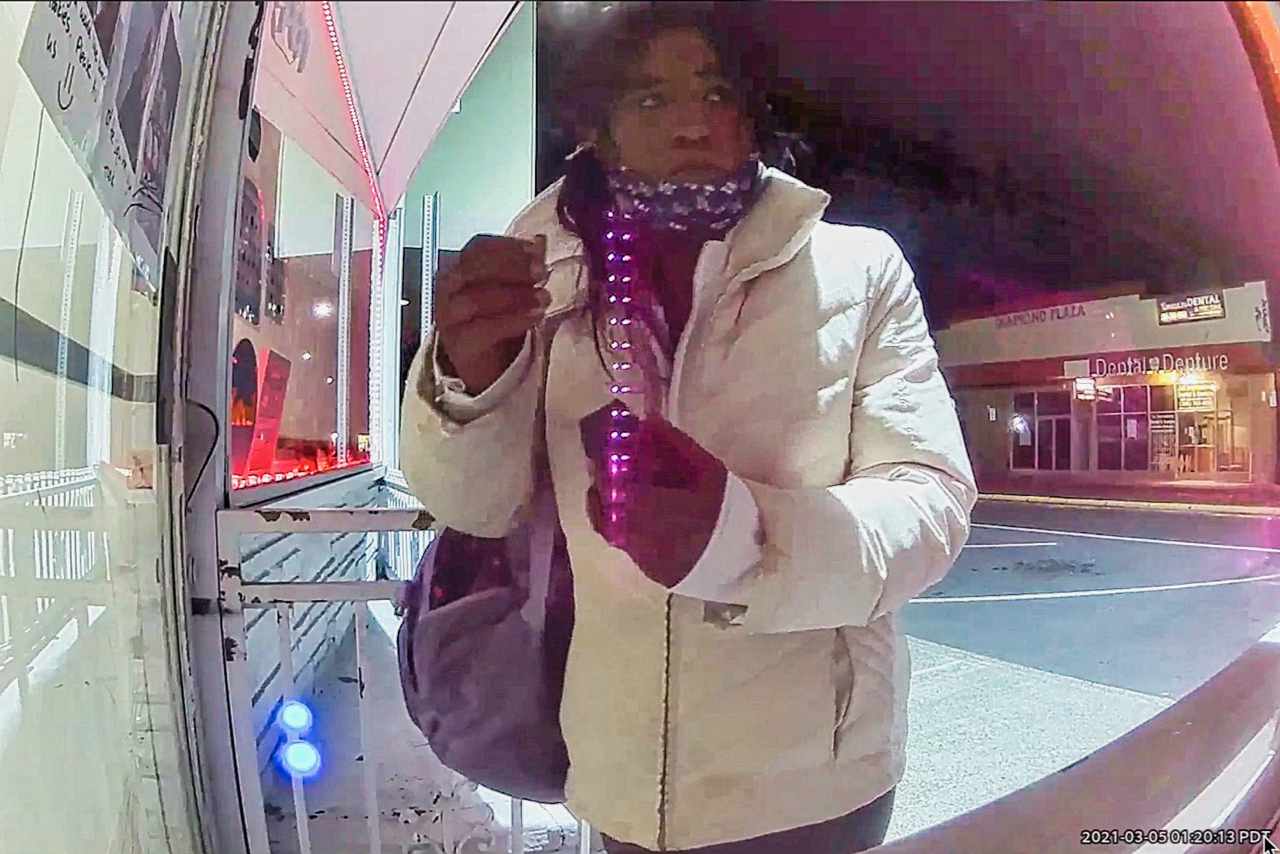 Among the hardest hit by the vandals is Donna Chan, owner of Macadon's who has had her windows broken five times. In business for six years, Chan says she has installed more security cameras and has put up photos with notes asking that the vandal not break the windows.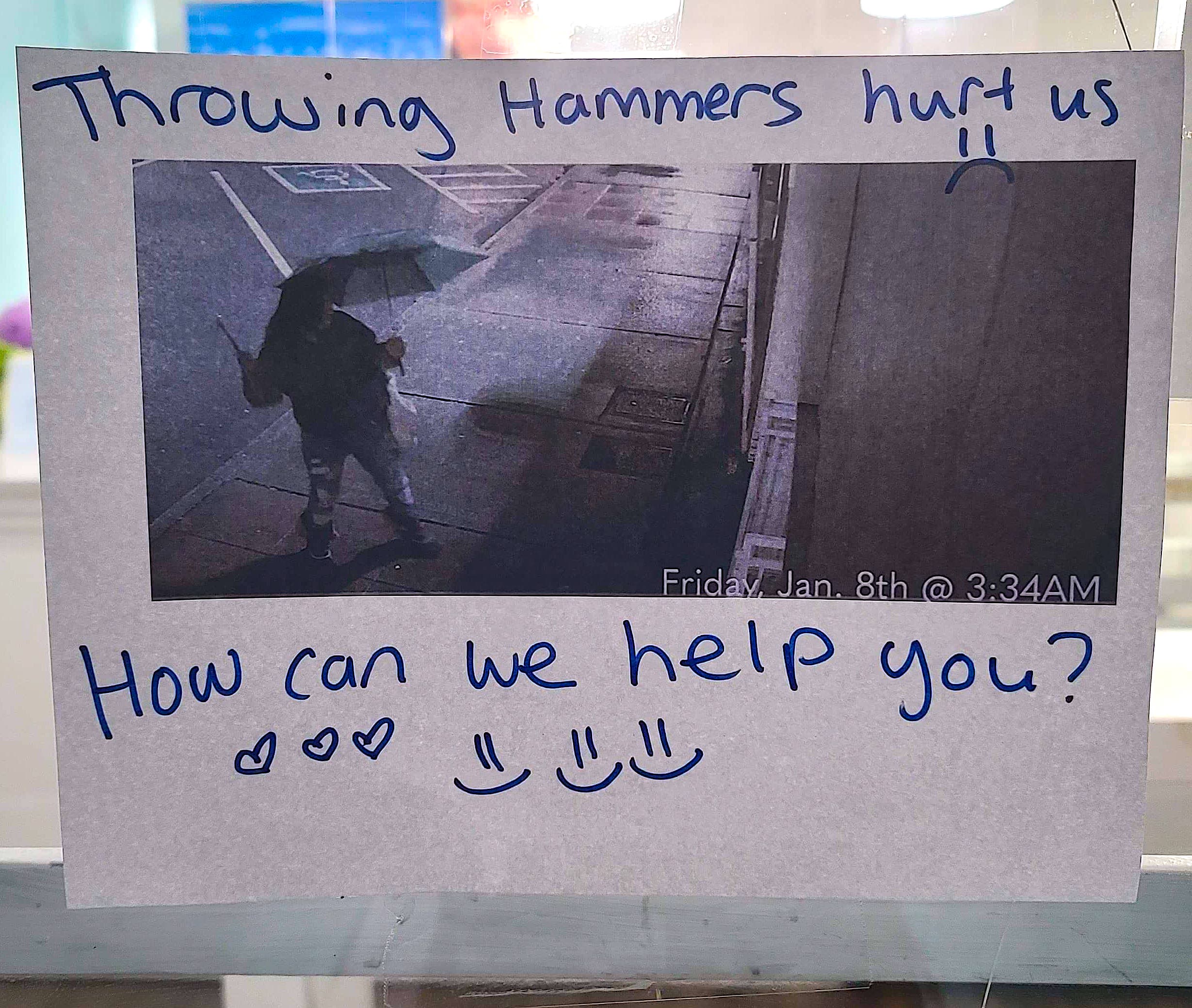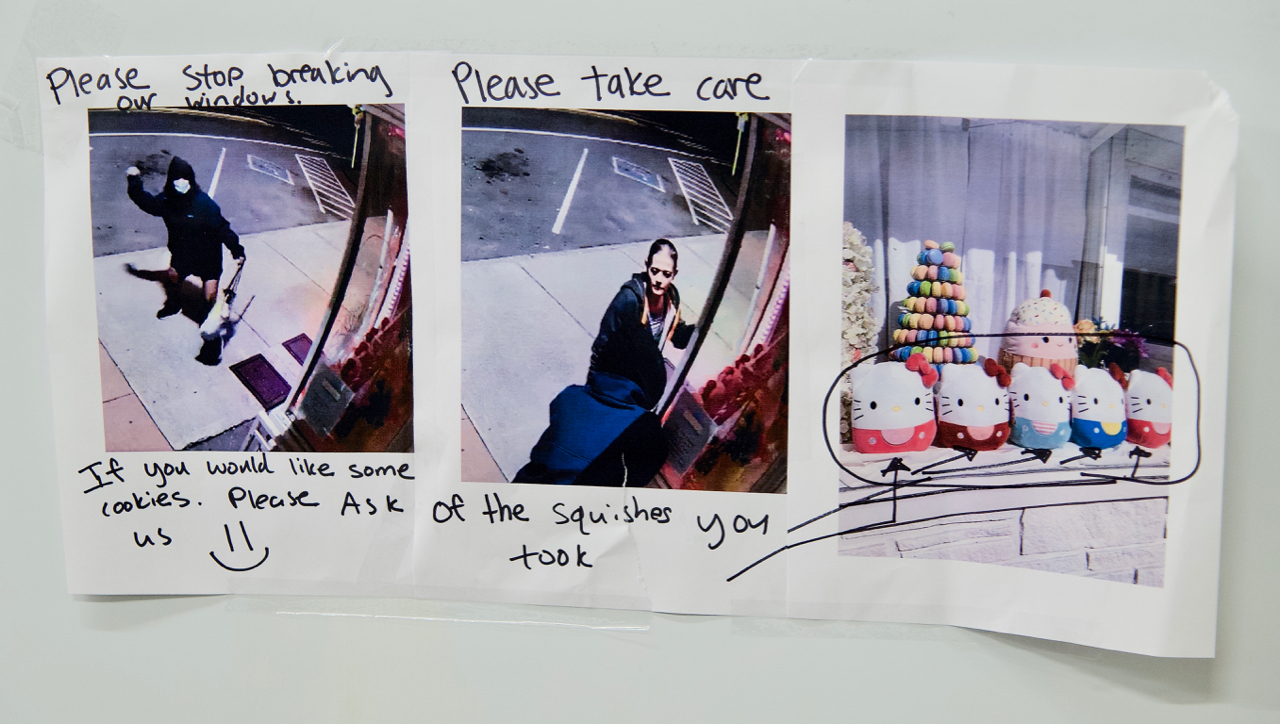 Also suffering from window destruction is a Latina owned Southern Mexican market  La tipica Oaxaquena whose windows have been boarded up. Since people cannot see it's open, business has dropped by more than 70%. The  market has also suffered thefts due to the broken windows. The market sells a little bit of everything from food, to cooking supplies to hand made jewelry. much of it purchased from indigenous makers, many of them women.
Owner Marlene Yesica Lopez said they have suffered three serious window breakages in recent months.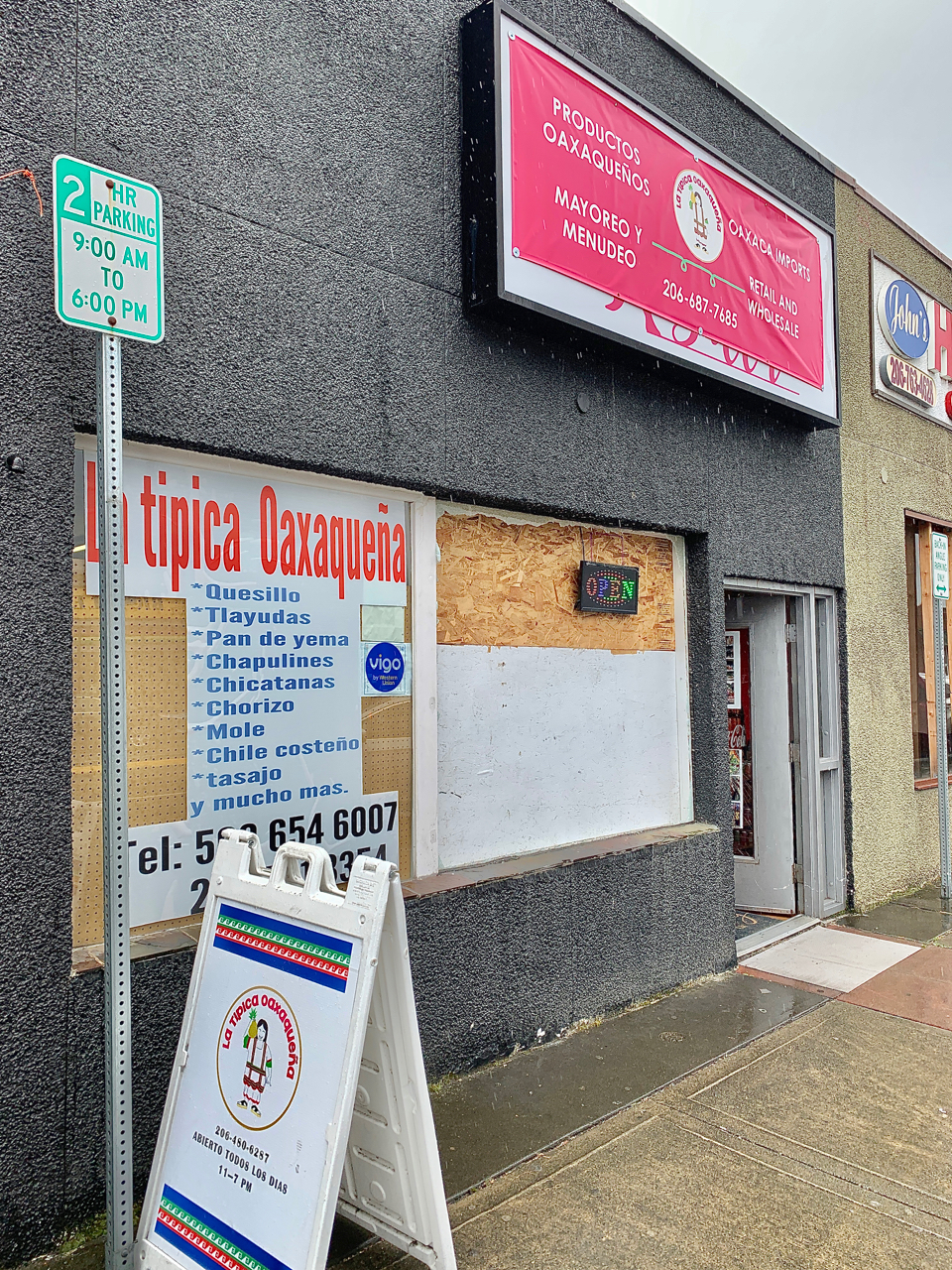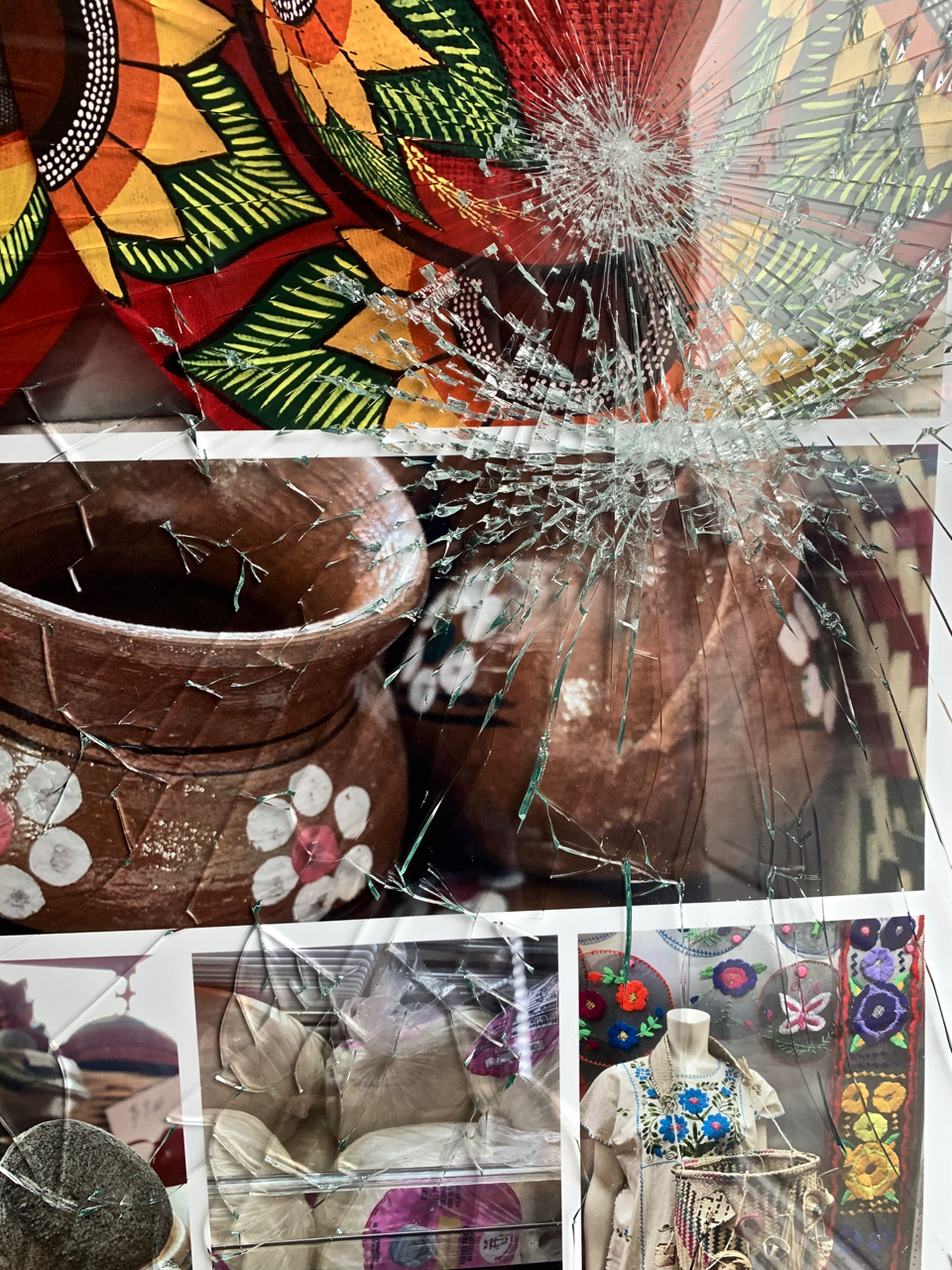 To make matters worse, insurance does not cover the cost of repair or replacement since the deductible is around $500. So now losses have compiled into the thousands.
A GoFundMe page has been set up to help the business owners offset the cost of replacement. The White Center Community Development Association and White Center Alliance helped businesses organize the GoFundMe.
Since this is often considered a minor crime, and since no suspect has been caught in the act, law enforcement has trouble resolving the issue. King County Sheriff spokesperson Sgt. Tim Meyer said that law enforcement is very much aware of the crimes but finds themselves between two challenging positions. "One one hand we have people who want these people locked up and on the other we have people who urge us to take a more empathetic approach. After all, people who break out windows have other problems and might require help with substance abuse or mental health issues."
He also noted that the King County Prosecutor has minimum requirements for arrest and prosecution and some of these crimes, even as costly or troublesome as they are may not meet those requirements.
Meyer said two deputies are now actively seeking the suspects based on the images captured on security cameras. But the deputies are not operating alone. They are now accompanied by people that are part of L.E.A.D. (An acronym for Law Enforcement Arrest Diversion) aimed those with substance abuse issues, behavioral health conditions or extreme poverty. The program, already active in Burien was developed in association with the Burien Police by Burien City Councilmember Krystal Marx and is now being brought to White Center. It is lead by Aaron Burkhalter the LEAD Project Manager. The program diverts people who have committed certain misdemeanors into community-based treatment and support services—including housing, health care, job training, treatment and mental health support—instead of processing them through the traditional criminal justice system. The program is similar in some ways to a program in Eugene Oregon known as CAHOOTS that is more extensive and reached through a non-emergency number. In that program a free response is available for a broad range of non-criminal crises, including homelessness, intoxication, disorientation, substance abuse and mental illness problems, and dispute resolution. Non-emergency medical care, first aid, and transportation to services is also provided. 
In a meeting with 10 White Center business owners on May 3, Hugo Garcia (who is also running for Burien City Council) introduced the program, and noted that if the suspect(s) are found they will first be evaluated by the L.E.A,D. workers who are working in association with the King County Sheriff. Burkhalter will lead the roll out in White Center. 
An evaluation by researchers at the University of Washington in 2015 showed that LEAD significantly reduced recidivism. People in LEAD were 58 percent less likely than people in the control group to be arrested. The program was launched in Belltown in Seattle in 2011, then eventually expanded to the full city and King County.
The problem of vandals breaking windows in White Center is not new. It seems as it it has been happening for several years according to area business owners but the frequency, severity and now thefts have brought matters to a head. Other businesses in White Center have seen other kinds of vandalism and theft as well, potentially linked to homelessness and drug abuse.
Here's a list of the affected businesses:
Beer and Wine Source
Bizzaro Italian Cafe
Bok a Bok
Crawfish House
Decoraciones Ely
Decoraciones Elys
Full Tilt
La Tipica Oaxaquena
Lee's Produce
Macadons
Mary's Beauty Salon
Mynt Salon
Oaxaca Imports
Pho Tai
Salvadorean Bakery
Seattle Lotus Vegetarian Restaurant
Somalia Habib Discount Store
Southgate Roller Rink
T& & Hair Salon
West Seattle Halal Market
Za-Za Boutique