Hundreds gather to honor Tara at Taradise with 'Nothin' but love'
Hundreds gather to honor Tara at Taradise with 'Nothin' but love'
Tara Eckman Scott Celebration of Life was July 17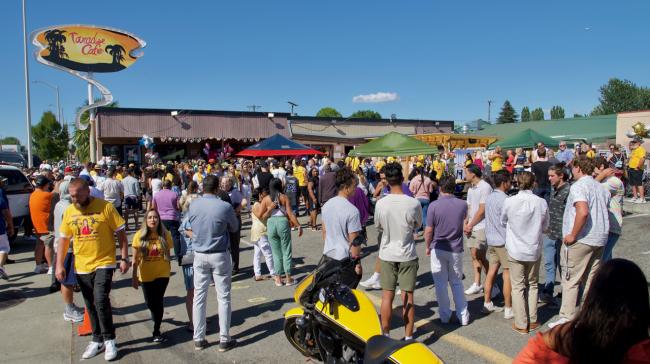 Sat, 07/17/2021
A crowd of approximately 500 people came to the Taradise Cafe in White Center on July 17 in a Celebration of Life for Tara Eckman Scott. Scott, 51 passed away on July 12. 
Her long history in the West Seattle/White Center neighborhoods was evident as many people she had come to know through her work at The Chelan Cafe, Meal Makers, The Charlestown Cafe and since 2015, her own business Taradise Cafe.
An opening prayer was delivered by her brother-in-law Longhair Warrior, which was followed by her friend Darnell Shut the Doe.
A Eulogy was given by her niece Bailey Warrior Pahang,
All three of her sons offered their remarks and memories including DeAndre' Coulter, Gee Scott Jr. and Zion Scott. 
Also speaking about Tara were, Joe Bell Austin, her Niece, Kaya Caldera Warrior.
A poem was read by her close friend Trisha Morrison Fladseth,  and Raquel Soliz.
An open mic was made available for anyone who wanted to share their memories or stories about Tara.
Then a closing prayer was delivered by her brother Todd Eckman.