Dusty 45's headlining Boulevard Park Block Party Aug. 7
Dusty 45's headlining Boulevard Park Block Party Aug. 7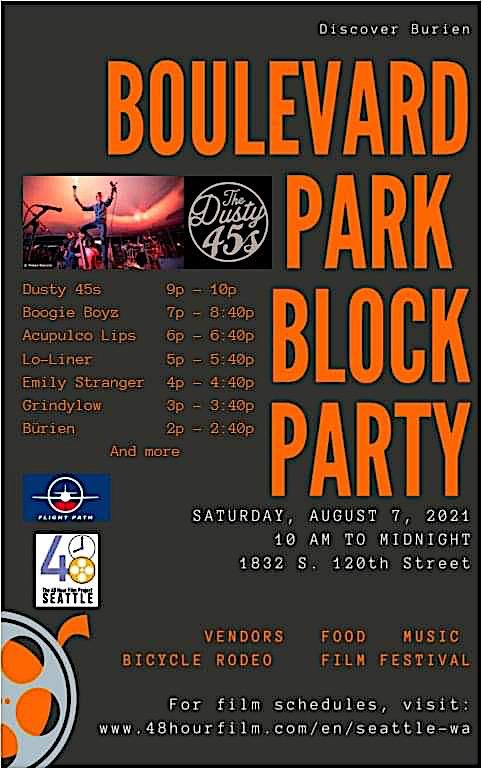 Wed, 07/21/2021
If you've been missing the outdoor festivals, neighborhood gatherings and get togethers Boulevard Park has got you covered.
Coming up Aug. 7 the Boulevard Park Block Party will happen from 10am to 10pm featuring vendors, food, music, a bicycle rodeo, and a film festival! It all happens at 1832 South 120th Street.
For film schedules, visit www.48hourfilm.com/en/seattle-wa
Topping it all off are one of the northwest's best,
Led by charismatic singer/songwriter, guitarist and trumpeter, Billy Joe Huels, the raucous band tears through Huels' original songs that draw inspiration from the roots of Rock, Rhythm and Blues, Honky tonk and Jazz. Current members of The Dusty 45s also include Jerry Battista(lead guitar), Rod Cook (Lead Guitar) Robin Cady (upright bass), and Kohen Burrill (drums). Huels and his outfit have steadily built their fan base since 1997. The Dusty 45s have toured extensively and they backed Rock and Roll hall of famer, Wanda Jackson multiple times. A highlight with Jackson was when they joined her opening for Adele's "21" tour in 2011.
The Dusty 45s have also shared the stage with many other musical greats including, Lyle Lovett, Brandi Carlisle, John Prine, Big Bad Voodoo Daddy, Lucinda Williams, Leann Rhymes, Michael Franti & Spearhead to name a few. Huels  also enjoyed starring as Buddy Holly at Seattle's 5th Avenue Theatre and in 2019 interviewed Ken Burns for Seattle's PBS affiliate (KCTS) regarding his 2019 documentary, "Country Music".
Also on the bill are
Bürien

Grindylow

Emily Stranger

Lo-Liner

Acapulco Lips

and Boogie Boys