If you live in North Highline or White Center take this survey
If you live in North Highline or White Center take this survey
King County Local Services is seeking community input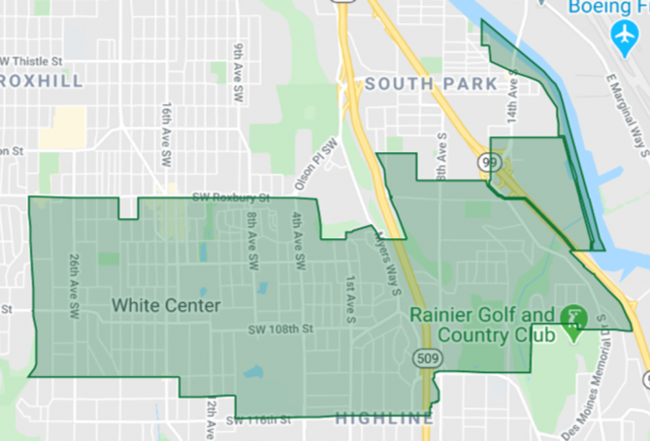 Fri, 07/30/2021
North Highline community members have been telling King County about their interests and needs for their community. More than 300 comments have been submitted via the county's online survey for North Highline.
The county has also offered a series of workshops on affordable housing and displacement risk in North Highline and Skyway-West Hill.
Local Services is using community input to draft policies that will be shared, as part of the North Highline Subarea Plan review draft, back to the community for feedback later this summer. The county is also working to develop a prioritized Community Needs List that will be used to inform the development of the county's next biennial budget.
Email AskLocalServices@kingcounty.gov for more information.
Comments
We need speed bumps to slow traffic on 3rd ave S between 112th S and 116th S. Improve surface water drainage too.
Latitude 112 by Vintage housinf and business units on ground level. Due to no parking, none of the ground level commercial units have been rented. There is zero parking. What business would take a risk to create a business when no customers would be able to access. This is a recipe for poor business development and hurts the neighborhood with empty store fronts.
There have been ongoing shooting incidents in Top Hat area. We need a Cop Shop in Top Hat.
Unoccupied house that are left empty for years. These homeowners should not be allowed to let houses deteriorate for years.
Septic to sewer hookup financial help. Our neighborhood recently gad sewer brough up our street. The base cost is $35,000. plus an additional Approximate ammount of $15,000 to hook up. That's about $50,000. This is rediculously unaffordable. Many septic systems are not in good shape $40 to $50K is unattainable for most. Is there anyway for King County to help homeowners?
Kid activities needed in the area.
We don't need more speed bumps. Go inside, close the blinds and think happy thoughts.