REMINDER: Anti-Displacement briefing for North Highline-Skyway and West Hill is Oct. 6
REMINDER: Anti-Displacement briefing for North Highline-Skyway and West Hill is Oct. 6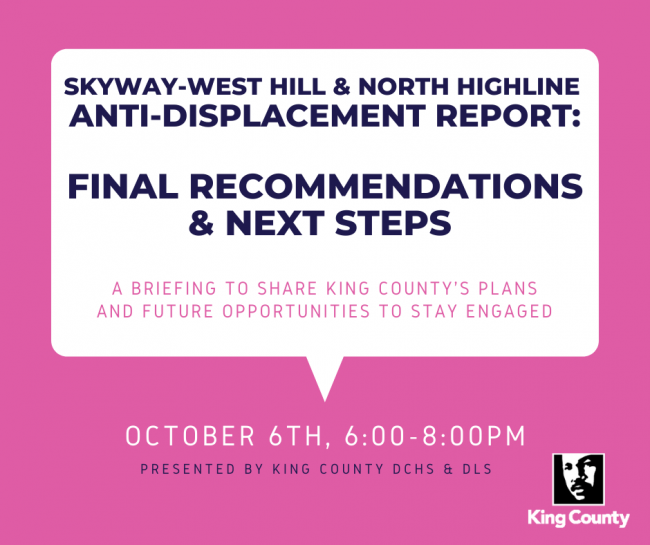 Tue, 10/05/2021
The King County Department of Local Services (DLS) has been in the process of developing what is known as the Sub Area Plan, for Skyway-West Hill and North Highline which includes White Center. That plan has been in the process of collecting community input since 2019 (with a significant interruption due to COVID) but in recent months has taken on renewed vigor. Part of that plan is about one of the larger fears of the residents of the area. That of gentrification and displacement. On Oct. 6 King County DHCS and DLS are presenting an Anti-Displacement Report in the form of an online briefing. The event has been publicized before but the county shared a reminder today in the form of a letter to the community. 
Dear Community Members of Skyway-West Hill and North Highline,

This is a reminder that the Department of Community and Human Services and Department of Local Services are co-hosting a community briefing this Wednesday, October 6th from 6:00-8:00pm to present the Skyway-West Hill and North Highline Anti-displacement Strategy Report's final recommendations, next steps, and future opportunities for community involvement.

Registration closes tomorrow morning so be sure to register TODAY. The event will be recorded for anyone who is unable to attend.

All Skyway-West Hill and North Highline community members are invited to join this briefing, even if you have not attended previous sessions. Because we have limited time in this meeting, it will be important that participants familiarize themselves with the anti-displacement strategies that have been under consideration.

Here are few ways to do that:

This report's recommendations provide a concrete path forward in King County's efforts to address historic disinvestment and structural racism in two diverse and culturally rich neighborhoods. We look forward to sharing the content of the report and discussing the implementation work ahead of us!

We hope you will join us for this important meeting, and please share this opportunity with other folks who live and work in Skyway-West Hill and North Highline!

For questions or more information about the Anti-displacement Strategies Report Community Briefing on October 6th, please contact Isaac Horwith at isaac.horwith@kingcounty.gov.

 
Comments
can anyone please give me three examples specified about racism in our area? this is news to me.
Add new comment