North Highline Sub Area plan is out and looking for public comment
North Highline Sub Area plan is out and looking for public comment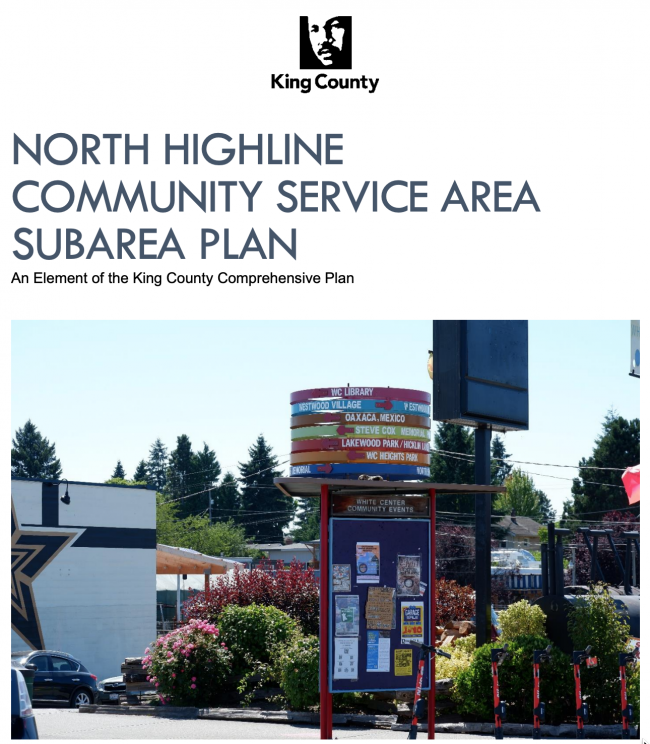 Fri, 10/08/2021
You have until Oct. 28 to examine (and figure out) the changes being proposed in the North Highline Community Service Area Subarea Plan. The plans are extremely detailed and lengthy. The draft plan is 122 pages long and the Land Use and Zoning Map Amendments plan is 62 pages. The plan covers the reasons behind it, the history, the Community Needs list (developed over the last couple of years) and then moves into land use, housing, parks, transportation, services, and economic development.
Their web page contains the introduction and the links:
King County is offering public review and comment on the following draft of the North Highline Community Service Area Subarea Plan and associated land use and zoning map amendments.

Public comments on this draft proposed ordinance will be accepted through Thursday, Oct. 28, and may be submitted via web portal, email, U.S. mail, or phone/voicemail (see "How to comment" below). 

Note: Any public comments received are public records and are subject to public disclosure.

Documents for review

How to comment

Dynamic web portal: www.publicinput.com/NorthHighline
US Mail:
Jacqueline Reid
King County Permitting Division
35030 SE Douglas Street, Suite 210
Snoqualmie, WA 98065-9266
Phone/voicemail: 206-263-3000

What happens next

After the draft is finalized, it will be transmitted to the King County Council in December 2021 for review, refinement, and possible adoption in June 2022.