Highline High School Grand Opening postponed
Highline High School Grand Opening postponed
SELF-GUIDED TOURS OFFERED OCTOBER 22 & 23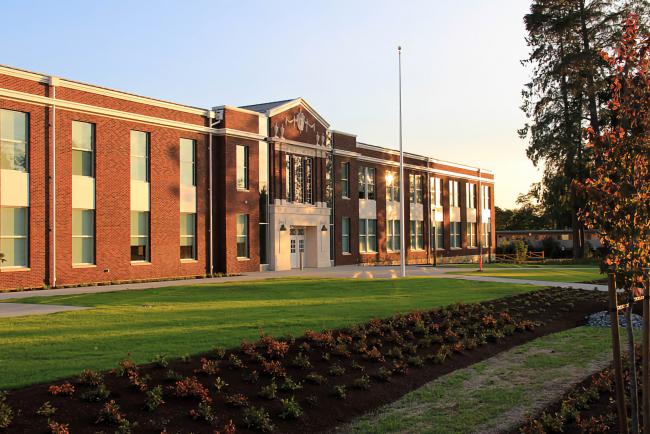 Sat, 10/16/2021
information from Highline Public Schools
Highline Public Schools leaders made the difficult decision to postpone the Highline High School Community Grand Opening and Alumni Reception events planned for October 21 and 22.
Highline's Chief of Operations Scott Logan explained the reasons behind the decision. "While we are eager to celebrate the opening of the new HHS with our community and alumni, we do not feel it is wise to host a large indoor gathering given the current rate of COVID infections." 
"We know that community spread affects our ability to keep schools open, and we do not want to contribute to increasing the infection rate in our community. Our priority must be to stay focused on students and keep our schools open and running as smoothly and safely as possible."
"We are also sensitive to the extra load on our school staff, from principals to teachers to custodians, at this time," he said.
Limited-capacity, Self-guided Tours Available
TOUR TIMES & REQUIREMENTS
Limited capacity, self-guided school tours will be offered on Friday, October 22, and on Saturday, October 23, to community members who show proof of vaccination or a negative test, wear masks and stay socially distanced indoors. Capacity will be limited to approximately 200 people at a time:
This is in accordance with the spirit of the King County vaccine verification requirement for indoor recreational events that goes into effect October 25. 
PARKING
Tours will arrive and depart from the school's west courtyard entrance. Please note that the Moshier Field parking lot is closed due to field construction. Vehicles should arrive on 152nd Street, with parking available in the following locations:
West parking lot
East parking lot
Performing Arts Center overflow parking lot 
RSVP FOR APPROXIMATE TOUR TIME
We are now asking for RSVPs to help us estimate the amount of interest in each approximate time slot. If a time slot fills up, we will post that information here and update the RSVP form! If no tour slots are full, you are welcome to drop in.
Friday, October 22
3:00 - 4:00 p.m.
4:00 - 5:00 p.m.
SATURDAY, OCTOBER 23
10:00 - 11:00 a.m.
11:00 - noon
12:30 - 1:30 p.m.
1:30 - 2:30 p.m.
2:30 - 3:30 p.m.