City of SeaTac starts their own YouTube channel
City of SeaTac starts their own YouTube channel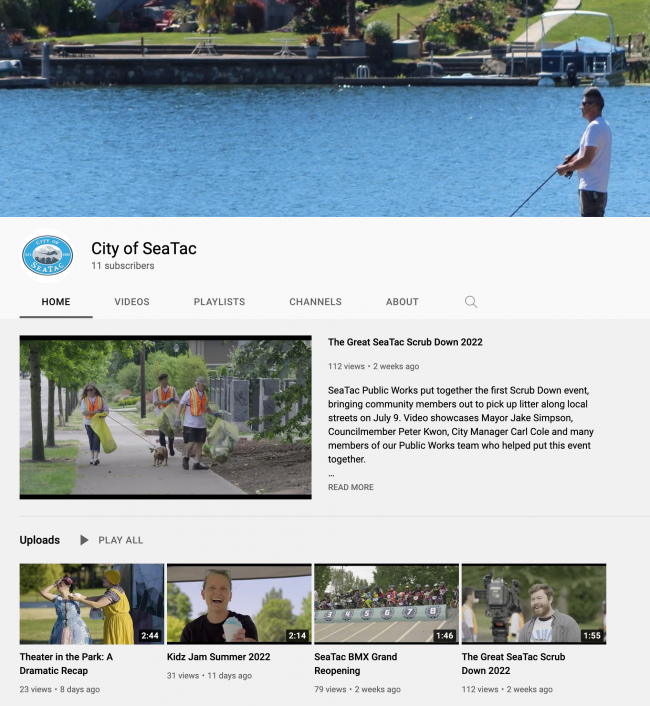 Fri, 08/12/2022
As part of their  efforts to focus on digital communication with residents and visitors the City of SeaTac has created their own YouTube channel.
Subscribers to the channel will get notifications of updates via email. Since the City has hired a videographer those will be coming more frequently now.
From recaps of summer events to SeaTac's BMX track grand reopening, they will be showcasing what the City has to offer. 
The City has been shifting its focus to digital means of communication in an effort to make sure residents and visitors have access to timely and accurate information. City Manager Carl Cole outlined his expectations for communications in a Q&A earlier this year. 
As a reminder, the City is active on many social media platforms. The SeaTac Government Facebook page shares timely news with the community, while their Parks & Rec page highlights future events and programs. Their Instagram page is the place to find beautiful and fun photos (and short videos) that showcase what the city has to offer. If you're looking for quick updates, follow them on Twitter. 
Any of these social media platforms offer direct messaging so if you have questions about the City, its programs and projects, reach out.