West Seattle Bridge renamed to honor Jeanette Williams
West Seattle Bridge renamed to honor Jeanette Williams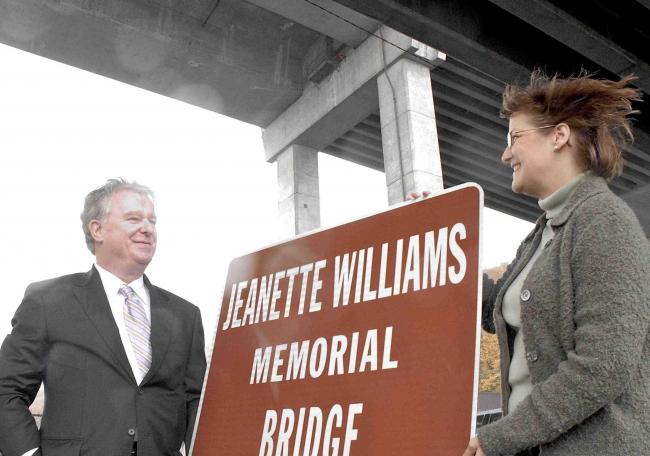 Steve Shay
Fri, 10/23/2009
The Seattle City Council voted July 6 to name the West Seattle Bridge to honor Jeanette Williams, the longtime city council member who worked for many years to get the bridge built.
The council unanimously approved a resolution asking the city transportation department to give the bridge a "secondary designation" as the "Jeanette Williams Memorial Bridge." That means Williams wil be honored with signs at each end of the bridge, but maps and signs on Interstate 5 will still call it the West Seattle Bridge.
Williams served on the council from 1970 to 1989. She died last year at age 94.
"It feels great to have a bridge named for a woman," said council member Jean Godden after her speech at the event to honor Williams Friday, Oct. 23. "This is very appropriate. She did persevere to get a high level bridge. At first I don't think anyone thought it was going to happen the way she wanted it too. She had a great deal of gumption."
"She was uncorruptible, determined, and had the will to do it," added council member Tom Rassmussen who had also given a speech. "There were a lot of shenanigans going on back then. The engineering department director went to jail."
"This bridge was such a huge part of her life," said Rusty Williams, Jeanette's son, who just ran unsuccessfully for city council.
"The bridge was dinnertime conversation in our house," he added. "It kind of defined her, but she did so much of women, minorities, gay rights. She was proud to say she was the first woman to wear pants on the ninth floor where the Council met. She wanted Hillary Clinton all the way but then voted for (President) Obama. "This dedication is for her body of work, and for women everywhere."