Bagshaw answers Ballard's questions, concerns
Bagshaw answers Ballard's questions, concerns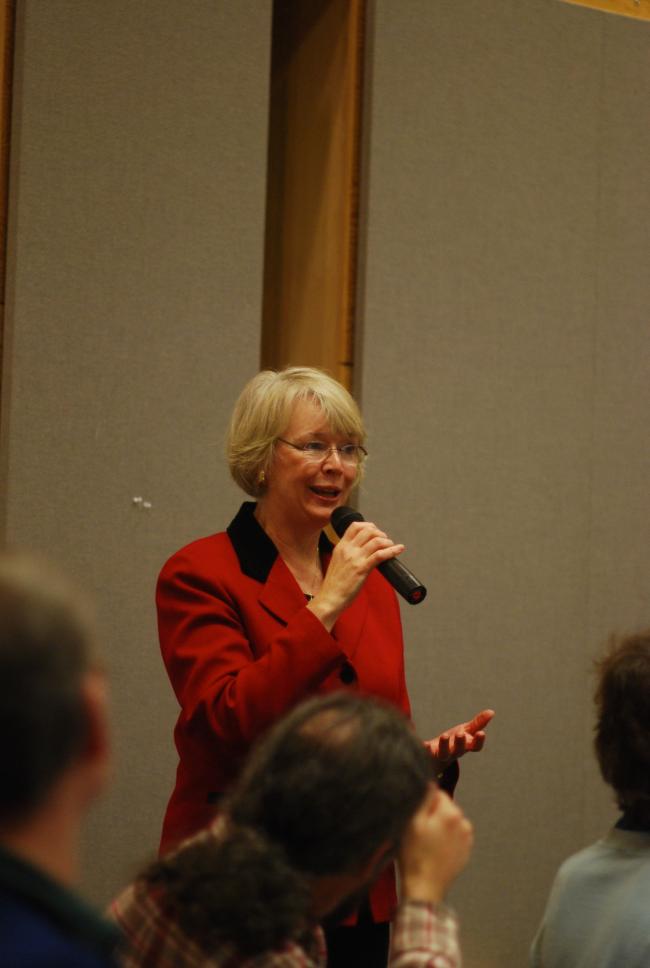 Michael Harthorne
Thu, 02/11/2010
First-term Seattle City Council member Sally Bagshaw touched on topics from transportation to parks to the council's rocky relationship with the new mayor when she opened herself up for questions and comments from the neighborhood at the Feb. 10 Ballard District Council meeting.
Stephen Lundgren got the transportation ball rolling when he told Bagshaw that Ballard has gotten density, a civic center and parks, but no public transportation infrastructure.
Bagshaw said the city needs to connect the densifying urban hubs, but King County is in the middle of a budget crisis.
"What's tragic to me is how Metro right now is just struggling," she said. "When we need transit most is right now."
The question is what residents are willing to give up so more money can be spent on transit or are they willing to submit to more taxes, Bagshaw said.
"We're spending a pot-load of money on light rail," she said. "I would like to see much more on RapidTransit (Metro bus service)."
In response to a question from Warren Aakervik, owner of Ballard Oil, she said transportation money should not be spent on expanding the electric trolley system at the moment as the ridership is not there to support that.
With so much time and money going toward transit, Ballard District Council Co-chair Andy MacDonald asked what is being done for drivers.
Bagshaw said she understands that not all drivers will use transit, no matter what improvements are made.
There is a split between Mayor Mike McGinn, who wants no cars, and others in the city, and the city needs to be realistic, she said.
"We need to have our cars," she said. "We are all drivers at one time or another. We have to be able to get around."
Dave Boyd, who works with Groundswell NW, reminded Bagshaw that Ballard has the least amount of open space per capita in Seattle, outside of downtown. The city needs to think creatively about parks, he said.
Bagshaw said she agreed and pointed to Vancouver, Candada, where they have created many small pocket parks, as an example.
"We might not have the giant open space we can turn into a park," she said. "But, we can be more creative."
As chair of the council's Parks & Seattle Center and Waterfront Planning Committee, Bagshaw said she is interested in turning the Seattle Center into something more akin to New York's Central Park.
One member of the Ballard District Council asked what the relationship between the city council and the new mayor is like. Ballard District Council Chair Jennifer Macuiba said it does not seem very professional.
That relationship is in a building phase, Bagshaw said.
"I had hoped that our mayor and our city council could move forward in a collaborative way," she said.
She said it has been more difficult dealing with McGinn that she would like it to be.
For example, she said she would have liked McGinn to talk to the council first about making the replacement of the seawall a separate issue from the replacement of the viaduct – a move she believes undermines the visioning work that is being done for the future of the waterfront.
But, Bagshaw said the council is still ready to work with McGinn.
"I support this mayor because I support this city," she said.
As most conversations in Ballard seem to, questions worked their way toward safety in the neighborhood's parks.
The Seattle Police Department is very responsive and can be called with any issue, Bagshaw said.
But, the most effective thing residents can do is to keep an eye on their parks, she said.
During the Ballard District Council meeting, Bagshaw also touched on land rezoning and economic recovery.