West Seattle Chamber Corner – Business mavens share secrets to success 
West Seattle Chamber Corner – Business mavens share secrets to success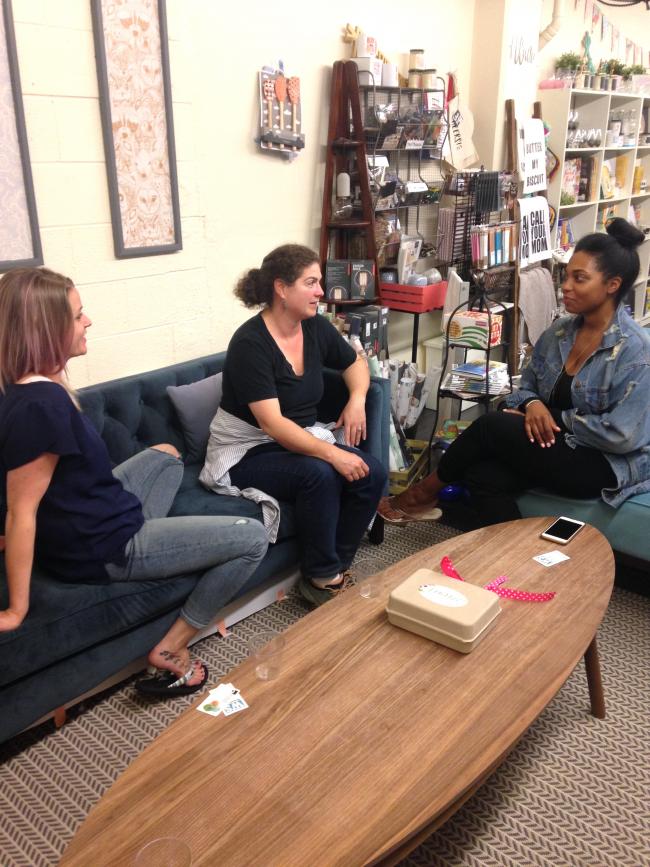 Lindsay Peyton
Mon, 10/09/2017
By Lindsay Peyton
Having a friend who is willing and able to talk shop can be a girl's best friend in the business world.
That's what three West Seattle store owners explained during a recent meeting of the minds. 
Malika Siddiq, owner of fashion boutique Lika Love, sat down with her friends Shandon Graybeal, owner of gift shop Alair, and Shannon Felix, who co-owns glass gallery Avalon Glassworks with her husband Jon.
The women compared notes on where to find employees, how to make the most out of social media and the feng shui of displays.
What they really wanted to discuss is something that would be of particular interest for all start-ups and entrepreneurs -- What do I know now that I wish I had known when my business first got off the ground?
Felix said the most important thing she has learned is the value of a good employee. 
When she and her husband took over Avalon Glassworks almost 15 years ago, everyone she knew advised her to stick with contractors instead of hiring full-time help. 
"I thought it would be more of an expense," she said. "But so many great things happened from having employees who were invested in the business – and I was able to hold my employees to higher standards."
Once hired, Felix said employees should be set up for success. "Each person who works for me has their own skill set," she said. "I try to play into that. You have to use the strengths of the people you've got."
Siddiq admitted she had to learn the hard way the necessity of an employee handbook. 
"People need structure," she said. "They like black and white. The gray area confuses them. The biggest challenge I have now is creating a structure that everyone understands."
Siddiq is in the process of creating instructional videos for her employees. 
"Everything is a learning experience," she said. "But one of the biggest things is training people – and each person has to be trained differently."
Graybeal's advice for new business owners is to hire a top-notch bookkeeper. 
"My bookkeeper is my favorite person in the world," she said. "There all these things that you didn't think about – and you have to get them done."
She said her bookkeeper leads the way. 
Siddiq said that learning to delegate can be a challenge – but an important one to face head on. 
"In the beginning, I thought I could do everything," she said. "If I could go back, instead of wearing 20 hats, I'd wear the hat I'm really good at, so I didn't get spread so thin and feel so overwhelmed."
Graybeal's business Alair is still fairly new, having opened in December. 
She has already learned the importance of knowing her market. "Keep asking your customers and getting feedback," she said. 
The three entrepreneurs agreed that it's essential to ask other business owners for advice – and noted that West Seattle has a particularly supportive business community. 
"I wish that back in the day, I had a bigger network," Felix said. "West Seattle is a niche market. You need to figure it out."
To learn more about the local business community, visit the West Seattle Chamber of Commerce at www.wschamber.com.