Water main break on 35th SW floods area, closes road and leaves residents with no water
Water main break on 35th SW floods area, closes road and leaves residents with no water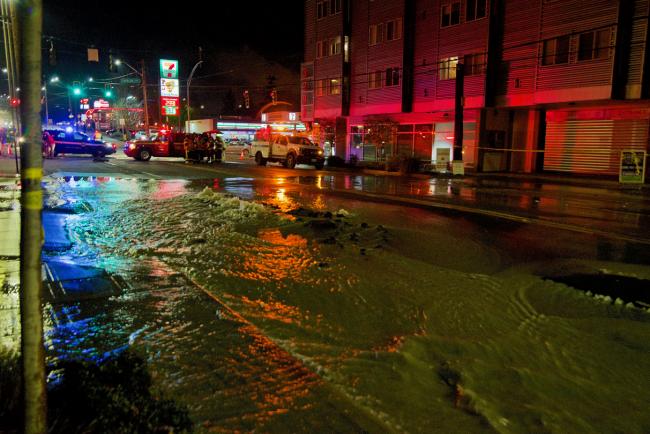 Patrick Robinson
Mon, 12/04/2017
A water main running underneath 35th SW burst near Avalon Way SW shortly after 6 pm on Monday night flooding the road and the area outside the Aura Apartments and running across the road draining over toward West Seattle Stadium. It appeared that the main had suffered damage on two sides since the primary water source was underneath the southbound lanes of 35th but the roadbed also appeared ruptured in the northbound lanes some 100 feet south of the primary break. Seattle Public Utilities say the line is privately owned.
Seattle Public Utilities told the Seattle Police that they had to bring in special equipment to shut off the main since it was too large to shut down by hand. They also advised people on the street to get well away from the area since it was possible the water escaping underground could undermine and then collapse the pavement or sidewalk. 
The residents of the Aura Apartments are without water until the problem is resolved. Areas south of the break were also affected.
Fixing it will mean opening the street and replacing the broken main plus doing tests for some distance to prevent further or future breaks.  No word yet on when SPU will be able to get that work done.
In the meantime traffic was being re-routed in the area, around the damaged street and flood.
By 9pm the water had been shut off and the flood was draining down.