Whale Trail Winter Gathering; Finding Light in the Dark for the Whales
Whale Trail Winter Gathering; Finding Light in the Dark for the Whales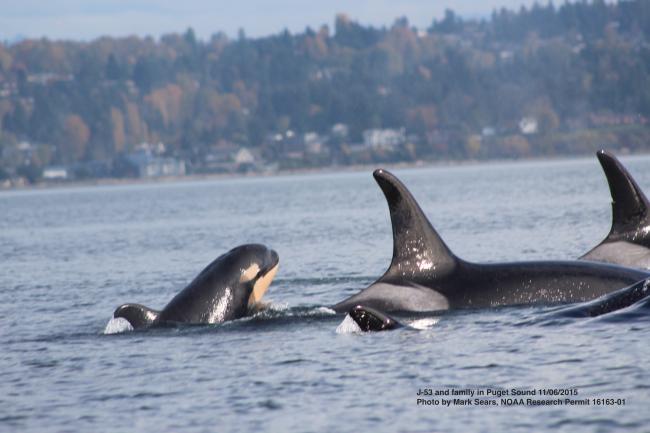 Orca Photo by Mark Sears, Permit 16163-01
Wed, 12/06/2017
information from Whaletrail.org

There are just 76 individuals in the Southern Resident Killer Whale population - a near historical low. What can we do to prevent these beloved and iconic pods from going extinct? Join us to hear the latest about J, K and L pods, and learn what you can do to help. 
At the Whale Trail Winter Gathering, local photographers and researchers will share stories and photos of orcas and other marine mammals who share our waters. Hear about recent encounters with southern resident orcas, and other sightings near West Seattle this year. 
We'll also have signed copies of Erich Hoyt's latest book, The Encyclopedia of Whale, Dolphins, and Porpoises for sale, and other goodies!
Bring your questions, concerns, ideas, stories and poems. Together, we'll find light in the dark for the whales.
Buy tickets now to reserve your seat.  Look forward to seeing you there!
About The Whale Trail
The Whale Trail (www.thewhaletrail.org) is a series of sites around the region where the public may view orcas and other marine mammals from shore. Our mission is to inspire appreciation and stewardship of whales and our marine environment. Our overarching goal is to ensure the southern resident orcas recover from the threat of extinction.
Through our current sites and signs, including two on every Washington State ferry, we reach more than 50 million people each year. The Whale Trail is currently adding new sites along the west coast, from California to British Columbia, throughout the southern resident orcas' range and beyond.
The Whale Trail is led by a core team of partners including NOAA Fisheries, Washington Department of Fish and Wildlife, Seattle Aquarium, Olympic Coast National Marine Sanctuary, and the Whale Museum. Our BC team is led by the the BC Cetacean Sighting Network. Many members of the Whale Trail teams met when they worked together to return Springer, the orphaned orca, to her pod. 
The Whale Trail is a 501(c)3 nonprofit organization, headquartered in West Seattle. Join us!
When: Tuesday December 12 6 - 8:30 pm.
Where: C&P Coffee, 5612 California Ave SW
Cost: $5 General Admission; Kids under 12 FREE

Presented by The Whale Trail
Contact: Donna Sandstrom, 206-919-5397, donna@thewhaletrail.org
Ticket link:
https://www.brownpapertickets.com/event/3183552
Facebook page: https://www.facebook.com/events/133542297309075/?notif_t=plan_edited&notif_id=1512466869634853