Dinah Brein says farewell; Long time manager of Admiral Theater retires
Dinah Brein says farewell; Long time manager of Admiral Theater retires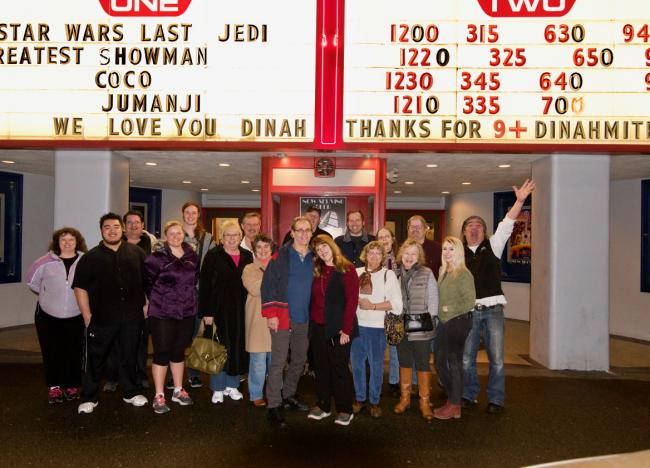 Patrick Robinson
Thu, 01/04/2018
In an emotional farewell, the longtime manager of the Admiral Theater Dinah Brein offered her thanks to everyone who helped keep the theater open, those who supported it during the lengthy remodel and restoration process and to her friends and husband. She had kind words too for the new team taking the helm at the theater.
Tony Phan is the new General Manager who will run day to day operations along with Marina Kosenko as Assistant Manager. Phan said that he came to the theater seven years ago as a janitor but found a friend and mentor in Brein who encouraged him to follow his passions even if it meant leaving for other jobs or eventually college where he went on to get a degree.
Kosenko said the theater is currently seeking people to work there who "have a really good work ethic who can get the work done, and work as a team."
The theatre was built in 1919 as a single room showing silent films. About twenty years after it began it was remodeled and transformed into the Admiral with a complete nautical theme. In the 1970's it was split into two theaters and the sound was upgraded. By the late 1980's it had fallen into disrepair and the owners, Cineplex Odeon closed it.  A campaign to reopen was started immediately and it was eventually declared a historical landmark. For much of the theatre's more modern history it showed second run films but since it was historic but aging it suffered with ancient plumbing, worn seats and the need for constant upkeep. Keeping it going was both physically and emotionally challenging. But as a testament to her personal strength of character a letter from one of the owners Saul Baron who praised Dinah for her spirit and hard work through the early days, and running it during the remodel process.
It was Phan however who had the most glowing praise for her. "Dinah has this intuition to see the best in people. She saw the best in me from the very first moment we met. She believed in me and all of us, even when we didn't believe in ourselves. Dinah is the type of person who stands up and fights for her employees. A leader who stands in the front line. A fearless, hot headed little firecracker that doesn't have a problem with letting you know what's on her mind. She's our little Dinah-Mite."
Clay Eals, former Executive Director of the Southwest Seattle Historical Society who led the original fight to get the theater declared a landmark also was instrumental in helping raise funds for the preservation of the murals on the theater walls. He recalled Dinah's help in producing a musical show honoring legendary folksinger Pete Seeger, a natural for Dinah since she herself is a deeply accomplished songwriter and music producer. "It was a four hour show and at the end Dinah and I shared the same microphone singing 'If I had a a hammer' which was really special," said Eals.
For her part Brein said she loved being part of people's lives and memories that included a couple's first kiss, countless date nights, and even one evening when a wedding was held at the theater. She shed some tears, mostly of gratitude to those gathered for the event and reminded everyone. "When I come back you better not charge me! It's free admission at least for life!" she said with an emphatic smile.