Business owners on city's border say they're suffering the most from the Sugar Tax
Business owners on city's border say they're suffering the most from the Sugar Tax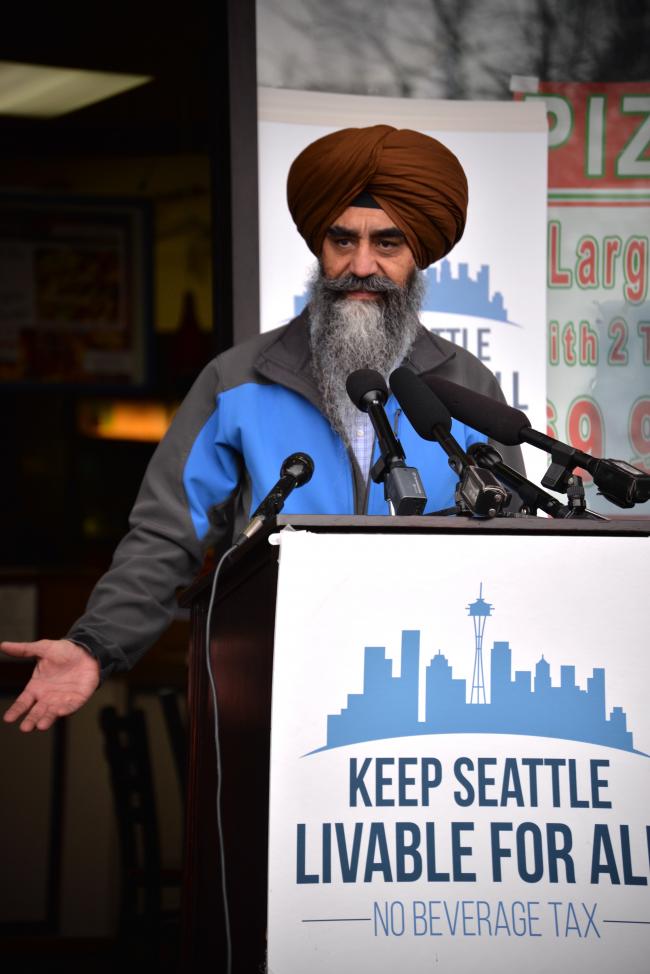 Lindsay Peyton
Tue, 01/30/2018
By Lindsay Peyton
Area business owners are convinced that the sugar tax is having an unintended consequence: hurting the small shops that operate on the border of Seattle's city limits. 
A few business owners gathered on Friday, Jan. 26 to voice their concerns. Most were members of the "Keep Seattle Livable for All" coalition, a group banding together to protest the city's new tax. 
The group's spokesman Jim Desler kicked off the news conference, which was held in the parking lot of A Pizza Mart, 9452 35th Ave SW. 
"We've seen the impact," he said. "We want to give a voice to those who are most vulnerable."
Peter Lamb, a representative of Teamsters Local 174, said that the sugar tax will take a toll on small businesses and those who work wage jobs. 
Most at risk of having an adverse effect are businesses located on city borderlines, Lamb said, as consumers can simply go a block away for cheaper beverages. 
"They're traveling outside the city to avoid the tax," he said. "And who wouldn't?"
And they're not just buying soda across the city's border, they're buying all their groceries in one place, Lamb added, making an even greater impact on small businesses than just missing the profits from soda. 
"It's the plight of the neighborhood store owner we want to draw your attention to," he said. 
Jagajit Sing, owner of A Pizza Mart, said her business has already been affected by the tax, which was enacted less than a month ago, on Jan.1.
"Many of my customers will simply choose not to come to my store," she said. 
She explained that all employees of food services, restaurants, groceries and convenience stores are feeling the pressure of the tax. 
Gurdev Singh Mann, an owner of two convenience stores, said his customers are also going outside the city to buy drinks. 
"I feel like every single day my sales go down," he said. "Even my regular customers are very upset."
He is especially concerned because he felt that the city should have been more proactive in educating residents about the measure. 
"The way they came up with the tax was behind closed doors," he said. 
Daniel Kim, general manager of the Korean Grocers Association, said that many customers are confused by the upcharge and end up leaving their drinks on the counter and walking out upset. 
"A tax like this makes it even more difficult to make a profit in this city," he said. "It's just more and more difficult."
Prem Singh, who owns a 7-Eleven in Ballard, has also felt a hit from the tax. "We see an impact already," he said. "We saw this in the very first week. Our sales dropped dramatically."
He said that he will have to reduce his labor costs to help counteract the loss. He is convinced that the tax will lead to job loss in a number of stores and restaurants. 
"We should do something immediately to stop this," he said. 
Lamb is calling on the city to start a thorough review of the tax immediately. "This tax doesn't make any sense in any way, shape or form," he said. 
Lamb said that he is not against the nonprofit organizations benefitting from the tax. Rather, he said the funding for these initiatives should not come from small businesses that cannot handle negative impacts from the tax. 
The City of Seattle created the tax to discourage residents from drinking high calorie drinks, with the hope that decreases in diabetes and obesity would follow. Consumption of sweetened beverages is anticipated to drop over time. 
In addition, funding from the program will support educational programs, as well as Fresh Bucks, which provides a dollar-for-dollar match on food stamp purchases at participating farmers markets to spend on fresh fruits and vegetables. 
A press release from Healthy Food America, a national nonprofit, was issued the day of the news conference to provide a counterpoint. 
In the release, the group's executive director James Krieger, said that scientific research shows that taxes on sugary drinks are working in advancing public health. 
He is quoted saying, "Seattle's sugary drink tax is a giant step in the right direction for supporting the health of the people of our city."
Krieger added that these sweetened drinks account for almost half of the added sugar in the average American diet. 
The press release stated that in other cities, residents changed their drinking habits and continued to shop at the same businesses, buying healthier beverages and water instead. 
For more information about Keep Seattle Livable for All, visit www.keepseattlelivableforall.com. 
For more information about Healthy Food America, www.healthyfoodamerica.org. 
Comments
The City of Seattle isn't going to control what I drink or buy for my family! These business owners are right, they are losing business!!! I drive to Burien to buy my groceries and soda now!