UPDATE: Vault fire on Roxbury knocks out power in White Center; Now restored
UPDATE: Vault fire on Roxbury knocks out power in White Center; Now restored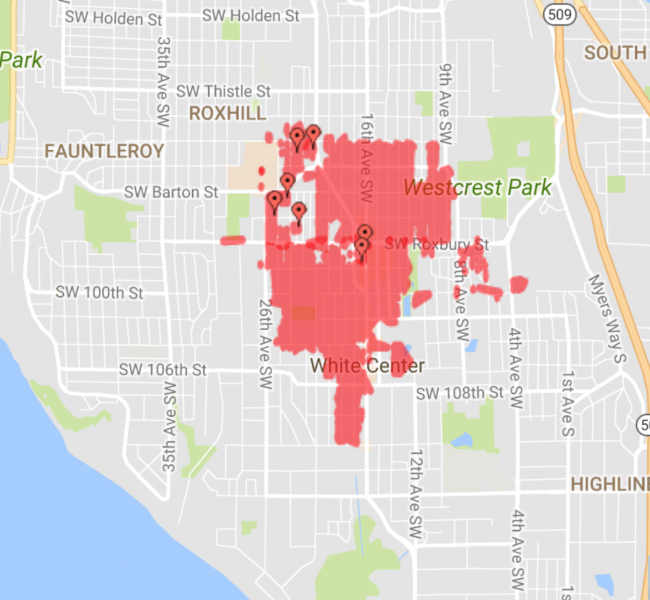 Sun, 02/11/2018
Update 8:35
Only a few spots in the White Center area remain without power as Seattle City Light crews made quick work of the repairs and restored power to the nearly 3500 that had been without for just over an hour on Sunday night. The fire started in an underground electrical vault on Roxbury Ave SW between 21st and 22nd SW shortly after a previous outage in Burien had been corrected. 
Update  8:13pm
Seattle Firefighters got control of the electrical vault fire that knocked out power to major portion of White Center and some customers got their power back by 8:10pm with 1327 still without power in the area. The central area around the vault on Roxbury between 21st SW and 22nd SW was still out. The areas north of Roxbury had been restored.
Original Post 7:40
An electrical vault fire knocked out power for more than 3500 Seattle City customers in White Center Sunday evening. The vault located on Roxbury between 21st and 22nd Ave. SW caught fire around 7:17pm.
The outage extended from 112th SW in the South up to Cloverdale Street SW in the North and from Westcrest Park in the East to basically 26th Ave SW in the West.
A 2 AM time of restoration was announced by City Light for Roxhill, Highland Park and White Center.
Roxbury between 17th SW and 24th SW was closed.
You can follow the progress of the repair on the Seattle City Light System Status page here
http://www.seattle.gov/light/sysstat/