Coming soon to ArtsWest, Taylor Mac's "Hir"
Coming soon to ArtsWest, Taylor Mac's "Hir"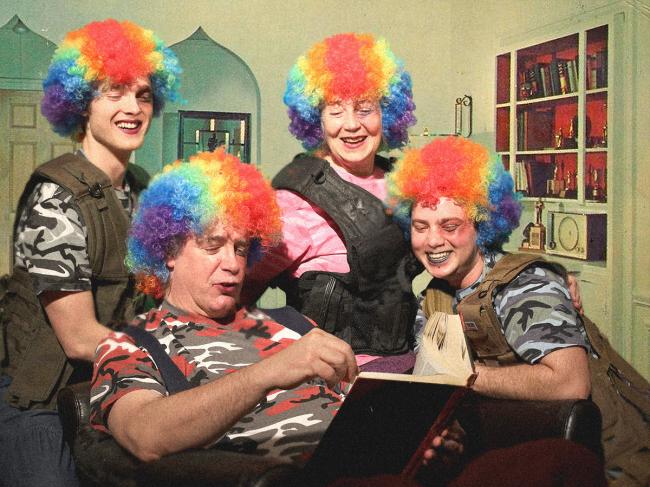 Mon, 02/12/2018
By Lindsay Peyton
ArtsWest Playhouse and Gallery is joining forces with Intiman Theatre to present the Seattle premiere of a play that explores gender, identity and family, all hot button contemporary issues. 
Taylor Mac's "Hir" opens on Wednesday, Feb. 28 and runs through Sunday, March 25 at ArtsWest, 4711 California Ave SW. Show times are 7:30 p.m. Thursday through Saturday and 3 p.m. on Sundays. 
The play will be directed by Intiman's artistic director Jennifer Zeyl. She holds Taylor Mac in high esteem and places "Hir" on the same level as noted American plays by playwrights like Sam Shepard and Edward Albee. 
She explained that the play has the makings of a classic: a strong structure, dynamic characters and an in-depth look at an American family. "The bones are so solid in the script, the characters are so vivid and the circumstance is so provocative," Zeyl said. 
The story starts when Isaac, played by Evan Barrett, returns from combat to help take care of his ailing father Arnold, played by Charles Leggett. He finds his mother Paige, played by Gretchen Krich, free from her oppressive marriage, with his newly out transgender sibling Max, played by Adrian Kljucec, at her side. 
"Each individual is having their own traumatic experience with masculinity," Zeyl said. It's a completely different scene from when Isaac left home. "It was a house with very strict rules, very long chore lists and very harsh consequences for not matching the mold," Zeyl said. 
Paige is now liberated from this environment. "She is basically, passively reeking her revenge on Arnold and on the house that he required to be kept to a certain standard," Zeyl said. 
Adding to the drama, Isaac has been dishonorably discharged from his post in the Mortuary Affairs department.
To help tell the story of these complex characters, Zeyl has assembled a cultural advisory council, including Eddie DeHais, Crystayl Yingling, Chase Anderson, Kim Bogucki, Constance Wilkinson and Kyra Becker. 
Each has experience to aid with the play, from a stroke and vascular neurology specialist and an Army vet who spent time in Afghanistan to a person who transitioned at the same age as Max and a domestic violence detective.
Zeyl said that she has been eager to bring "Hir" to Seattle since she first read the script a couple of years ago.  
ArtsWest was equally interested in making it happen. 
"It became really clear that we could make the best production if we worked together," Zeyl said. "They had so much to bring to the table as far as resources and Intiman had so much to bring in terms of artistry."
ArtsWest artistic director Mathew Wright said that the play explores gender and identity, central topics in national conversations – and while touching on these serious issues, the writing retains a satirical, comical lens.
"I was rolling on the floor laughing when I read the play," Wright said. "Really good humor is both unexpected and inevitable. It's when someone says something that's the last thing you thought they'd say, the first thing you wanted them to say and the truest thing you've heard in years. And that's all over 'Hir.'"
Both Wright and Zeyl are especially looking forward to celebrating the work of Mac, a New York City-based actor, playwright, performance artist, director, producer, and singer-songwriter, who was a finalist for the 2017 Pulitzer Prize for drama and a recipient of the 2017 MacArthur Genius Grant.
Zeyl said that Intiman offers the audience ways to engage after seeing its plays. On Friday nights during the production, there will be a "Talk Back Session" exploring various topics.
The creative team for the play includes Julia Welch and Timothy White Eagle on the scenic design, costumer designer Pete Rush, lighting designer Robert Aguilar, sound designer Matt Starritt, assistant scenic designer Silas James and properties manager Andrea Spraycar. Hatlo serves as assistant director and Nina Williams as stage manager. 
For more information, visit www.artswest.org or www.intiman.org.