Wildcat title hopes swept away by the Tides; Third-place game next
Wildcat title hopes swept away by the Tides; Third-place game next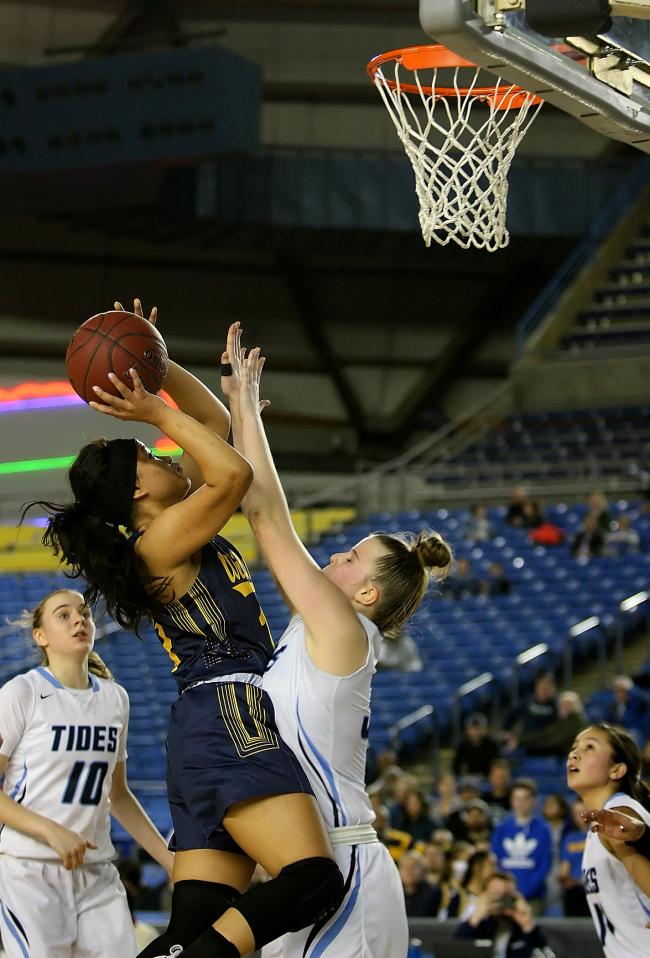 Sat, 03/03/2018
BY GERARDO BOLONG
Contributing Writer

TACOMA - Smooth sailing toward the WIAA 3A girls Hardwood Classic was dashed by the strong Tides of Gig Harbor in a 55-46 semifinal late night loss at the Tacoma Dome on Fri., March 2.

The Wildcats (23-6) play a Sat. 1 p.m. game against Stanwood with a chance to earn third-place hardware. Gig Harbor (21-6) plays Garfield for the title at 9 p.m. on Sat.
Despite having an off night in most phases of the game, the Wildcats staged a run at victory after being down 47-38 with less than five minutes in regulation.

Meghan Fiso began the last surge for the Wildcats with a pair of converted free throws shortly followed by a Grace Sarver free throw.

The Tides were called for traveling and WS regained possession for Kelsey Lenzie drain a three - point basket as the Wildcats were amazingly within 47-44 with just more than two minutes left.
Brynna Maxwell powered home a basket to signal the final demise of West Seattle in an 8-2 run to the finish as the Wildcats were once again unable to make key buckets when opportunities presented themselves.

"We definitely picked the worst night to not show up as a team," said West Seattle head coach Darnell Taylor. "This was not even close to being our best game. We knew they had tools and we practiced against. I guess seeing it first hand was more difficult. Their amoeba - like defense which was half man and half zone confused the girls. Give them credit. They had a great defensive game plan. The Maxwell girl will be playing somewhere after high school."

The late evening game began auspiciously for West Seattle when Grace Sarver recovered a loose ball for a lay up that would produce its only lead of the game.
For the next six and one half minutes, Gig Harbor owned the only safe haven, terrorizing the Wildcats with quickness and mobility.

While the Westsiders' shots failed to drop, the Tides captured most of the loose balls, rebounds and turnovers against a mistake prone and sluggish foe.
Gig Harbor tied the West Seattle offense in knots while Brynna Maxwell and Maddie Willett powered the Tides methodical offense into a 13-2 first quarter control before the Wildcats could unwind.

Kelsey Lenzie scored on an outside shot with  1:14 seconds left in the quarter, but was countered by a Maxwell three-ball.
Jasmine Gayles went to the rack for a three-point play and WS was down by a 16-7 count going into the second quarter.
Wildcat basketball encountered tough going against the Tides to fall back into a 20-7 deficit with 5:21 on the clock.

Meghan Fiso ignited some badly needed momentum for WS on a short range basket as the pace of the game quickened.

After a held ball call gave possession back to the Wildcats Fiso came through with a put back basket. Gayles blocked a shot and Lenzie downed a three-point basket to make the score 20-14 with three minutes until the halftime intermission.

With their defense working more intensely, the Wildcats ran into the reoccurring inability to make shots at key moments as Gig Harbor led 25-18 at the half on the strength of strong board play.
Trailing 30-22 with two minutes of the second half elapsed, a reenergized West Seattle squad created a strong run at its foe.

Gayles fought her way through for an interior basket followed by her breakaway, scoop shot lay up as the Wildcats drew within 30-26 with 5:32 left in the third quarter.
For want of making a good pressure basket, the chance to close in more went fluttering right off the court.
Willett went to the rack for a Tides basket, but West Seattle found its passing game to create baskets for Sarver and Fiso to bring the Wildcats close at 32-30 with two minutes, forty two seconds until the start of the fourth quarter.

Again, missed shots enabled Gig Harbor to sail away into 37-30 lead with Fiso diving into the key for a basket that kept WS within 37-32 at the quarter break.

GHHS kept its lead from five to eight points until establishing the 47- 38 lead that the Wildcats trimmed down before the chance for victory was finally swept out by the Tides.
Sarver paced a trio of West Seattle double - digit scorers with 13 points and blocked four shots with three assists. Fiso was next at 12 points while adding 12 rebounds. Gayles was next with 11 tallies. Lenzie banked eight points and Julianna Horned notched two points.

Maxwell was a constant menace against the Wildcats with 24 points and eight caroms.

Willett had 18 points while collecting 14 rebounds. Sydney Langworthy contributed 11 points.