Meetings set for SPF 30; 30,000 people expected to attend music event on Alki this August
Meetings set for SPF 30; 30,000 people expected to attend music event on Alki this August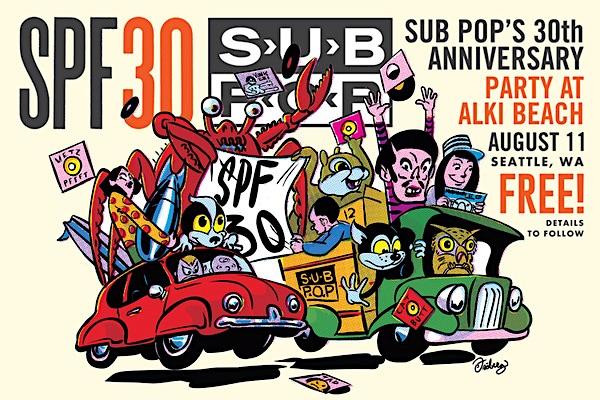 Tue, 03/06/2018
When you are staging an event with 30,000 guests some public input is required and Seattle music label Sub Pop Records is doing just that.
Sub Pop Records is celebrating its 30th Anniversary of putting out somewhat well-regarded records, CDs and tapes.  In honor of that, they are hosting an entirely FREE music festival at Alki Beach on August 11th, 2018.
Their press release about the event and the first of what will iikely be multiple meetings says:
"We are expecting a large, fun-loving and respectable crowd of 30,000 music lovers. Our event will include: 4 stages of live music, beer gardens, merch booths and non-profit tables, and a family-friendly area complete with inflatables, food trucks, and live music for, and perhaps by, kids.  This festival will take place from noon to 10pm along Alki Avenue SW.
Sub Pop will be answering questions regarding all of this at two upcoming neighborhood association meetings:
Admiral Neighborhood Association:

March 13th, 7pm at the Sanctuary at Admiral - 2656 42nd Ave SW.

 

Alki Community Council:

March 15th, 7pm at the Alki Congregational United Church of Christ - 6115 SW Hinds St.
Comments
When will the bands be released for whose performing?
I remember concerts on the beach at Alki in the early 70's. WS was where the bikers lived...
Ha, still do!! Now they are electric.
Outdoor music is fantastic. I hope SubPop can put together a program that brings people together to enjoy music in the beach.
Add new comment