West Seattle High School Drama presents: A Chorus Line
West Seattle High School Drama presents: A Chorus Line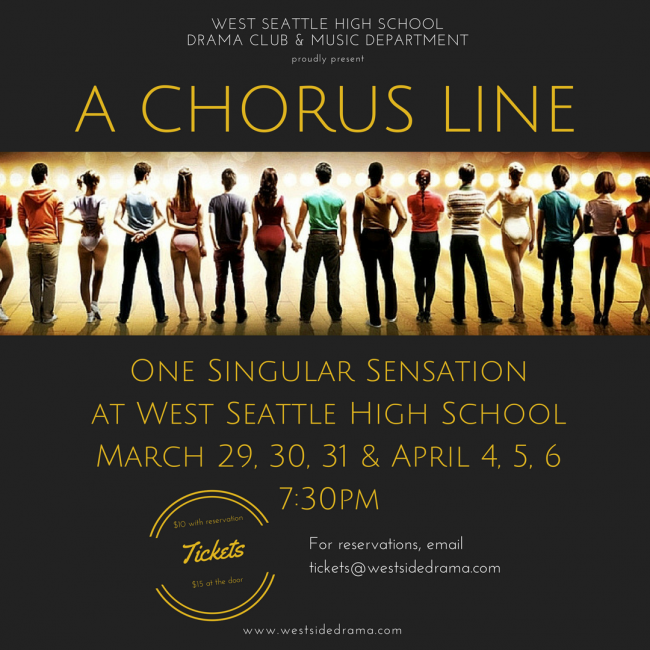 Sat, 03/10/2018
West Seattle High School's Drama Club & Music Department proudly present their spring production
Dates:
March 29, 30, 31 and April 4, 5, 6 at 7:30pm
Tickets:
$10 with reservation (email tickets@westsidedrama.com)
$15 at the door
About the Show:
One of the longest running shows in Broadway history, A Chorus Line (music by Marvin Hamlisch, lyrics by Edward Kleban and a book by James Kirkwood Jr. and Nicholas Dante) centers on 17 hopeful dancers auditioning for spots in the chorus of a Broadway show. This beloved show provides a rare glimpse into the lives of the performers and the choreographer as they describe the events that have shaped their experiences and their decisions to become dancers.
Synopsis:
A Chorus Line examines one day in the lives of seventeen dancers, all vying for a spot in the "chorus line" of a Broadway musical. After the first round of cuts, Zach, the director and choreographer, asks each dancer to speak about themselves. Discomfort opens into revelation, confession leads to redemption, and within the bright, outwardly homogenous chorus, the audience begins to see each dancer's individuality. From Cassie, the star who just needs the "music and the mirror and the chance to dance," to Val, a small-town girl with a brand-new big-town body, to Mike, who took his sister's place in dance class, saying "I can do that." Based on real Broadway dancers' stories, as told to fellow dancer and choreographer Michael Bennett, A Chorus Line is funny, heartbreaking, and refreshingly honest.
Read more here

Cast
Zach: Sam Cleary
Lori: Sarah Brown
Judy (23): Natalie Brown
Diana (2): Jade Brunner
Kristine (10): Julie Schexnayder
Val (179): Isabella Hale
Sheila (152): Ruby Sullivan
Connie (9): Kim Le
Bebe (37): Sawyer Guzek
Maggie (149): Ella Quinn
Cassie: Kate Williams
Don (5): Manny Williams
Richie (44): Jonah Elbaum
Mark (63): Henry Parker
Mike (67): Wilder Cufley
Greg (81): Jake Webley
Bobby (84): Daven Rikhof
Al (17): Dante Novito
Paul (45): Theodoric Greenleaf
Dancers:

Cadence Sturgeon
Ashley Brown
Shelbi Andersen
Gabby Vulcano
Sarah Gleason
Amanda Johnson