A cake that looks like it could bite back
A cake that looks like it could bite back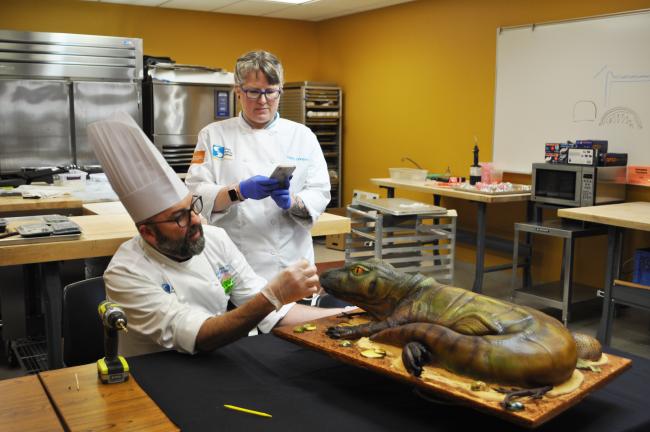 Fri, 03/16/2018
Chef Christopher Harris spent Thursday, March 15 and Friday, March 16 guiding his students at South Seattle College in making a cake worthy of a Food Network reality show competition.
The sweet treat perfectly resembles a massive Komodo dragon. The cake was designed to make a lucky 4-year old's birthday party extra special.  
South Seattle College has an award-winning Pastry and Baking Arts program, recognized by industry leaders, which provides students and graduates outstanding preparation and training for all aspects of baking and pastry positions in fine retail and wholesale bakery and pastry shops, restaurants and hotels.
They begin with fundamental, entry-level skills and progress to advanced techniques and production.
The program is taught by instructors with over 50 years of combined industry and teaching experience who provide real-world, hands-on learning.
There's a retail bakery shop on campus, 6000 16th Ave SW, Seattle, WA 98106, for those interested in trying some of the students' creations.
For more information about the program, visit www.southseattle.edu/programs/proftech/pastry/