Do you have questions about the Sound Transit light rail plan for West Seattle and Ballard? Everybody does
Do you have questions about the Sound Transit light rail plan for West Seattle and Ballard? Everybody does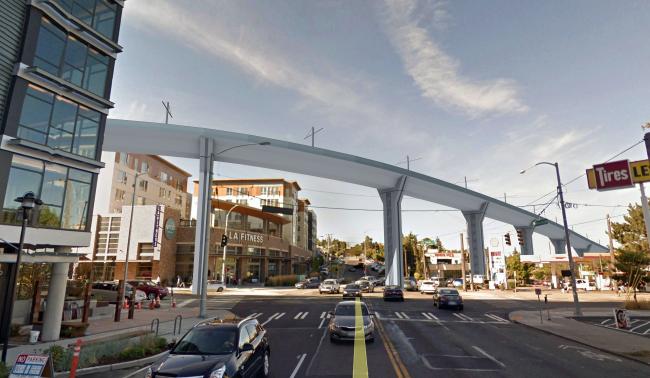 Images courtesy of Tomasz Biernacki


Mon, 04/02/2018
By Lindsay Peyton
Questions are swirling about Sound Transit's light rail project in West Seattle. 
Susan Staples, who has lived in the neighborhood since 1986, is worried about preserving the view that first attracted her to the area. 
"That's why you come out here," she said. "It's a part of the community's identity. West Seattle has always been known for its views."
Staples hopes that Sound Transit will consider tunneling instead of building an overhead track for the rail. 
"Having this above ground would be absurd," she said. "This area is about the views. It's about being able to see the water. That's why a lot of us moved here."
West Seattle resident Kathy Kelleher wonders whether bus routes will be eliminated when the light rail opens. She explained that this is already an issue in her neighborhood. 
She said her bus stop went from being nearby to six blocks away. "It used to be right around the corner," she said. 
Area residents brought a number of concerns to light during a recent meeting of the Admiral Neighborhood Association. Attendees asked about everything from parking available along the route to possible lane reductions due to the pilings for the light rail track. 
Larry Wymer, Admiral Neighborhood Association president, shared more information about proposal made by the Junction Neighborhood Organization (JuNO) to move the elevated track underground. 
Wymer also serves as treasurer for the West Seattle Transportation Coalition Board and as a council member of the Seattle Southwest District Council.
The presentation noted that the proposed elevated alignment could interfere with pedestrian walkways and would intersect the cultural center of the Junction, passing by the historic buildings now occupied by Easy Street and Cupcake Royale. 
Instead of going above ground, Wymer said the track could tunnel underground near Genesse St's intersection with SW Avalon Way. 
Tunneling would save 60 homes from destruction, he said. 
He explained that the Junction Neighborhood Organization also wants the plan to include building up commercial centers in West Seattle, allowing the Light Rail to be used both ways, instead of simply taking commuters downtown to work. 
"We'd increase employment opportunities so trains are just full of people leaving West Seattle," Wymer said. 
Amanda Sawyer, president of the Junction Neighborhood Organization, has lived in the area for a year and a half. "How does a neighborhood grow but still retain its character?" she asks. 
She is also concerned with protecting green space while accommodating a rising population. 
She and Rich Koehler created the tunneling proposal, along with architectural artist Tomasz Biernacki, who prepared the graphics. 
Sawyer encourages area residents to become active participants in this project. 
"They've [Sound Transit] gotten off on the right foot looking for community input," she said. "It's really a lot to think about, and hopefully that will inspire more people to get involved."
The Junction Neighborhood Organization's next meeting is open to the public and slated for 6:30 p.m. on Thursday, April 26 at the Senior Center of West Seattle, 4217 SW Oregon St. Sound Transit will provide an update during the event. 
"The feedback people give now and over the next 16 months will determine how Sound Transit and the City of Seattle build this," Sawyer said. "Get involved and be vocal. People do have a voice."
Wymer also suggested West Seattleites to attend Sound Transit's upcoming open houses. 
"That's your opportunity to come and voice your concerns," he said. 
Kimberly Reason, spokeswoman for Sound Transit, said there are a number of ways for area residents to share their ideas for the light rail.
"There's a lot of interest in this project," she said. "We're not done collecting feedback at all."
Reason explained that Sound Transit was in pre-planning mode until voters approved the ST3 plan. Now, the real planning begins. 
The design phase alone will take a couple of years, followed by construction, which will last five years or more. The light rail is slated to start service between 2030 and 2035.
Reason said that elected leaders and stakeholders are currently providing feedback to Sound Transit. In mid to late April, neighborhood forums will be announced. These events will be held in the spring, summer and fall. 
All of the comments will be taken into consideration when design decisions are made, Reason said. 
She added that a project team is currently evaluating the tunneling proposal. "There will need to be a great deal of technical work to determine whether such an option is feasible," she said.  
Reason said that residents can also leave questions and comments online. 
"Let us know," she said. "We'd like to hear what you concerns are. We're committed to public engagement. We're delivering this project three years earlier than expected, and that requires us to work closely with people in the neighborhood, community leaders and stakeholders."
For more information about the project and to sign up for emails and updates, visit www.soundtransit.org/Projects-and-Plans/west-seattle-and-ballard-link-extensions. 

Sound Transit's Community Engagement Guide is available online at  www.soundtransit.org/sites/default/files/2018_0208_Community%20Engagement%20Guide.pdf.

For more information about the Junction Neighborhood Organization, visit www.facebook.com/pg/wsjuno.org.

For more information about the Admiral Neighborhood Association, visit www.admiralneighborhood.org.