Artist Doreen Koch Allen's floral paintings sprout up around West Seattle
Artist Doreen Koch Allen's floral paintings sprout up around West Seattle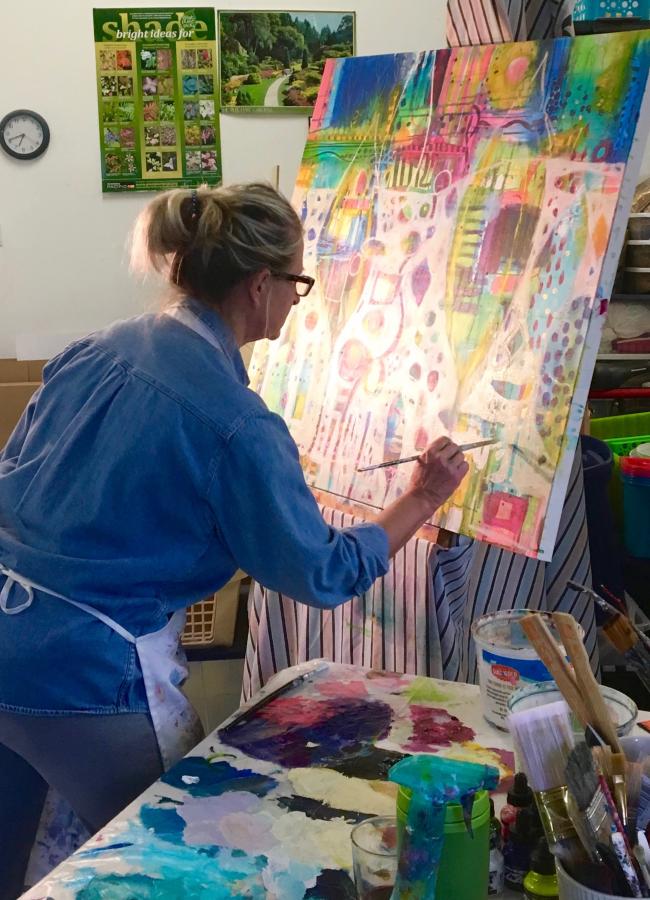 Mon, 05/14/2018
By Lindsay Peyton
Artist Doreen Koch Allen's work will soon be a fixture in West Seattle.
Her painting "Garden Fantasia" was named winner of the annual West Seattle Garden Tour art competition—and will be featured on posters and ticket books across the neighborhood in preparation of the event.
Koch Allen entered the competition in January, at the urging of artist friends who knew her nature-themed work. At the end of March, she got a call, announcing that she won.
"I was very excited," she said. "It's a great honor."
Koch Allen said that she has been an artist for as long as she can remember. "All of my life, I've been painting and creating things," she said. "It's a part of who I am."
She studied fashion design and illustration in college and said that about 20 years ago, she started getting serious about art. In the past few years, she has shown her work and participated in local competitions.
"Art is kind of the only thing I think about these days," she said with a laugh.
Koch Allen lives in Edgewood, on a wooded piece of acreage with a large garden, where she is surrounded by nature, her greatest muse.
"Living in a forest is very inspirational," she said. "There's so much texture, pattern and shapes everywhere you look."
Koch Allen primarily works in watercolor, acrylic and mixed media, making whimsical paintings. "I do a lot of botanical work," she said. "It's bold and bright. It's not really realistic. It comes out of my imagination."
She said her process is intuitive. "I play with paint, colors and prints," she said. "Color is often my starting point."
"Garden Fantasia" measures 40" high by 30" wide and was painted in acrylic.
Aubbie Beal, spokeswoman for the West Seattle Garden Tour, said the posters and tickets arrived in stores on Monday, May 7.
She explained that the selection process is completed by a committee. More than 40 artists entered the competition. "They were really high quality submissions," Beal said. "The entries were neck and neck. It's a testament to the good quality of artists living in the area."
It was a close match, but Koch Allen rose to the top. "Doreen's just was 'wow,'" Beal said. "The colors were really vivid, and people were really drawn to it."
The West Seattle Garden Tour purchases the winning artwork each year and auctions it off on the day of the event, 9 a.m. to 5 p.m. on Sunday, June 24.
The West Seattle Garden Tour was established in 1995 and also serves as a fundraiser for local non-profits focused on horticulture, education and the arts.
The 2018 tour will be held on Sunday, June 24. Tickets are available now at westseattlegardentour.org.
For more information about Koch Allen, visit her on Etsy at AquaLumenStudio,
www.etsy.com/shop/aqualumenstudio.
She also has an Etsy shop for her handmade knits at www.etsy.com/shop/AquaLumen as well as one for her natural botanical supplies at www.etsy.com/shop/EdgewoodBotanica.