West Seattle Police Blotter week of 5-21-18
West Seattle Police Blotter week of 5-21-18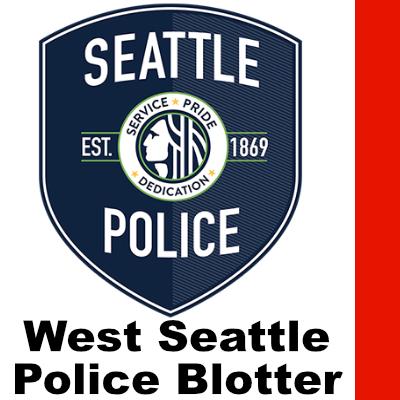 Mon, 05/21/2018
Assault on 35th SW
Around 4:45 p.m. on Friday, May 11, a man called police to report an assault. The line was disconnected, and officers headed to his location in the 6500 block of 35 Ave SW. When they arrived, they were greeted by a man emerging from the passenger seat of a silver Ford Taurus, parked on the curb. He had a dark bruise and cut above his right eyebrow. The Seattle Fire Department responded to the scene to treat the man's wounds. He explained that he was staying with the tenant of the apartment, with the tenant's brother. They both worked together in Alaska. He said the suspect was the tenant's younger brother. The victim said that he had been staying there for a week and agreed to pay $700 for a deposit and month's stay. The tenant kept asking for more money, however, and he ended up giving her $1,000. So he decided to search for another living arrangement and found one. When he came back to the apartment to pick up his stuff, he discovered a few items were missing. He asked the suspect about the situation, and the suspect punched him in the face. Officers searched the apartment for the suspect. The tenant said the man had been staying longer than a week and that he was disrespectful and not tidy. She said that he accused her of stealing his stuff and that was why her brother punched him. Officers explained that the victim has a broken nose and the suspect is charged with a felony assault.   
Officers investigate assault of student
Around 12:30 P.M. on Tuesday, May 8, officers arrived in the 3200 block of California Ave SW, after getting a call about a female student being strangled by a male student.
Storage facility burglarized
Officers were dispatched to a storage unit in the 9200 block of Olson Place SW around 2:45 p.m. on Wednesday, May 9, after receiving a report of a burglary. The victim said that her vehicle had been parked at the site, inside a secured gated area, for the past four months. Suspects broke into the car and stole a laptop and $250 in cash. Officers were not able to find any fingerprints. The victim said the suspects may have worn gloves, as she discovered some in a bag next to her car. The bag also contained a sledgehammer and goggles. Officers placed it into evidence.  An employee at the storage facility said that the suspects cut into the fence at the business.