Holy Rosary School observes Corpus Christi with a first time procession
Holy Rosary School observes Corpus Christi with a first time procession
450 students took part as they closed the streets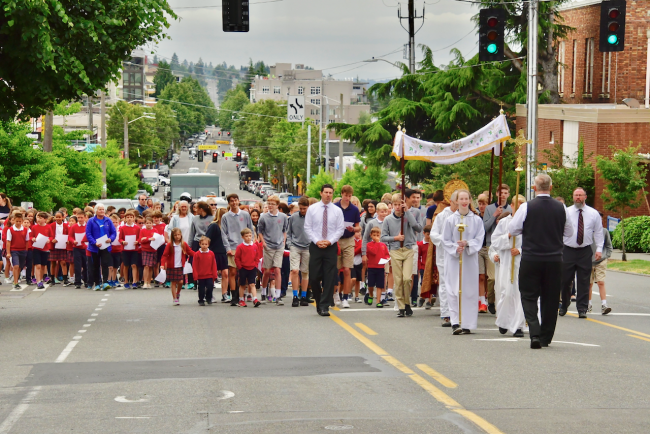 Thu, 05/31/2018
Holy Rosary School observed Corpus Christi, (latin for Body of Christ) in first ever procession of the Blessed Sacrament involving 450 students from Holy Rosary School on May 31.
The event meant closing the streets in the block around the church. That included California Ave SW briefly as the students led by Father Matthew Oakland carried a canopy and burned incense.
The students sang led by Musical Director Janet Mudge. She sang into both a microphone and a walkie talkie so everyone could stay synchronized. 
About Corpus Christ

Corpus Christ is the central sacrament of the Catholic life. It's part of a cycle of "feasts" that begins with Easter when Jesus rose from the dead and then Pentecost when the holy spirit came upon the apostles and sent them forth to begin the church. 
Following the procession the students gathered on the lawn for the Benediction of the Blessed Sacrament. The procession was preceded by a Mass in the church.
VIDEO - Holy Rosary School Corpus Christi Procession
Video by Patrick Robinson