Oskar's Pizza truck is new and hot
Oskar's Pizza truck is new and hot
In business for just two weeks, he's already getting great reviews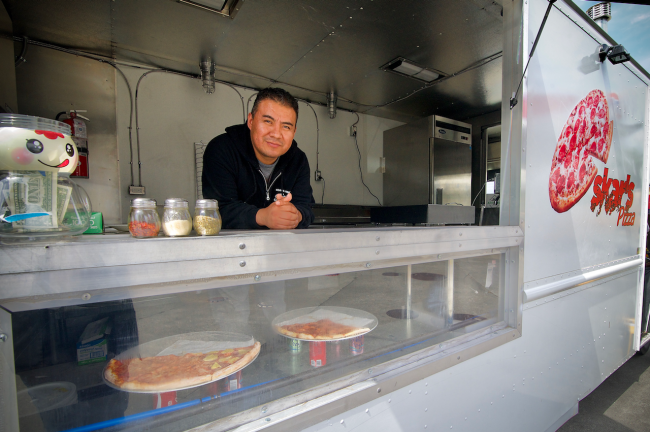 Thu, 05/31/2018
Oskar Guerrero loves his pizza and is betting you will too. He has just opened his own business Oskar's Pizza truck, parked daily at the corner of 28th SW and SW Roxbury Street (he's there during the day from 11am to 3pm and Thai You Up Thai food truck is there in the evenings). 
Guerrero learned how to make pizza working for the famous Piecora's Pizza on Madison Street in downtown Seattle. When they sold the building he chose to go out on his own. 
Right now he offers about four varieties of pizza by the slice or pie from cheese to pepperoni but also meat lovers and Hawaiian with Canadian Bacon, Spicy Combo and Veggie. 
He uses Mantako flour and Grande Mozzarella cheese keeping his standards very high. The crust is thin, crisp and everything is sourced locally and made by hand. These are very generous slices too. He uses a prep kitchen on Delridge Way SW and then cooks the pizza on site in his Blodgett Pizza ovens, delivering a fresh pie in about 10 minutes. Slices are heated up quickly in under 90 seconds so he can do a brisk business.
Guerrero said he plans to add a couple of salads, cheesy bread and possibly some chicken wings later this summer.
"I like it here, and I enjoy what I do" he said,"I like the people around here too." So far based on all the five star reviews he's getting on Facebook, it looks like the people around here like him too.
Slices are $3 for cheese, $4 for other varieties, $18 for a full 18 inch cheese pizza and $22 for pepperoni. Others are $24. Again these are very large pizzas with lots of toppings.
You can contact him via Facebook or order ahead by phone by calling 206-578-0817 .