Future Primitive Brewing will makeover White Center's beer scene
Future Primitive Brewing will makeover White Center's beer scene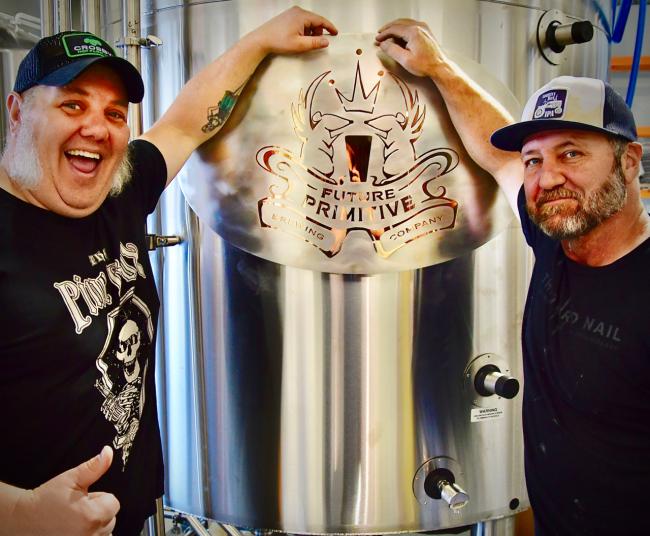 Tue, 06/19/2018
White Center is about to get a beer makeover. Future Primitive Brewing is currently in the process of completely refitting the former Big Al's Brewing at 9832 14th SW in ways that will no question, please many beer drinkers across the entire northwest. They expect to open by mid August.
The owners are Michael Baker, Dean Hudgins, Kevin Watson, Ian Roberts and Larry Solomon. Together they bring more than 70 years combined beer industry experience to the task of creating a new brewery. Hudgins and Roberts are owners of The Pine Box on Capitol Hill. "Ian and I started it so we could get some street cred. So this was on our bucket list. Then we got the team together."
"We've spent a lot of money on our system that can do a lot really complex styles of beers and do them right. It's steam powered so we don't have to worry about scaldings or over heatings. We've got some special equipment to do that kind of brewing right away," explained Hudgins. "We're going to do West Coast style ales and some Belgian style, some barrel aging styles and others. We got the right equipment to make stuff nobody else is doing."
Future Primitive, true to its name, relies on knowledge about beer making that goes back to the days of Mesopotamia, but will use absolutely state of the art, "top of the line" equipment said Hudgins. The name came about largely because it's difficult to come up with a unique name. They were intending it to be called Unified Brewing. But then they encountered a copyright conflict with a brewery in New York state. "There are over 4000 breweries across America now and in Seattle alone there are 80. So it's a name that came up that we all liked," said Baker.
Three brewing tanks were retained from Big Al's but that's all. The rest of the gear is completely new and will offer not only far greater capacity, but versatility. Many smaller craft breweries keep their product limited to only the fastest type of beer to make, ale. Future Primitive plans to make a range of beers from IPA to full Plisners with 15 to 20 on tap at all times. "We could produce 6000 to 8000 barrels a year with this equipment," said Hudgins, "But we're probably to keep it closer to the 3000 to 4000 barrel range." They could make up to 12 beers at a time. "An Imperial Stout might not be everybody's favorite but it will be for some," said Hudgins.
The brewmaster, Kevin Watson is a White Center native and is the former brewmaster for Elysian Brewery in Seattle.
Both the interior and exterior are seeing major changes. Inside, the former tasting room will offer 15 barstools and a marblized slate treatment floor, while upstairs, room and seating for forty people, and a separate bar will provide service. Both rooms now have windows into the brewing floor and the space is all ages so kids can come in. Outside a large 40' x 20' x 20' exterior cooler is being built on the south side of the building and a 20' x 30'  covered deck (with heaters) is being built. A large beer garden patio area will extend beyond that.
Also new on site is Future Primitive's own food truck that when operational will "Probably offer sausages and brewery style food with a German influence," said Hudgins. It will be parked right next to the deck meaning you can get your food right there.
The build out is being done largely by the owners who have pretty exacting standards. They realize all their work will not only have to meet code but will literally be on display for years to come, so the tanks are gleaming and the work done right.
Baker and Hudgins both acknowledged its their goal to be a deeply involved part of the community. "We really want to be community oriented. Without a community we can't survive," said Baker. Even before opening they've been donating to their 14th Street SW neighbor WestSide Baby and plan on doing a lot more.
A grand opening event is planned for a day in August, with much of that still in the planning stages but live music, and more are part of their thinking.
The logo features a couple of interesting figures in the form of stylized rodents. "We wanted to honor the Rat City idea but make it cool so we made them rats with wings," explained Baker.
The changing food and bar scene in White Center will now get a brand new foundational member, able to produce enough high quality beer to match nearly any request. 
https://www.futureprimitivebeer.com/